I make no bones about my love of the longroof. I've owned three station wagons (in a row!) and will likely own at least three more. They look better than any sedan, handle better than any SUV: they really are the closest thing to a perfect vehicle.
The V90 is Volvo's ultimate wagon. The longest and most luxurious of their longroofs, it combined practicality and decent performance into two-boxes of handsomely distinguished packaging. But the V90 is no more. At least not in the traditional sense.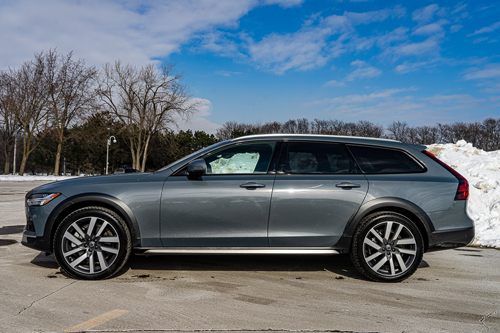 For 2022, the Volvo V90 Cross Country B6 AWD is the only way to option their top-shelf wagon. After a two year hiatus it has reappeared on the Canadian landscape, to do battle in a SUV/CUV crazed market. As such, the higher-riding, plastic-clad variant boasts ground clearance and cargo space that rivals quite a few of those UVs (both S and C types) while staying true to the traditional, shapely form. And that's a good thing because this is a good wagon; possibly great – stilts and all. But it's not perfect.
Powertrain: Whirring under the Thunder Grey hood of the V90 CC lies Volvo's 2.0-litre, direct injected, supercharged and turbocharged four-cylinder engine. That twin-charged mill is also mated to a 48-volt integrated starter generator, making this a mild hybrid set-up. The combination is good for a modest 295 horsepower and 310 pound-feet of torque. While that may not be enough to impress at the local drag strip (the last generation was lighter, more powerful and quicker), know that the sacrifices were made at the altar of smoothness. The complex arrangement of induction and motors delivers its grunt in an appreciably serene and refined manner, with nary a millisecond of lag to be found.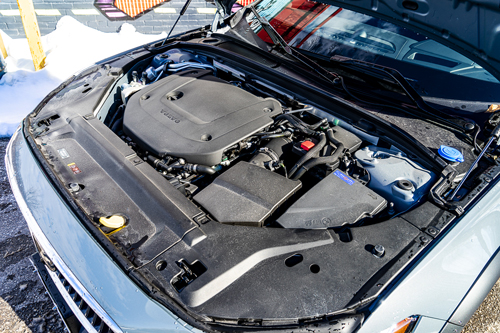 This of course is aided by the 8-speed Geartronic (Tiptronic) transmission that shifts with equal precision. Should you wish, you can toggle into a manual mode but don't look for any paddles behind the wheel – you'll need to move the stubby shifter left and right for that.
As is standard in all modern Volvo's, the V90 CC employs a BorgWarner/Haldex-derived all-wheel-drive system. Using an integrated ECU, it provides on-demand vehicle dynamic control, which is a fancy way of saying it keeps a tab on things and shuffles power accordingly. Running around the extra-snowy streets of Toronto posed no issues to the V90 CC and even with liberal mid-corner throttle stabs, the tail of this wagon did not start, um, waggin'.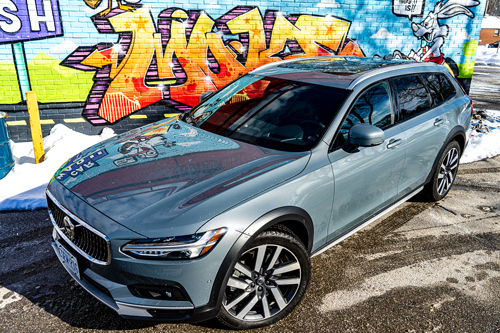 There is an Off-Road mode that can be cued up via the touchscreen, but don't expect it to turn your CC into a Baja buggy. The system will lighten the steering and activate a low-speed control algorithm to enhance engine braking to enable better traction in slippery conditions. Even with the impressive amounts of snow and ice around our city the last few weeks, I didn't need its help but could see where it would be handy for escaping an iced up and inclined cottage road.
Exterior: Modern Volvo station wagons are, quite simply, beautiful things. The proportions are spot on, the lines are clean and Volvo's hallmark lighting treatments continue to impress: they are art, moonlighting as modes of transportation.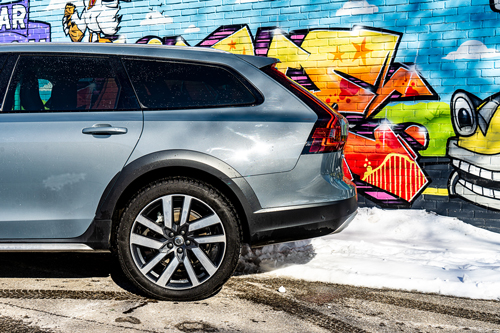 Except in the case of the Cross Country here, somebody got a bit carried away with the amount of acrylics applied to this particular canvas.
The taller stance, bigger wheels and plastic fender flares detract from the V90's sartorial characteristics. I understand that to appeal to buyers who don't hold the station wagon on high, Volvo had to disguise their best version as a CUV – which I applaud if it means we see more wagons on our roads – but still… It has the effect of somebody stuffing the trousers of a Gieves & Hawkes three-piece suit into a pair of Wellingtons to go to work on a damp day: it makes sense to be ready for anything but it does sully the presentation a bit.
Interior: Thankfully, the interior designers didn't feel the same needs to ruggedize things. The vented and heated, slate grey nappa leather seats are both plush and supportive. I've long felt Volvo has some of the best touring seats – ideal for longer drives – and by upholstering a massage therapist into these ones, they've outdone themselves.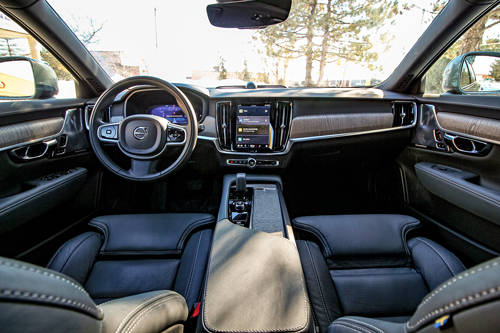 Trim pieces are veneered in an open-pore, grey ash. The texture breaks up the other more industrial finishes of piano black and brushed aluminum nicely. There are a few budget-friendly-feeling bits of hard plastic here and there, but for the most part the expected luxuries of Scandinavian design are present and accounted for.
The digital gauge cluster is bright and informative. An overlay of the (Google) navigation screen can be called up to sit between the two indexed semi-circles that represent revs and speed – although none of the indices correspond to actual numbers.
The rear seats are equally comfortable and heated too. There is enough space to easily fit two full-sized adults back there and, if equipped with the folding steel grille, you could still give the dog a roomy enough area to lay down behind the powered liftgate.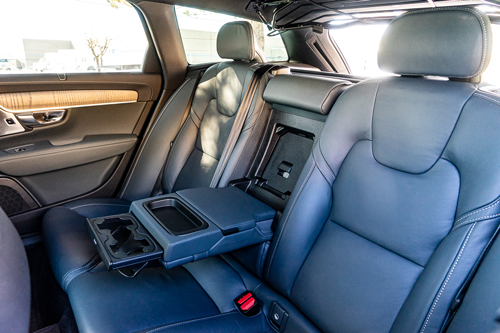 My only real complaint inside the V90 CC is one that continues to carry over: there are no physical buttons or dials provided to tackle the finer points of HVAC control or seat/steering wheel temps. Those are all housed beneath layers in the 9-inch touchscreen bisecting the dash – which remains perplexing given Volvo's reputation for focussing on safety. Oh, and the shifter still follows rule number 2 from Zombieland (Double Tap!), which makes three-point turns more annoying than watching someone perform a three-point turn.
Infotainment: New for this year, Volvo has fully embraced Google (and ditched their Sensus system) as their infotainment overlord. This is definitely an upgrade as it integrates Google Maps and Google Assistant into a quicker-to-respond and easy to navigate system. For fans of Android (FAndroids?!?) this move delivers familiar and useful functionality. However, for the Cuppertino crowd out there, you won't be as stoked – there is no Apple CarPlay here. The system does allow for over-the-air updates, so a future download could appease.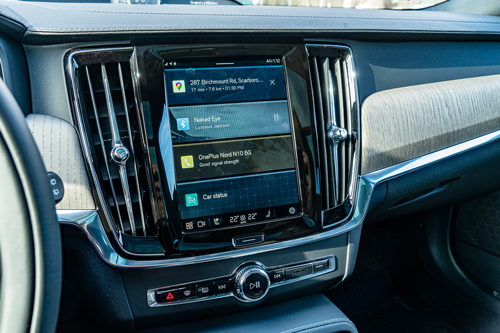 This is also a bit of a stop-gap system, too. Volvo has recently inked a deal with Qualcomm to utilize their next-generation Snapdragon technology to enhance the responsiveness, processing and communication speed of the system. I just hope they add some buttons, too.
Our tester was equipped with the $3,750 optional Bowers & Wilkins sound system. It is a spendy proposition, but the 1,400 watt, 19-speaker system does sound incredible. Much like the V60 T8 Inscription I drove last year, this again integrates the immersive sound processing fields that Swedish firm Dirac was tapped to develop.
Drive: The many methods of torque-fill can be felt from the moment the V90 Cross Country is called into action. The mild-hybridization gets all 1,975 kg in motion and then the supercharger takes over before handing the baton to the turbo for a final push. Hustling onto the 401 and hugging the ramp's white line, the car feels big and a touch heavy but also flatter than expected, so I push it. In a blink I'm all over the back-end of an CLA AMG being piloted by some mook who defiantly cut off a cargo van to slot in in front of me. Seeing the badge and profile in his rearview, he probably thinks he's pissed off an architect.
I ease off, snicker to myself and settle in for a nice massage. The head-up display tells me I'm cruising along at an acceptable rate of speed but it's tough to make out with polarised sunglasses on. It's a part of a $2,000 "Advance Option" package that I'd probably leave off of the order box but regardless, I could happily see myself embarking on some form of great Canadian road-trip in this thing.
Around town, despite its length, the V90 CC is just as composed and easy to manoeuvre. The elevated suspension absorbs all of the imperfections with grace and I'll admit also makes ingress and egress a pretty dignified affair.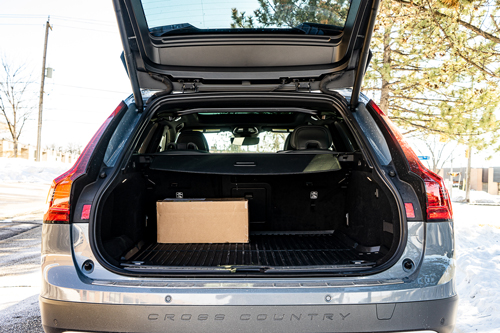 The only snafu I experience is, while parallel parking on a snowbank littered street, the sensors mistake some soft snow that the wheels could easily smoosh for an actual barrier and lock up the brakes on me. And yes, even with those boots on, it still looks handsome enough to generate a look-back when parked up.
Conclusions: Back in June of 2020, Volvo made the somewhat controversial announcement that all of their cars (from 2021 onward) would be speed restricted to 180 km/h. The controversy wasn't the chosen speed per se (that's still quick enough to keep up with most folks on the 410) but the act of limiting itself. Without jumping into the weeds of freedom debates, I think this was part of a larger move by Volvo to reprioritize things.
The 2022 V90 Cross Country B6 AWD does not have a performance "Polestar Engineered" driving mode. There is less overall horsepower and torque on offer in the newer, heavier version of a flagship car. As such it is slower but everything has been calibrated to maximize smoothness. Acceleration is EV-like – without its inherent quickness, sure – in that it feels perpetual (at least to its governed speed, I imagine).
Handling is confident but it errs on the side of compliant. Body roll is minimal for a vehicle of this size and ride height, but the chassis feels as though it could and would like to push harder. You can feel the concessions made in suspension tuning to refine the ride and a similar effect is transmitted through the steering wheel: it has excellent on-centre feel but loses touch when spun.
Combine these factors with the overall comfort of its cabin, coddling seats and exceptional hi-fi (not to mention the cargo and passenger space) and you have every reason to forget that SUVs and CUVs were ever invented. This is a vehicle that has embraced and smoothly behaves exactly like its packaging advertises: it's a bespoke suit with boots. Ready for a bit of almost anything.
2022 Volvo V90 Cross Country
Price: $78,420 (as tested) + Freight, PDI $2,015
Configuration: Front-engine/All-Wheel-Drive
Engine/Transmission: 2.0L, Direct-Injected Supercharged and Turbocharged Engine / 8-Speed Automatic
Power/Torque: 295 hp (with 13 HP Integrated Starter Generator) / 310 lb-ft
Cargo capacity: 714 litres (rear seats upright); 1,517 litres (rear seats folded)
Towing capacity: 1,580 kg
Fuel economy: 10.6 City / 8.1 Highway / 9.5 Combined
Alternatives: Audi A6 Allroad, Mercedes-Benz E450 All-Terrain
Link: Volvo Canada