Volvo's entry into the subcompact crossover made its debut a short while ago, and it has a certain youthfulness to it.
Perhaps it was the bright and colourful two-tone trims on display at the auto show where I first laid my eyes on it, but the XC40 is definitely a vehicle that is tailored to a younger clientele looking for style and substance.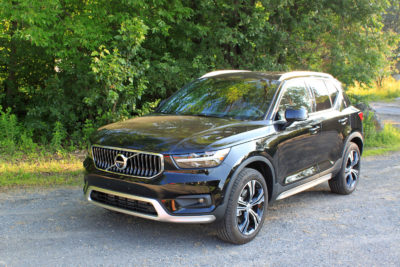 The 2019 model has lots of style and the Inscription trim I tested is big on substance.
The top of three trims, the Inscription starts at a shade over 47K at $47,050, but climbs all the way to $56,590 the way Volvo has outfitted it.
The base Momentum trim starts at $39,750 while the R-Design goes for $45,650.
The already well-equipped XC40 is further enhanced thanks to a host of optional packages and standalone add-ons such as the Vision Package ($1,800), Climate Package ($1,250), Convenience Package ($1,600), Onyx Black Metallic Paint ($900), Four-C Chassis ($1,000) and 19-inch 5-Spoke Black Diamond Cut Alloy Wheel ($975).
The Climate Package will be especially appreciated in Canada as it adds heated features like the washer nozzles, steering wheel and rear seats, as well as headlight high pressure cleaning.
And the Convenience Package includes handy features like a power operated tailgate and hands-free tailgate opening and Pilot Assist, Volvo's semi-autonomous drive system that includes adaptive cruise control.
Like I said; Big on substance.
The all-wheel drive XC40 is powered by a 2.0-litre turbocharged inline four-cylinder engine.
It delivers 248 horsepower and 258 ft-lb of torque through an 8-speed automatic transmission. About the only thing I disliked about the transmission setup was the electronic shifter, which takes some getting used to. Two pushes forward for Drive, two pushes back for Reverse. Felt like I was looking for the cheat code on my old Nintendo at times!
For a vehicle this size, those are some good numbers and it makes the XC40 pretty fun to boot around town with.
It does require premium fuel, with an estimated combined average of 9.0 litres per 100 kilometres. After a week with it, I came oh so close to matching the Volvo numbers with a result of 9.4 L/100 km.
That was a nice feeling at the end of the week, which is a good bookend to the sentiment at the start of the week when I picked up the XC40.
It's a looker, from front to back.
It has a squared off nose and short overhangs, as well as Volvo's Thor's Hammer style daytime running lights. For a small crossover, it has a fairly muscular appearance that goes with that engine under the hood.
The angle at which the rear side windows slope up to meet the upper roof further enhances that muscularity, and I am a big fan of the vertical taillight assembly on the XC40.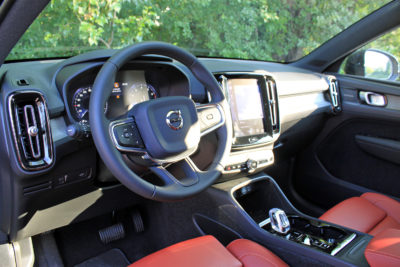 Inside, the cabin is a modern environment that is welcoming and comfortable.
Front and centre is a large 9-inch portrait style screen that is the brains of the operation and eliminates almost all of the buttons and knobs in traditional models. Some people will cry foul, but there's little denying this is the way things are likely headed.
The seats are comfortable, materials are top notch, the fit and finish is excellent and rear passengers may forgive the snugness given the heated seats on a cold day in February.
And I especially loved the red interior colour that was a nice contrast to the black exterior. It was sharp.
Cargo space isn't the most generous given the subcompact nature of the XC40, but it's still pretty good and could handle the gear for a weekend getaway.
When it comes to infotainment, Volvo has definitely taken a modern, simplistic approach. As mentioned earlier, most if not all of the buttons and dials are gone, replaced by touchscreen commands.
Not everyone will be a fan of this setup and it does admittedly take some getting used to, but nearly everything is done through a series of menus on the Sensus system. There's a noticeable lag at startup, so if you have to modify some controls before driving off, be patient.
Overall, once you are accustomed to it, the infotainment setup becomes much easier to use, although accessing some of the secondary menus/controls is best done while parked.
The XC40 is surprisingly fun to drive and feels solid on the road, handling bumps in the pavement while keeping passengers from being rattled around too much.
Steering response is light and crisp, making it very responsive to your inputs.
The drive settings can be modified through a dial, from Eco mode, off-road and dynamic mode.
The whole package comes together nicely and the result is a solid daily driver that looks great and is packed with many features that are on many buyers' lists these days.
It is going head to head with some stiff competition from the German and Japanese luxury brands, but this Swede shouldn't be overlooked.
2019 Volvo XC40 T5, AWD, Inscription
Price as tested: $56,590.00
Freight: $2,015.00
Configuration: Front engine/All-wheel drive
Engine/transmission: 2.0-litre turbo inline four-cylinder/ 8-speed automatic Geartronic
Power/torque: 248 horsepower/ 258 ft-lb of torque
Fuel (capacity): Premium (53.7 L)
Combined fuel economy ratings (L/100 km): 9.0 L/100 km
Observed fuel economy (L/100 km): 9.4 L/100 km
Warranties: Lifetime parts and labour (basic)
Competitors: Audi Q3, BMW X1, Infiniti QX30, Lexus NX, Mercedes-Benz GLA Class
Links:
Volvo Canada
Auto123