The Viking Trail slithers for just over five-hundred kilometres along Newfoundland's western shoreline, linking both place and time. At its northernmost point lies L'Anse aux Meadows, the famed archeological site that housed Leif Eiriksson and his crew of Norse explorers somewhere around 1,000 A.D. It's an absolutely breathtaking and humbling area to behold but the section of this scenic drive I'm on won't meander out quite that far. Instead, I'm exploring the areas in and around Gros Morne National Park. Situated just outside of Deer Lake, this swathe of continuously changing landscapes is easily one of the most beautiful chunks of land Canada has to offer. And instead of searching for a port through the rough seas in the Gulf of St. Lawrence, I'm taking in as many visuals as I can while bombing around the Viking Trail's weathered asphalt in the new Porsche Macan S.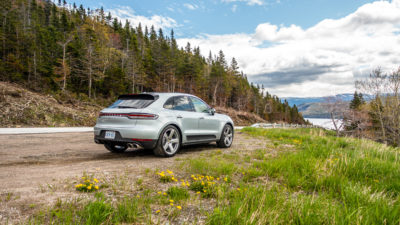 Newly refreshed for 2019, that Macan now falls aesthetically in line with its family thanks to the integration of the full width lightbar on its rear and the introduction of LED lighting all around. The exterior tweaks continue with a more aggressive treatment to the front fascia thanks to a new lower valance that, when chosen with one of the bigger, beefier twenty-one-inch wheel options, makes the Macan S a rather attractive standout in the homogeneously styled SUV world — think more Rally Raid, less Rite Aid. Parked in Woody Point with the snow-capped Tablelands in the background, the Macan S generates enough attention to spur an offer from a local to swap my ride for residence where this splendour is a "backyard". The overture is tempting but this is my first stop along the Trail and the Macan S isn't happy at a standstill.
Press the neatly placed "Sport" button, slot the shifter into drive, mash the gas and the Macan S is gone. Where the previous generation's twin-turbo V6 suffered from a spot of lag, the new motor just doesn't. The 3.0L V6 in the 2019 model utilizes a singular turbo in a "hot V" arrangement. This not only frees up space in the engine bay by slotting the snail betwixt both banks but also shortens the plumbing needed for forced induction. The result is a quicker spool and ultimately a more powerful and efficient motor. Horsepower in the Macan S now hits 348 (a thirteen horse bump from the previous generation) while 352 lbs/ft of torque is available from a mere 1,360 rpm. Equipped with the Sport Chrono package, there's enough shove to get to 100 km/h just a tenth of a second slower than last year's Macan GTS (5.1 seconds).
From inside the cabin, the 2019 Macan S benefits greatly from its mid-cycle refresh. The main touchscreen has increased in size to 10.9-inches but the wonderfully laid out buttons remain. That means luddites like me can still poke and prod at functionality instead of trying to uncover things behind multiple layers of interface. Combine that with a lack of anything resembling an open and accessible cell-phone slot and you have a driver's cockpit that keeps you focused on the task at hand.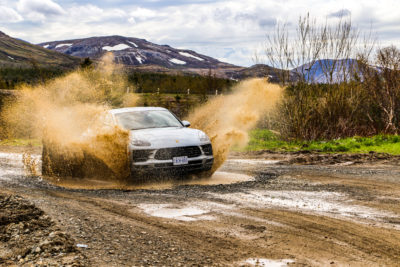 Hustling through the interior of Gros Morne National Park, I'm doing just that. I won't lie and say it's not a struggle as my retinas would rather lock in on the surroundings but man, this Macan S can shimmy. Steering feedback via the GT Sport option wheel is nicely weighted and Porsche's engineers did a great job of hiding the Macan's 1,865kg of mass through the twists. The brakes provide good initial bite and a progressive feel and even with a forceful stab nothing gets out of shape. Regardless of corner complexity or ham-fisted driving, the Macan S moves with the assuredness of a vehicle that's been there, done that and isn't off put by surprises.
Which is reassuring in these parts. You see, there are three things drivers need to look out for when cruising the Viking Trail (or any of Newfoundland's asphalt, really): potholes, moose and potholes. Thankfully we didn't encounter any from column B, but savage winters and sea air mean columns A and C are everywhere. Credit goes to Porsche's Adaptive Air Suspension — an option box ticked on my Macan S — that seems able to smooth out craters while keeping the chassis stiff, balanced and sporting; exactly what buyers want from that badge on the bonnet.
But don't think the Macan's poise disappears when roads turn to rocks. Despite evidence that few Macan drivers venture into the dirt, Porsche did see to it that a few buttons south of Sport sits one labelled "Off Road". With a small but evacuated quarry at my disposal, I tapped said button and set about begriming some Dolomite Silver lacquer. With the suspension at full mast and the seven speed PDK transmission primed to hold cogs, my Macan earned its "S" through some puddles and even managed to clamber up a loosely packed mound of rocks. Were it not for the limits of the Michelin Latitude Sport 3's on those Sport Classic hoops, I'd wager the Macan's all-wheel-drive system could make short work of much tougher stuff.
The Macan is Porsche's bestselling vehicle. Globally, since its debut in 2014, some 385,000 Macans have been sold. In Canada, it accounts for nearly half of all new vehicle sales for the marque. And after spending a day bombing around the living postcard that is western Newfoundland in one, I'm beginning to see why. Starting at a palatable $63,000 (or an even more tempting $55,500 for the standard Macan) the Macan S is a competitive, capable and engaging small SUV. And considering it can be optioned from entry level to near exotica (my Macan S rang in at $85,820), Porsche has a brand introduction that can be built to cater to the wants of discerning drivers while meeting the needs of a growing modern family.
Links:
Porsche Canada