We couldn't bring a Tacoma to the moon, so we threw it in the mud instead.
Ever since Toyota introduced the TRD Pro lineup in 2017, a new theme colour has been added to the model range with each new year. For 2021, the colour is called Lunar Rock. Is Toyota trying to tell us its seemingly indestructible truck can operate on the moon's surface? We couldn't try it, so we focused our adventure on some good old fashion mud slinging.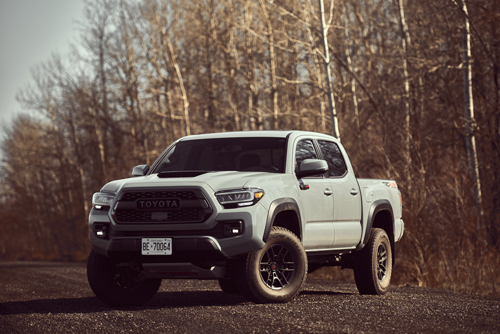 Perhaps what's most fascinating about a Tacoma TRD Pro is that while a Chevrolet Colorado ZR2 offers better gear at a similar price point, TRD Pro sales have been dominating its rivals. Like that cool, popular kid in high school, Toyota's midsizer is the one everyone wants, even if most of its rivals beat it in towing, payload, fuel economy and overall cabin comfort.
It's fair to say then, that the TRD Pro package, which can now be grafted onto a Tacoma, a Tundra, a 4Runner and a Sequoia, has been doing well for the brand. What began as a pilot project ended up being one of its most profitable trucks, with consumers lining up at dealerships to have one in their driveway.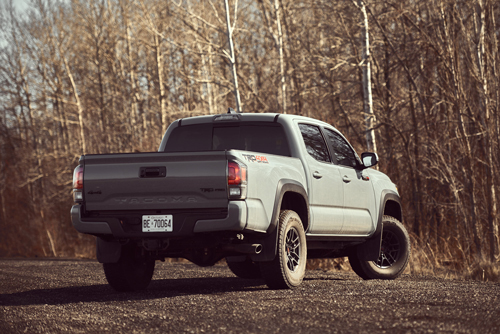 A lot of this hype has to do with Toyota's stellar reputation for reliability and the Tacoma's unquestionably high resale value. While a $54,330 price tag (CDN- as tested) could also have you sitting in a well-equipped full-size rig from Ford, GM or RAM, there's no denying Toyota's unquestionable desirability in the truck world.
So, TRD Pro: the package is only available on a Double Cab four-door, four-wheel-drive short-bed Tacoma. Upgrades include Fox 2.5-inch-diameter internal bypass shocks, a one-inch lift in the front, progressive-rate leaf springs in the back, beefy off-road tires, an electronic locking rear differential, a front skid plate and a slew of TRD Pro badges, as well as the infamous classic TOYOTA grille. There's also Rigid Industries–branded fog lights, and a TRD exhaust system, just to make sure people know you're heading their way.
In the power department, nothing changes, meaning it's still powered by Toyota's tried and tested 3.5-liter V6. It's good here for 278 horsepower and 265 lb-ft of torque. That engine can either be mated to six-speed automatic or manual. My tester had the latter, which gave it extra desirability points.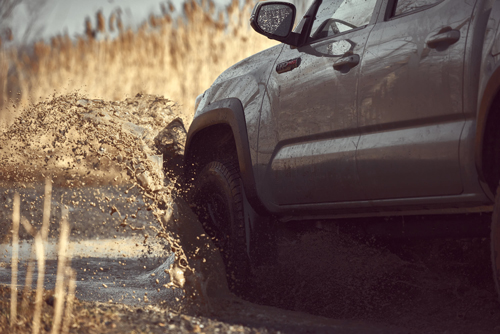 The only thing you'll be missing with the manual transmission, is Toyota's Crawl Control system, which is some form of cruise control device designed for off-roading. It helps you get out of thick mud or snow. With the manual transmission, you essentially need to do all of that yourself. Go figure.
The Tacoma TRD Pro isn't as extreme as a Colorado ZR2 in the sense that it can't jump over dunes at high speeds nor withstand the same kind of impacts, but it is a seriously capable machine if you simply want to venture out in nature without being thwarted.
While this truck is starting to show its age on the road due to its choppy ride, high fuel consumption and awkward seating position (the cabin is high and the roof is low, so getting inside requires climbing, then ducking), the upgraded Fox suspension totally transforms the overall driving experience. It basically reacts to road imperfections and bumps in a much more mature and refined matter. But on the road, it does feel like the front is too soft and the rear is too stiff (more on that later).
One of the activities the global pandemic had me doing the most due to Quebec's 9:30 pm curfew, is playing video games, more specifically the acclaimed Snowrunner off-road simulator.
That virtual platform game gave me a massive amount of knowledge about locking differentials, 4×4 low, winching and off-roading in general. All that game time now has me wanting to throw any off-road machine in the mud to test out their gear. On this day, our trail has the right number of chasms and obstacles to put any good truck or SUV to the test.
With the all-wheel drive system set to high and traction control off, I had the right level of capability to attack the first bumpy sections of the trail, where each dip was submerged in fresh spring puddles.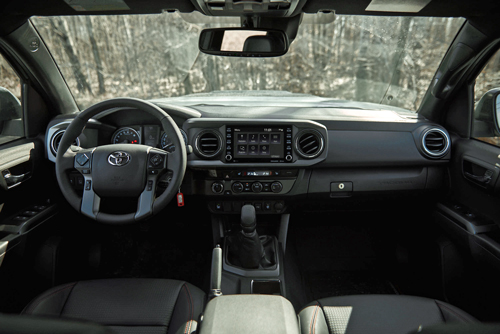 Thanks to the manual transmission, you can really grab this sport truck by the scruff of the neck and glide through the lumps at a decent, steady rate. I was impressed by how well the shocks absorbed the hits as the Tacoma caved in under its weight at the bottom end of the bumps. What feels clumsy on the road makes total sense out here in the wild. When landing, what you want is a soft front to absorb most of the truck's weight.
Coming out of the bumpy stuff, the front skid plate and the slightly lifted suspension ensured that I didn't scrape off the oil pan. Meanwhile, that naturally aspirated V6 remained energetic, with good throttle response, but also a long throttle pedal that can easily be modulated. What's more, there's a satisfactory raspy intake and exhaust snarl as you hit the high areas of its rev range. The manual shifter has a precise, crisp feel, and the clutch is light, but also bites hard, perfect when you need to grab it coming out of the harder stuff.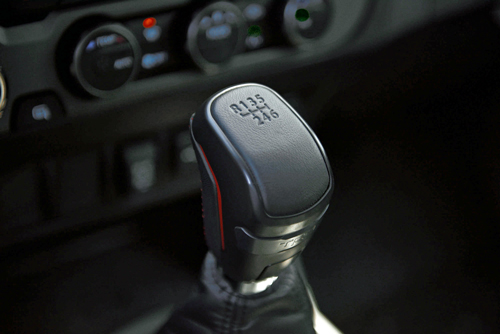 On the road, the Tacoma's hydraulic power steering felt slow to react, but it became nicely damped when climbing over rocks or steep inclines. The Goodyear Wrangler All-Terrain tires offer a good amount of grip over slippery surfaces.
There's a sense here that Toyota fine-tuned its outdoor play toy so it can better take on the elements than a conventional Tacoma. The TRD Pro package was mostly developed for rocks and sand, but it's also very capable out here in the muddy wilderness of a damp Quebec spring season.
Plowing through nature's imperfections with this trusty companion had me feeling like I was venturing through an African safari. I needed a Tacoma TRD Pro in my driveway, even if it costs an arm and a leg to buy, and to insure. Did I mention how stolen these things are?
But it's that kind of consistent desirability that allowed Toyota to sell a quarter million Tacomas last year. Yes, the Tacoma is an old truck; a rig that desperately needs to be modernized if it wants to remain equal with its rivals from a technical standpoint, especially now that an all-new Nissan Frontier that could offer some serious competition this summer.
But judging by the number of eyeballs and thumbs up that were thrown my way as I headed back home in this mud-covered "Toy-Toy", it's fair to say that Toyota has earned the respect of truck owners and off-roaders alike, a quality some American rivals are still trying to figure out to this day.
2021 Toyota Tacoma TRD Pro
Price as tested: $54,330.00
Freight: $1,860.00
Configuration: front engine, all-wheel-drive
Engine: 3.5L DOHC 6-cylinder
Transmission: 6-spd manual
Power/torque: 278 hp/265 lb-ft
Fuel economy ratings: 13.8 L/100 km city, 11.4 L/100 km highway
Warranties: 5 years/100,000 km
Competitors: Chevrolet Colorado, Ford Ranger, GMC Canyon, Honda Ridgeline, Jeep Gladiator, Nissan Frontier
Link: Toyota Canada