I am not your typical pickup truck driver. My passion for automobiles lies more in the areas of performance cars and stretching my legs on racetracks or high-speed highways such as the German Autobahn. If it has two, four or five doors, a passionate exhaust note, is either supercharged, turbocharged, electric or V8 American muscle, I am generally all over it.
But here I am out in the wilds of British Columbia driving 40 km/h through dense mountain bush in a brand new four-wheel drive 2019 Ford Ranger pickup truck and loving every second of my time behind the wheel. I guess its time for my inner outdoorsman to fully embrace trucks. They can do so much, are just as comfortable on the inside as your typical sedan and can take me places where no performance car could ever go. Plus, this new Ford Ranger looks good, so happy trails to me!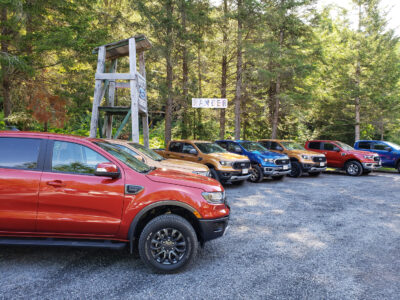 The 2019 Ford Ranger is powered by a 2.3L I-4 EcoBoost twin-scroll turbocharger engine matched to a dual-shift mode 10-speed automatic transmission. It delivers 270 horsepower at 5,500 rpm and 310 lb-ft of torque at 3,000 rpm. With a curb weight of just over 4,400 lbs., the Ranger is not lightning fast off the line, but it is quick enough and can easily handle highway cruising at speed in complete comfort and in relative silence. Electronic power steering makes it easy to maneuver in all driving conditions.
Independent front suspension and a Hotch-kiss-type non-independent live, with leaf springs setup in back, offers excellent ride comfort and off-road prowess with the combined advantage of four-wheel drive. It does seem to float a little throughout our drive on the Sea-to-Sky Highway from Vancouver to Whistler, but never to the point of feeling uncomfortable.
Three unique models are available with the Ford Ranger; XL, XLT and Lariat. Additional choices include SuperCrew or SuperCab sizes and, depending on which model you choose, XTR, Sport, FX4 Off-road and Chrome Lariat trim packages. Along with the options available for what you want to drive, the Ranger features four distinct driving modes beyond normal, that being grass, gravel and snow, mud and ruts and sand.
My test vehicle for the bulk of our drive is the 2019 Ford Ranger Lariat Chrome 4X4 SuperCrew equipped with the optional FX4 Off-Road package ($1,400). On the exterior, ours is equipped with the Sport Package ($500) featuring a black front grill and Magnetic (dark grey coloured) front and rear bumpers, wheellip mouldings and distinctive Magnetic wheels.
For a midsize pickup truck, it looks rugged, with protective skid plates, upgraded tires and off-road tuned shocks and suspension. Our tester also highlights 17" Magnetic aluminum wheels, side running boards for easy in and out, a tow package and spray-in bedliner ($600). Underneath protection from unwanted contact with rocks, trees, etc. is provided by a steel bash plate, heavy duty skid plate and side skid plates.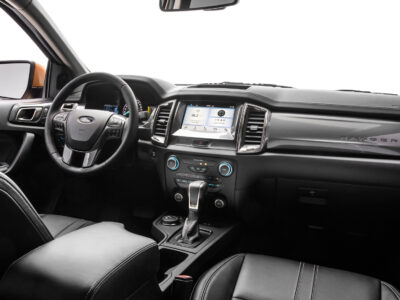 Inside, what I notice right away is the quality of materials and fit and finish is very high for a competitively priced truck. The Lariat series ($3,000) offers a B&O premium HD satellite radio with SYNC 3 and navigation, as well as the technology package, adaptive cruise control and remote start.
Seats are remarkably comfortable, this is a great environment for spending quality time, whether you find yourself off-road or in the city or highway. Heated seats are standard on the Lariat. The dash, while maybe somewhat aged when it comes to design, works well in all the right places.
A multi-function steering wheel houses the necessary controls for cruise, radio and more. Large vents allow you to direct air where it is needed and round knobs and a good size center console screen, with SYNC 3 on the Lariat, interact well on the fly. Multiple charging ports are spaced around the cabin, including two for backseat passengers. Visibility is excellent and rain-sensing wipers on our test vehicle are a welcome feature.
Of course, one of the reasons for driving a pickup is so that you can pick things up. Our SuperCrew Ranger features a 5-foot box with a spray-in bedliner. It should be more than adequate for a run to the home improvement or garden center, with a 6-foot box available if needed on the smaller SuperCab.
While my first choice for driving remains a high-performance car of some variation, there are many who would choose to drive a midsize pickup truck and I can completely understand why. The 2019 Ford Ranger is sized right, comfortable, powerful enough for most and looks good. The fact that it is also far more useful for hauling and towing than most cars and can carry 4-5 adults in relative comfort, is just one of many reasons why this is a growing segment in the market. Maybe it's time for truck! Perhaps a Ranger Raptor would do the trick?
2019 Ford Ranger Lariat Chrome
Price as tested: $51,309.00
Freight: $1,900.00
Configuration: Front engine/ Four-wheel drive
Engine/transmission: 2.3-litre I-4/ 10-speed automatic
Power/torque: 270 horsepower/ 310 ft-lb of torque
Fuel (capacity): Regular unleaded recommended (68 L)
Combined fuel economy ratings (L/100 km): 10.9 L/100 km
Observed fuel economy (L/100 km): 11.3 L/100 km
Warranties: 3-years/60,000 km (basic)
Competitors: Chevrolet Colorado, GMC Canyon, Honda Ridgeline, Jeep Gladiator, Toyota Tacoma
Links:
Ford Canada