Remember back in 1985 when "Doc" Brown said the then-unfathomable amount of electricity required for Marty McFly to travel back in time was 1.21 gigawatts? Well, that number now represents the combined power of two major DC fast charging networks across the U.S. and Canada — Electrify America and Ionity — helping charge Porsche Taycans and other energy-hungry EVs quickly and efficiently.
Did you know Porsche's first electric car takes only 22 minutes to go from five to 80 capacity thanks to its 800-volt battery architecture and 270-kilowatt charging speed? There are other innovations as well including Plug-and-Charge capability that processes payments automatically, allowing the juice to start flowing as soon as a user connects his or her Taycan to a compatible source.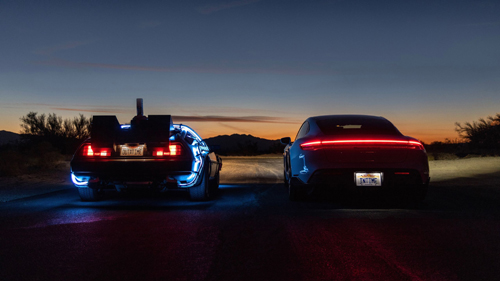 Unlike McFly who had to rely on a bolt of lighting for power, Porsche owners can use the vehicle's onboard Charging Planner, which works with the navigation system, to help locate the nearest stations along the travel route. The calculated ETA for trips always takes into account the projected time spent topping up the battery.
New for 2021, Porsche released a shooting brake (wagon) version of the Cross Turismo adding a little extra practicality to the sporty zero emissions model. The brand is offering special add-ons for this EV including an off-road package raising the ground clearance by 30 millimetres, rear carrier and more.