If you would have asked me a decade ago who among mainstream manufacturers I would place at the top of the battery-electric vehicle game, Toyota would probably have been my pick. After all; they, along with Honda, were the first to bring hybrid tech to the masses. Only Toyota's really stuck with it, though, expanding their hybrid offerings while Honda recently reduced theirs, cutting both the Acura MDX hybrid and Honda Clarity from their respective line-ups.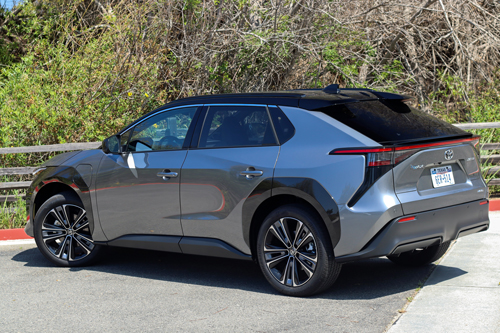 Turns out, though, I would have been wrong. Indeed, it's the Koreans that have really taken the BEV reigns; Hyundai has been building the Kona-e and Ioniq EV for a few years now – and has just released the Ioniq5 – while Kia has had an EV version of its popular Soul crossover and has just released the EV6. Across the Hyundai, Kia and Genesis brands there are seven BEVs to choose from in Canada.
Turns out that it's that dedication to their hybrid platform that's caused Toyota do delay the release of their first true mass-market EV, the bZ4X (with "BZ" standing for "beyond zero"; watch for that nomenclature in other Toyota products going forward). With such a strong commitment to the world of the traditional hybrid, Toyota needs the materials and tech for the multitude of Prius taxis and Highlander people movers they sell – similar tech that would be required to build BEVs. That's become an even tougher bill to satisfy due to pandemic-related shortages. A decision had to be made: shut down and retool to start building BEVs, or put that on the backburner for awhile?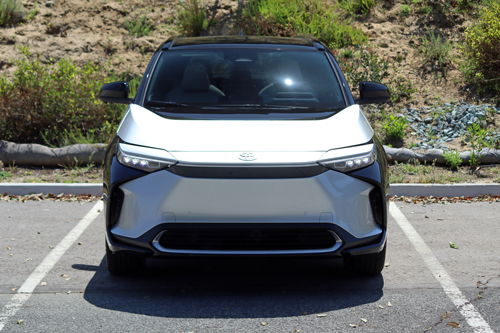 That's the business part of it; there's also an environmental aspect. Ask Toyota, and they will tell you that the best way to reduce their overall carbon footprint is not to build more low-selling BEVs, but higher selling hybrids. On a car-to-car, one-to-one level, perhaps a BEV has a lower carbon footprint although even that's debatable; no free lunches and all that. Spread that across the millions of hybrids Toyota sells, though, changes things.
Any way you slice it, though, the demand for BEVs is rising and so the time was right for Toyota – in partnership with Subaru, who's Solterra shares the bZ4X's platform and tech – to bring a BEV to market.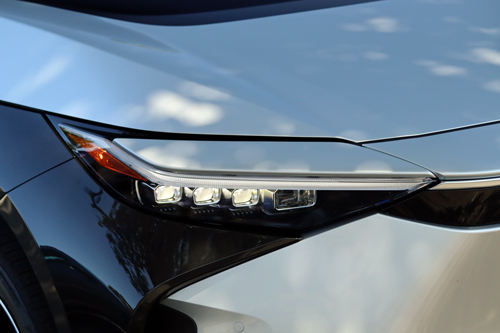 On the styling front, the bZ4X's styling looks unlike anything else Toyota has on offer, really, with the possible exception of the rear fascia which, if you look reeeal close, has some elements of the current Prius, the previous-generation Mirai sedan and even – believe it or not – the LFA supercar. Yes, it's a bit of a stretch but it's there.
The front end, however, is completely unique and ultra slippery for the aerodynamics you need for increased range. It's low on clutter, but I think that perhaps there could have been a few added contrast-colour details there to be better in keeping with the very present contrast-colour wheelwells. Those, however, are an XLE-only option; single-tone colourways are standard fare.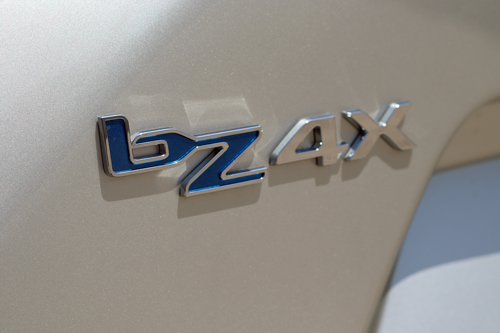 In terms of real figures, it's a longer and has a longer wheelbase than the RAV4, wider and sits a little lower and considering that you don't have as much running gear here as you would in the RAV4 (a little more if you select the AWD version of the bZ4X, which adds a second motor on the rear axle), interior space is generous.
Styling-wise, the interior is a nicely futuristic spot with two main focal points: the optional 12-inch infotainment display (an 8 incher is standard) and the steering wheel whose mounting geometry reminds a little of classic Citroëns whose steering column doubles as a spoke.
In the bZ4X, it appears this way because the gauge cluster is mounted so far back and high on the dash that the steering column appears that much longer. The gauge cluster is positioned as such as it fits better into your line of sight and basically nullifies the need for a heads-up display. I don't mind HUDs, but polarized sunglasses tend to wreak havoc with them. It's also one less thing you have to worry about breaking, rare as that occurrence may be.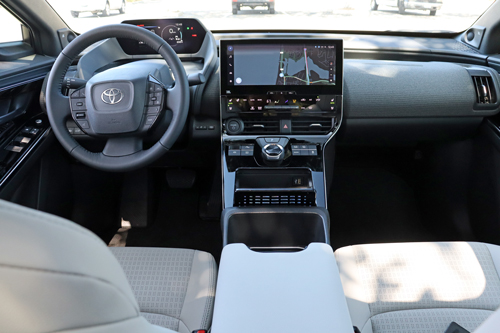 I do worry, however, that sharp as the digital gauge cluster may be, it could be tough to see for some drivers.
The central display, though, especially in extra large size seen here, will never have that concern. It is massive, the graphics are ultra-sharp and if you don't like them, wireless Apple CarPlay and Android Auto come as standard.
It's mostly a comfortable place to sit, although as a taller driver, I found the footwell to be a little snug as I tend to have to splay my legs out a little more as I drive, and that's made tougher here. The tall centre console, however, does bring controls like the transmission control joystick (bit awkward, that) and drive mode select closer within reach. It's also where the wireless charger is located, which you can keep hidden under a windowed door to reduce driver distraction.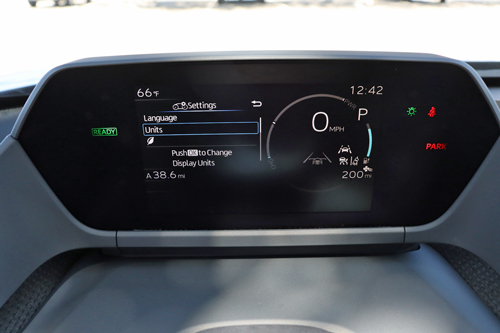 Power on the single-motor FWD model is rated at 201 horsepower, while the AWD model gets a 13 hp boost to 214. It should come as little surprise that the FWD vehicle has the better claimed range – 406 km – to the AWD's 367 km. During my test of the FWD model, however, I actually started on a full charge with 485 km and as I drove, my range remaining accurately reflected my km driven, which is always a good sign. The AWD vehicle gets the larger battery, but the difference isn't huge as its 72.8 kWh offering is only 1.4 kWh larger than that which is found in the FWD car. Charging on a DC fast charger in optimal conditions should return 80% of charge in about one hour; that's fine, but it is on the slower side when you consider the competition. This all comes with a bit of an asterisk, of course, because charge time vary wildly as conditions get colder, which they often do in Canada.
As is the way when it comes to EVs, the power delivery on the bZ4X is instantaneous, which makes getting away from stoplights and zipping in and out of traffic that much easier. I'll always love that about an EV although the bZ4X makes less power than the Ioniq5 and you can feel the deficiency as speeds increase. You will feel a little more "zip" from the AWD model, of course, but I didn't find the differences to be all that marked.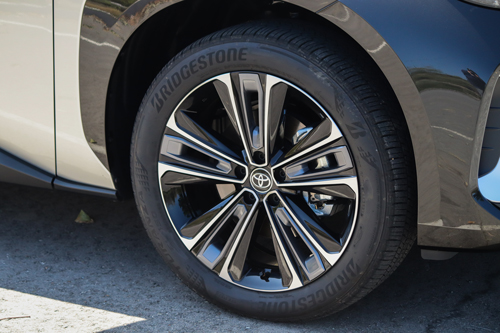 What the AWD does get, however, is a version of Subaru's X-Mode AWD system (it's called as much here), which adds snow/dirt and snow/mud modes that can brake certain wheels for a limited-slip effect, or automatically angle the front wheels to help clear away snow or mud.
Of course, the bZ4X isn't supposed to be a performance vehicle, so they've made sure to get the important bits right, and that's the ride and handling. Handling is improved thanks to all that heavy running gear sitting nice and low in the chassis to reduce body roll, while the ride is a smooth, comfortable and quite affair thanks to smart use of sound deadening materials and glass.
I would safely describe the ride both in town and on the highway as "luxurious", as it continues to catch by attention – in a good way – as the driving and road conditions changed. Of course, the roads in Southern California in perfect conditions where we were testing these are a far cry from some of this stuff we deal with in Canada, but what I experienced there does bode well.
The bZ4X's interior space and amenities, as well as its excellent on-road dynamics will surely win it some solid points with potential buyers. Indeed, in does all of that with the razor-sharp focus and perfection that we've come to expect from Toyota when it comes to the cabin experience. I am concerned about its pedestrian range and charge time figures. Those are eclipsed by the likes of the Hyundai Ioniq 5, which is going to be a tough nut to crack not just for Toyota, but for any potential BEV builder. The bZ4X, though, has that one crucial element that so many lack: the brand equity of a household name like "Toyota", and that speaks volumes.