As the all-electric Hyundai Ioniq 5 inches closer to production (and is on-pace for the originally scheduled North American delivery later this year, even though they are off the pace a little in Europe), the manufacturer has shed some more light on both its range and its size, among a few other tidbits.
Of course, when it comes to talking about EVS, range is most often issue numero uno for buyers, so Hyundai has taken the wraps off their range claims now that they've completed their North American range tests, which are a little more stringent than other markets.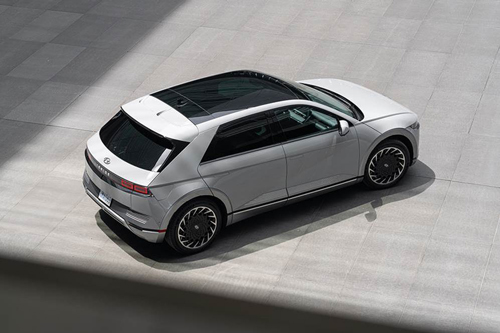 In North America, Hyundai is claiming 480 km of range for the rear-wheel-drive (RWD) version of the Ioniq 5, and 435 km in long-range all-wheel-drive (AWD) form, as that version gets more power than does the RWD model as it is a dual-motor set-up, and that plus the added weight does affect range. That's the RWD Long Range figure, there's also an RWD standard-range version that provides 345 km on range. Power for the full-chat dual-motor AWD version comes in at 320 horsepower and 446 pound-feet of torque, enough for a 0-100 km/h sprint of under five seconds.
You can probably guess which is going to be their bigger seller; if you said the AWD version, you'd be right as the manufacturer is looking at about a 60 per cent take rate for the AWD model. That's roughly the same take rate as their gas-powered (ICE) CUVs and SUVs that offer both two-wheel and all-wheel-drive powertrains.
Size-wise, with a wheelbase of 3,000 millimetres the Ioniq 5 actually has the longest wheelbase of any vehicle in Hyundai's North American line-up including the full-size Palisade, whose figure the Ioniq beats by just 100 mm. The goal of this is to offer as airy a cockpit as possible, which is complimented by a movable center console that can slide back and forth through 140 mm, so the rear seat occupants can make use of some of its features, such as its cupholders. While the 5 is only a little taller and wider than the new Tucson, there's more room inside than there is in the Ford Mustang Mach-E or the Volkswagen ID. 4.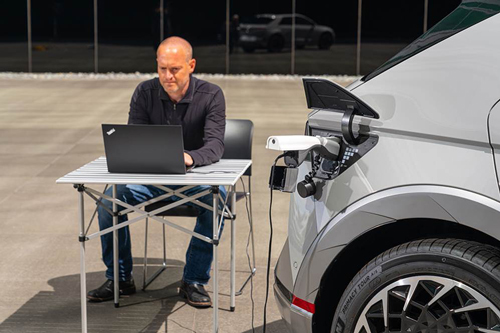 Add the numerous creature comfort features found inside – wireless charging, shift-by-wire gear selector, thin front seats for more second-row space, once-piece glass roof and centre console with enough room for a large handbag, and you can see that the Ioniq 5 isn't slated to be some flash-in-the pan EV that appeals to those that just want an EV, but to those who may be considering a change from their ICE as well.
"How do we make it so people have the car work in (owners) every day lives?" said Olabisi Boyle, VP of product planning and mobility strategy at Hyundai. 
In addition to the qualities outlined previously, the Ioniq 5 will also be able to charge from 10 per cent to 80 per cent in just 18 minutes on a 350-kw charger, and thanks to its fold flat front seats, you can have a nap in there while you charge. Or, if you prefer, the Ioniq can spread some charging love of its own; it's been developed to offer vehicle-to-load capability, so you can use it to power various electronics while camping or electric bikes and scooters.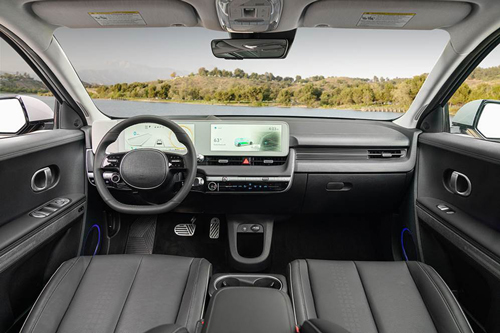 Eagle-eyed observers may have seen that there is no Hyundai logo on the wheel hub; according to Hyundai, that's in an effort to reduce clutter and make for an airier feel. That may be the case, but it's also an indication that Hyundai really does see Ioniq as a proper sub-brand that can stand on its own four tires. If you'll recall, a similar thing happened at Genesis; before it was its own brand, you could choose to have unique Genesis badging on your vehicle as opposed to Hyundai badging. You can see now where this will eventually led.
It should come as little surprise that a vehicle that people are considering because it will lower their carbon footprint is full of many interior bits constructed from sustainable materials including plastic bottles and plant-based yarns.
It was also revealed today that if you are considering one of these, Hyundai will be opening the pre-reservation books in a couple of weeks for prospective owners.
No pricing has been announced; expect that closer to the Ioniq 5's release later this year.