Electric vehicles (EVs) have been among the only good things you've seen making the news these past two-something years (especially if you're a Leafs fan). You can add the Kia EV6 Long Range AWD to that meagre list of good news. Head on, EVs stick out from their internally combustive peers; lacking slatted vents, their grilles present as griddles. This tester was the top of the class Long Range AWD with GT-Line Package 2. It drives beautifully and, like most crossover vehicles — should we even call them that anymore? — ticks many boxes. See below.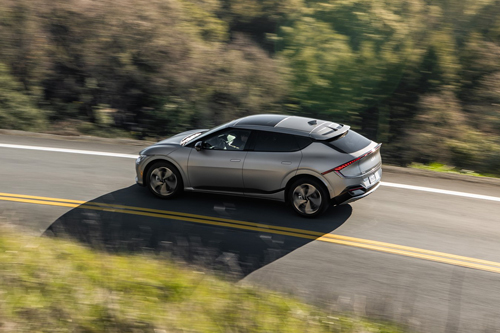 Exterior: Like most crossover SUVs the EV6 looks like a bread box, but sexier — maybe it's something more exotic like a panini or croissant box — on hypnotizing 5-spoke 20-inch alloy wheels. Mind, any boxy-ness at all doesn't seem to bother most Canadian consumers. Like neighbourhood malls, crossovers exist not to be looked at but be enjoyed from within. Given that handicap, the EV6 looks great among its peers, like a long sleek silent speeding dirigible.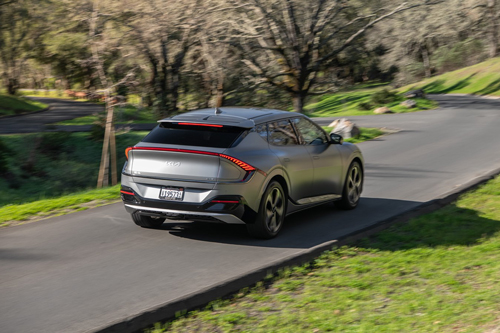 Flush manual handles automatically spring out as you approach with the fob in your pocket, ready to welcome any passengers. If you're just passing by, though, they fold back into flushness.
The liftgate at the back yawns tall like a crocodile mouth, welcoming groceries, skis, luggage and so on, then disappears hatchback-like to present an overall profile like a recumbent Marilyn with sunglasses. The singular long curvy line is interrupted only by a rear spoiler, lest you lift off from all that torque. Speaking of spoiling, read on.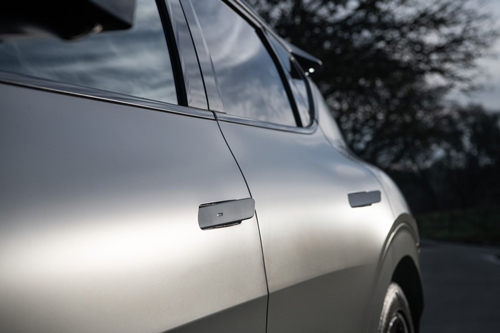 Interior: Step inside. As suggested above, this is where you and your passengers are utterly pampered. The faux-leather seats forgive any spillage. (Spoiler alert: you'll be tempted to drive and turn fast, testing the laws of physics and making unsecured coffee cups a staining/scalding hazard.) If you've recently broken your hip and have trouble getting comfortable, you'll agree the driver's seat power lumbar support is a boon. Both front seats are heated. This fancier Long Range trim included a wireless phone charger.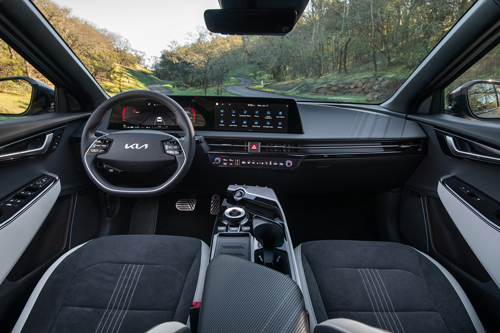 Among the other tech treats, the 12.3" multimedia interface stands out and is supported by around-view cameras. Understanding the interface's logic takes some time. Have the salespeople walk you through the essentials before trying to figure things out on the road.
Among the mechanical treats, you'll love the wide sunroof. After these past two dismal years, any extra brightness is welcome.
Powertrain: Don't worry about the mentions of boxy malls above. You could respectably take this Kia EV6 to the track. Powered by a 77.4 kWh lithium ion polymer battery, it produces 320 electric horsey powers and 446 stompin' poundin'-feet of torque!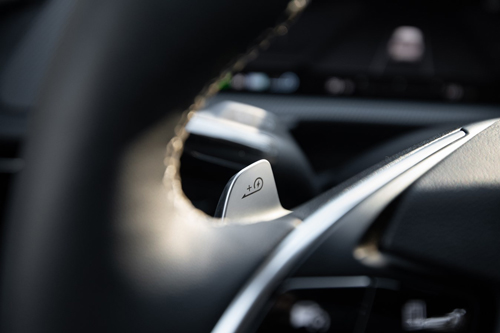 However, because it's electric the EV6 offers that torque faster than you can say speed trap. Thank goodness for the augmented reality head-up display (unique to this trim) keeping your eyes on the road through the transparent speedometer.
Remember: range very much depends on your quality of driving. Gentle driving lasts longer; driven gently, this model's range is 441k, so be the turtle not the hare. However, even with this hypocritical hairy hare at the wheel, the range of this tester was well over 320km.
Drive: All that power makes this EV is a joy to pilot. The spoiler and flat battery beneath the floor fill in where gravity falls short, blessing you with pinball driving dynamics. Find a curvy deserted area — the industrial areas of Mississauga, Ontario where the Canadian wings of many international auto manufacturers keep their press fleets will do nicely on weekends — and pretend you're one of those UFOs NASA admitted actually exist last year. Provided there's an outlet within 400km of your drive, don't worry about costs. The vehicle is estimated to cost you $597 for an annual distance of 20,000km!
Conclusion: Few people without families buy family-sized vehicles. So you ask, is this safe? Yes.
But first, google the Peltzman Effect. It's the scientific observation that safety features in things like cars give many humans a false sense of security, so they wind up taking greater risks. Ahem: The advanced driver assistance system beeps and warns; its very presence will set many at ease but probably, inadvertently, condition more idiots too. Ah, well. Maybe they'll take advantage of the parking assist. Anyway, your play, Mr. Darwin.
For those concerned about long waits at the electric fuel pump, Kia says the 800V ultra-fast charging station, takes it from depleted to 80% charged in just 18 minutes.
Finally, speaking of families and most important in ours: I liked the Kia EV6 a lot but my wife LOVED it.
Price as tested: $64,343.00
Configuration: All-wheel drive
Powertrain: 77.4 kWh lithium ion polymer battery
Power/torque: 320 horsepower/ 446 lb-ft of torque
'Fuel': Est. annual costs in $597
Combined fuel economy ratings: 2.2 Le/100km
Warranty: 4 years/80,000 km (basic)
Competitors: Audi SQ5, BMW X3 M40i, Cadillac XT5, Genesis GV70, Infiniti QX50, Jaguar E-Pace, Lexus NX/RX, Lincoln Corsair
Link: Kia Canada