The Cadillac LYRIQ EV may just be the most important Cadillac model General Motors has ever done.
Arguments will be made for the V16s of yesteryear, the 1959 Eldorado, even the big-selling CTS sedan. There are arguments for all that but few of those – none of those – were responsible for ushering in a new era not just for Cadillac, but for General Motors as a company.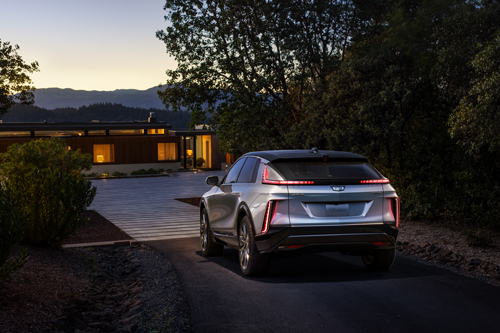 You see, the LYRIQ is one of two models – the other being the GMC Hummer — that are being tapped to usher in GM's new Ultium EV era, as they are both using variations of GM's new modular EV platform. A platform that will likely be underpinning most GM models come 2030.
In addition to the 480 km (300 miles) of range the LYRIQ is said to get, the way it's charged will be a huge attraction for customers, according to GM.
"We're confident…that the ability to charge this vehicle fast is something that I think our customers are really going to be impressed with," said Jamie Brewer, chief engineer for Cadillac LYRIQ. "But aside from that, the Ultium system itself is really a platform that has been developed with modularity in mind."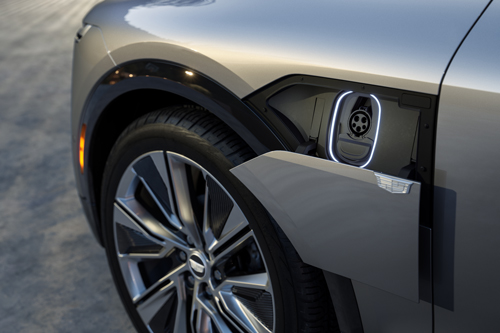 Speaking of charging: the LYRIQ is DC fast-charge capable and can also be fit with a Level 2 19kW residential charging module that can return 84 km per charge hour. That means you can get a full charge from 0 in about five hours. It should come as no surprise that the LYRIQ can also charge while driving as it features regenerative braking and one-pedal driving. You could actually say "one paddle driving" as there is a paddle attached to the wheel that can change how aggressively the vehicle regens its battery.
The Ultium system gets batteries with a number of modules – from eight to 24 – that are responsible for how much range or power it will make; the LYRIQ gets 12 modules that give 340 horsepower and 325 pound-feet of torque, fed to the rear wheels. It's just the rear wheels for now, although GM has confirmed that a more performance-oriented AWD model is also on the way.
But we've seen the LYRIQ before, right? Right here on this very website, in fact.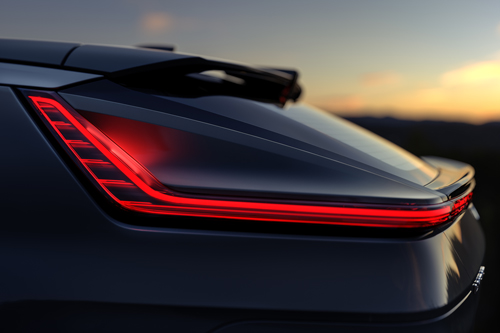 Well that's true. That was the concept, though. The vehicle you see here is the production version, even though you can hardly tell because it bears such a resemblance to the concept model. Which was precisely the point. Indeed, looking back, it's been done before at Cadillac; take a look, for example, at Cadillac's previous electrified vehicle – the ELR. You had to squint – really squint – to spot the differences between the show car – called the Converj — and the production version. It was almost a spitting image.
"Everybody knows that Cadillac is great at doing show cars," said Andrew Smith, executive director of Global Cadillac Design. "So what we really wanted to do (with the LYRIQ) was basically to deliver the show car." Pretty much everything seen there has made it to production, save for some slightly smaller wheels, modified door trim and the production model is a more traditional five-seater, as opposed to the four buckets we saw in the show car. Oh, and there's two front cupholders instead of one. Which is nice.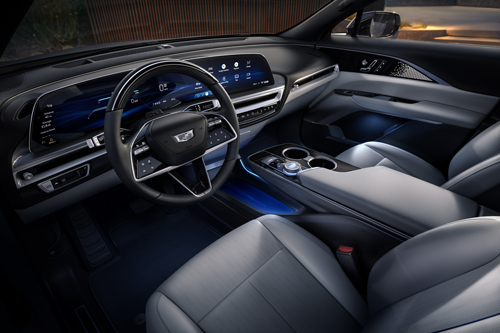 So that means we still get the gloss-black grille (not really a grille; more of a way to hide the sensors for all the driver aids, including Super Cruise level II autonomy), vertical LED headlights, flush-mounted Tesla-style door handles and wild taillamps that kind of take on the look of a flying buttresses. Upon arriving at the vehicle with your keyfob on-hand, the lights alight in a kind of greeting ceremony.
Inside, the highlight is, of course, the very Escalade-like 33-inch LED display that encompasses both the gauge cluster and central infotainment display and is capable of displaying over one billion colours. It's your access point to the available 19-speaker AKG audio system that includes speakers in the front headrests. Size-wise, the LYRIQ it's roughly the size of the current XT5 compact crossover.
The 2023 Cadillac LYRIQ will start at $69,898 in Canada and production gets underway in the Q1 2022 which, according to Cadillac, is ahead of schedule.