In a world where we are collectively trying to reduce our carbon footprint and consider cleaner, more sustainable forms of transportation, the 2021 Cadillac Escalade may seem like something of a throwback to a different era.
Indeed, there's no getting around the fact that it feels a little over-the-top in today's market. But truth be told, it is a serious money-maker for General Motors. To put things into perspective, GM sold more than 50,000 Escalades in North America last year. When combined with its corporate cousins, the Chevrolet Tahoe/Suburban and GMC Yukon, General Motors' full-size SUV family totals more than 300,000 units sold each year. This makes them the best-selling body on frame SUVs in the world.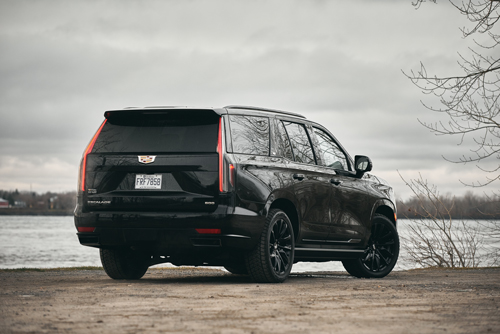 Paying the Bills
It therefore makes sense that the General gave its big boys a massive overhaul for the 2021 model year. After all, GM needs to fund its next-generation Ultium battery technology, which will eventually underpin the highly anticipated GMC Hummer EV, and also this Escalade. Yes, you read that right; an all-electric variant of this behemoth is in the works and is expected sometime in 2023.
But until we get there, the 2021 Cadillac Escalade is still powered by a tried and proven Detroit-cooked recipe. Nothing about the pushrod 6.2-liter V8 that lies underneath its hood is particularly modern, but it nevertheless gets the job done, pumping out a more than ample 420 horsepower and 460 lb-ft of torque. Mated to an all-new 10-speed automatic gearbox, this engine allows the Escalade to sprint from 0 to 100 km/h in around six seconds flat.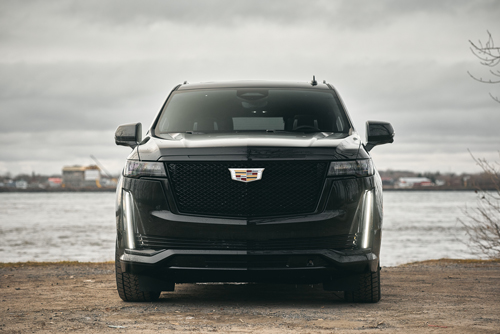 What isn't dated, however, is everything that's wrapped around the engine. GM went through great lengths to develop its new T1 architecture so it can underpin full-size trucks and SUVs, but also adapt itself for future electric offerings. Fun fact: it'll be a modified version of this platform that will underpin the Hummer EV.
The structure was also reinforced at key areas for improved rigidity and compliance on rough roads. It also now integrates an independent rear suspension, a first for the nameplate. Add to that magnetic ride adaptive dampers, as well as an auto-levelling air-ride setup, and the Escalade rides a lot smoother than its body on frame configuration suggests.
Yet, while this giant's road manners make huge strides in the right direction, you're still getting all the benefits of an actual frame. For instance, the Escalade will tow up to 7,500 pounds (3,401 kg), and while this Cadillac doesn't get a 4×4 Low feature like a Tahoe or a Yukon, it's still fitted with an engageable four-wheel drive system like you get in a full-size truck.
Immersed in Technology
Perhaps where the 2021 Cadillac Escalade impresses the most is in the amount of technology it's packed with. It really has all the latest toys General Motors has in stock, with the most notable feature being the gigantic 38-inch curved OLED screen, which incorporates a slew of innovative features.
For instance, the gauge pod can be customized to a variety of different displays, ranging between a conventional gauge cluster, a navigation map, an augmented reality screen which allows you to see below the truck's windshield for pedestrians, children or animals, all while displaying useful navigation data, or a night-vision system, which will detect people and animals that are further than your field of vision.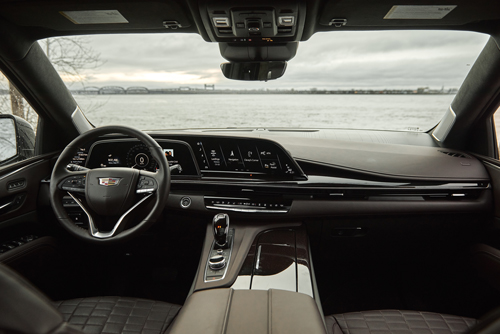 Then there's the infotainment system which harvests an almost infinite number of additional features. My personal favorite is Cadillac's NFC touch connectivity, which allows you to quickly connect your phone by simply tapping it on the screen. Cadillac also gives you a full battalion of camera systems to monitor the truck from all angles, while the trailering app is a handy gimmick when it's time to haul the jet boat up to the cottage.
Out the rear, the benefits of an independent rear suspension, which takes up less space than a live axle setup, are immediately noticed. Third row access has never been this easy in an Escalade, and once you're sitting back there, you'll find a surprisingly high level of space and comfort.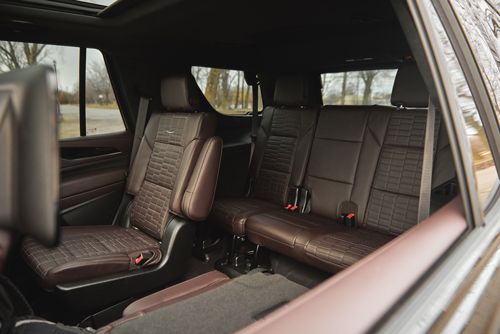 Meanwhile, second row occupants will be spoiled with not one, but two infotainment screens which allow their users to independently connect their phones, configure a pair of headphones and even send information to the driver, like a destination they've programmed themselves in the navigation system. The Escalade will also allow you to connect to a Wi-Fi hotspot (subscription required) and connect more than one phone at once.
In many ways, the 2021 Cadillac Escalade succeeds at updating its dominating presence all while continuing to offer high income earners more SUV than they actually need. There's no denying that it's currently the king of body on frame sport utility vehicles, a goliath that'll definitely give its main rival, the Lincoln Navigator, a run for its money.
Of course, all of this comes with a hefty price tag. The vehicle you see in these pictures retails for a whopping $125,068. That's steep when you consider a Chevrolet Tahoe High Country or GMC Yukon Denali offers almost as much luxury and features as the Escalade, as well as a higher towing rating of 3,628 kg (8,000 lbs.) when properly equipped, for almost $30,000 less. But, for some badge recognition is important and to that end, the new Escalade will reward it's owners like few other SUVs on the road today.
2021 Cadillac Escalade
Price as tested: $125,068.00
Freight: $2,100.00
Configuration: Front engine/ four-wheel drive
Engine/transmission: 6.2-liter V8 / 10-speed automatic
Power/torque: 420 horsepower/ 460 lb-ft of torque
Fuel (capacity): Premium/Regular (90 L)
Combined fuel economy ratings: 16.8L/100 km city/12.4L/100 km highway/14.6L/100 km combined.
Observed fuel economy 14.8 L/100 km
Warranties: 4-years/80,000 km (basic)
Competitors: BMW X7, Infiniti QX80, Lincoln Navigator, Mercedes-Benz GLS
Links: Cadillac Canada