While we North Americans tend to only associate the "4xe" nomenclature with the plug-in hybrid (PHEV) version of the Jeep Wrangler, it's actually been doing business with the Renegade and Compass overseas for over a year. And, according to Jeep, those models sell well in Europe where gas prices tend to be steeper than they are here, and where CO2 requirements are more stringent.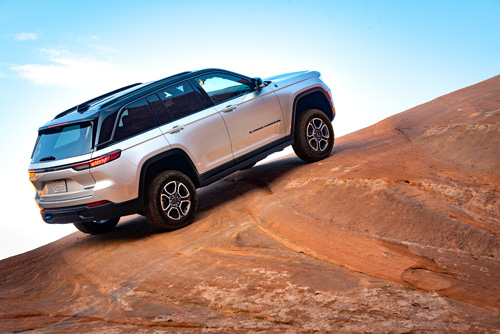 It should come as little surprise, then, that the next generation of the Jeep Grand Cherokee – the model's fifth, which will be available with either two or three rows of seating – will have a 4xe version when it goes on sale for the 2022 model year. Not only will the model be easier on owners' pockets thanks to its ability to hit a targeted 40 km on all-EV range, but it will also bring Jeep into lockstep with other manufacturers as they try and meet the various Zero-Emission Vehicle (ZEV) mandates set by Canada and other governments the world over. Jeep call their version of this commitment "Zero Emission Freedom".
In addition to the EV driving ability, the Grand Cherokee 4xe makes use of a 2.0-litre turbocharged four-cylinder engine to provide 375 horsepower and 470 pound-feet of torque, enough to help it tow up to 6,000 lbs. In order to ensure this Grand Cherokee can continue to do the off-road stuff it always has – especially in Trailhawk form, which you can now get as a 4xe along with Limited, Overland, Summit and Summit reserve trims — the 17 kWh battery is packaged under the floor and is ensured protection from underbody skidplates and shields for the power inverter module unit. The battery also gets its own heating and cooling circuit to ensure best performance no matter the conditions outside.
Like the Wrangler 4xe, the Grand Cherokee 4xe will get three drive modes – Hybrid, Electric and eSave – as well as a Max Regen feature to ensure you get the most power back through regenerative braking when in-town. All the drive modes make use of the various power systems in a number of ways, depending on what you feel you need; if you're in clogged traffic, use Electric mode. Then, as the road opens up, switch to eSave mode to preserve your charge for later on when the going gets slower.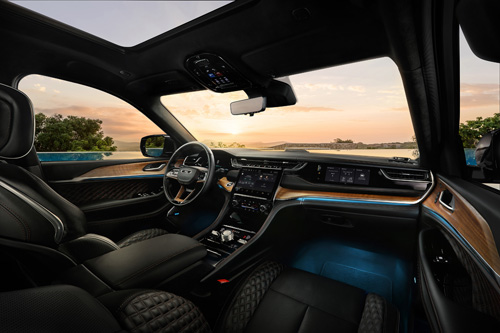 If the goings get rougher, meanwhile, drivers will be able to count on three different 4 x 4 systems – Quadra-Trac I, Quadra-Trac II and Quadra-Drive II – to get them through thick and thin. An air suspension system will also be available.
For those looking to stick with a more traditional powertrain, the 2022 Grand Cherokee will also come with a 3.6-litre V6 (293 hp, 263 lb-ft) and 5,7-litre Hemi V8 (357 hp, 390 lb-ft). What's really intriguing is now that they've taken the Grand Cherokee up EV Avenue, will they ever revert back to the good ol' fashioned muscle the SRT models had in previous generations? There has been no announcement in that vein yet, but you have to think they have a  few of those 6.4-litre Hemis kicking around in the bowels of the Jefferson North Assembly in Detroit they could ship over to the Mack plant where the new one's going to be built…
Styling-wise, the 4xe model is distinguished by a blue hue 'round the various badges – including the Jeep emblem on the hood – as well as the charge port mounted just aft of the front left fender.
All new Grand Cherokees, meanwhile, benefit from a new, sleeker look; the headlamp lenses cut a much lower profile, while the very square fenders lend an air of authority to the proceedings. The roofline and beltline have also both been lowered for a more streamlined shape, and the track has been widened by 3.6 cm. To top it all off, 21-inch wheels are being offered for the first time on a Grand Cherokee, as is a contrast-colour roof option.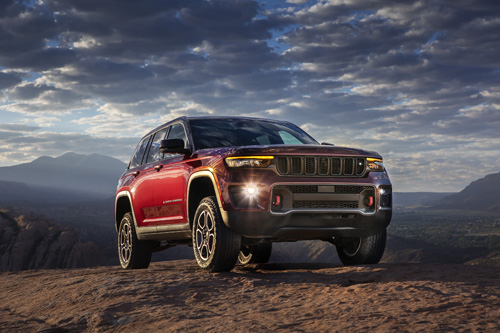 Inside, both the infotainment system and gauge cluster get 10.1" digital displays, while the front passenger gets a 10.25" display of their own, seen previously in the Grand Cherokee's Grand Wagoneer sibling. From there, passengers can watch Amazon FireTV, or even set navigation commands which are in turn copied to the central infotainment display.
There are also new 16-way adjustable power seats that come heated as standard, and ventilated seats for the first two rows are also available.
Pricing has not yet been announced; expect more on that closer to the 2022 Jeep Grand Cherokee's on-sale date later this year.