The more we see old nameplates being resurrected in the automotive world – Bronco, Hummer, Eclipse (sort of) – the more it seems that there are two distinct ways of going about it.
If you're going to bring a name back – as Chevrolet did with the Camaro in 2010, for example – the car to which it's mounted has to bear some resemblance to its forebears.
Or, you can do as Mitsubishi did with the Eclipse Cross (and to a lesser degree, as GMC is doing with the Hummer EV) and deliver an entirely new product with nothing at all in common to the old vehicle other than the logo on the grille.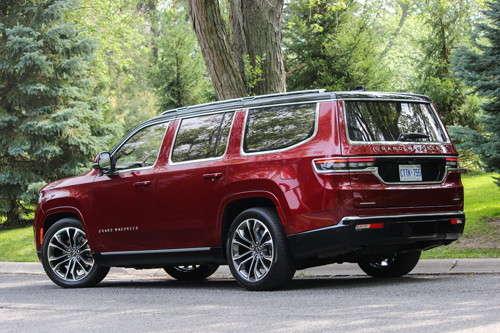 But as I've recently found out, there's a third way you can do this.
Case-in-point: the 2022 Jeep Grand Wagoneer (it is a Jeep product, but "Wagoneer" is all you're going to see in terms of badging) you see here.
On the surface, it's very much like the original '60s-'80s Wagoneer was; there's the name, there's the fact that it was a luxury vehicle then as it is now, and there's the abundance of tech, some of which we've never before seen in a Jeep product.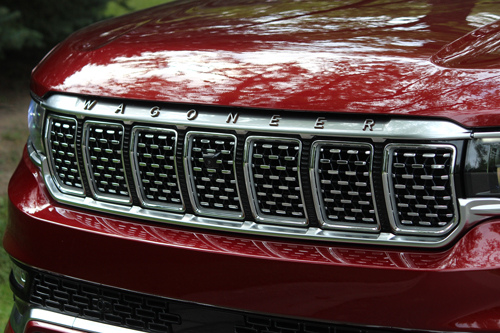 On the surface, that is. Below all that is a level of automobile that takes anything even remotely related to "Jeep" and blows it completely off the map in many ways – jut not the important ways.
It starts with the exterior styling; yes, there is no woody option as of yet (though Jeep claims to be working on something), but all of that is replaced by more chrome than a Google store. The cubic grille, individual window surrounds, lower splitter, roof rails and taillight surround all get it, while the 22-inch heels are finished in what looks like a kind of molten platinum. On my tester, it all sits against Velvet Red Pearl exterior paint, which is somewhere between candy apple red and like a wine, or burgundy. It's melt-in-your-mouth terrific and was a head-turner everywhere I drove during my test in and around Toronto. Actually, "head-turner" doesn't really do it justice; at one point, a man did a slow tour around it as if he were a judge at a concourse event.
Sure; much of this is because of the nameplate, which is unfamiliar to many but the point is that the Grand Wagoneer has a presence that beats the likes of its competition from Cadillac and Lincoln, and is on par with the likes of the Range Rover or Mercedes-Maybach GLS. It's that heavy on the eyes. Heavy on the eyes, and with the price tag to match: my fully decked-out (rear seat entertainment including Amazon FireTV, wheels, heavy-duty tow package, paint) Series III tester rings in at just under 130 grand.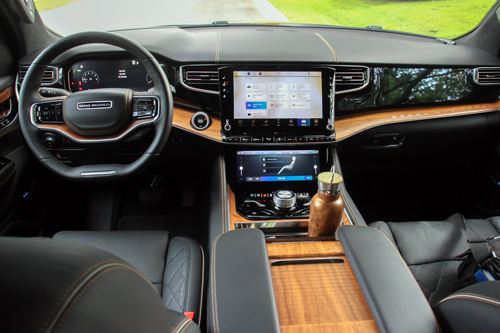 Inside, it makes a claim to that price tag by providing gorgeous diamond-print leather seating with contrast-colour stitching, open-pore wood that feels like it has been freshly sanded (that might not sound good, but it feels fantastic) superb interior lighting and with my tester's rear seat entertainment package, a total of almost 45" of displays – and that's not including the secondary display below the main unit for your climate controls or the digital rear-view mirror. It does, however, include a screen in front of the passenger. Measuring in at 10.25", it can be set to display the navigation menu so the passenger can set the destination even while the vehicle is moving, and literally click to send said instructions back to the main display for the driver to see. For years, I've been asking for cars to sense that the passenger is operating the infotainment system so it can be done legally while driving. Now, finally, Wagoneer has managed to do it in the most delightful way.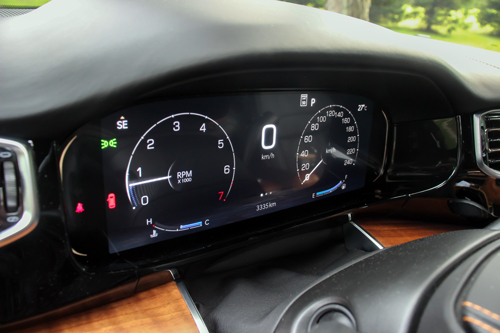 The hits just keep on coming with the aforementioned digital climate display that folds elegantly away to reveal a wireless charger, three USB-A ports, three USB-C ports, an HDMI port and an auxiliary cable port, in case you want to plug in your…portable CD player? There's also a USB port in the centre armrest, two each of the A and C variety in the second row (where captain's chairs are standard, and a bench is optional) and two more of each in the third row.
Speaking of the back rows: want to check on the kids, but don't want to crane your neck? Never fear, because the FamCam rear seat display has made its way here from the Chrysler Pacifica and it lets you do all that just by tapping the central display. You can set the FamCam and a number of other features and apps to sit right there on your favourites screen, which comes on as soon as you start the engine. All the passengers that rode in the third row, meanwhile, said it was way roomier than they would have imagined so all the extras back there – including a separate sunroof — aren't just window dressing; the third row's meant to be used because remember: the Grand Wagoneer is Chevrolet Suburban-sized. Even though you can't pass through the two second row seats to get to the third row due to the massive console they have back there, you can access them even with child's seats installed because the second row both tilts and slides with the press of a button. There is a storage bin there, though, as well as under the transmission tunnel, in the front seat armrest (where it's cooled), in-between the rear seats –  if ever we get to drive over the US border once again for some shopping, you should have no trouble separating your claimed goods from your unclaimed, if you know what I mean.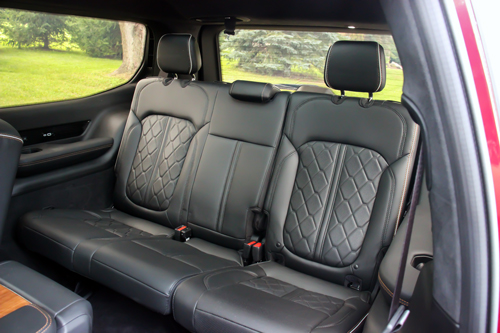 You think that USB port count is impressive? Well you ain't seen nothing yet because we haven't even begun to discuss the sound system. It's by McIntosh, and they've sprinkled a total of 23 speakers throughout the cabin, plus a 12" subwoofer. Even when playing compressed Spotify audio through Apple CarPlay, this baby sounds the business. It looks good, too, thanks to some neat-o tweeters at the base of the windscreen although the McIntosh logo itself is a little steam-punkish and I find it doesn't quite jive with the rest of the cabin.
Which, unfortunately, isn't the last aspect that dulls some of the sheen; there is way too much dust-attracting piano black at the base of the centre stack (where your drive mode and tow controls sit, as well as the gear select dial) and at one point, the whole system failed to start CarPlay which seemed to have a ripple effect; the native navigation didn't work, FamCam didn't work, the digital climate controls went all funky and Sirius satellite radio went kaput. A full system restart after a 20-minute stop solved the issue (and I never saw it again) so it may have been a result of some over-the-air updating. Still; if this were my brand-new $130K SUV…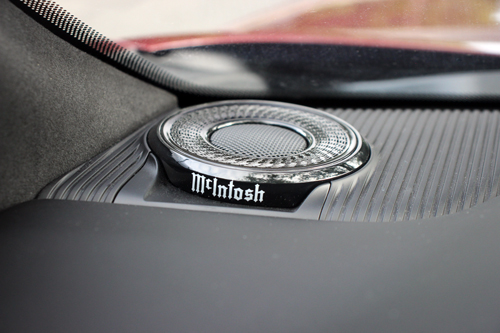 Well, if this were my $130K SUV one thing I would be perfectly happy with is the powertrain – there is one choice across all four trims of the Grand Wagoneer, and that's a big, throaty 6.4-litre V8 good for 471 horsepower and 455 pound-feet of torque, unleashed to the wheels via an eight-speed automatic transmission, activated via gear select wheel, as mentioned before.
Of course, at 2,800 or so kilos, the motor has a lot of work to do but it does it with panache and more than a hint of a growl, especially when heard from outside the vehicle. Yes; you won't get AMG GLS 63 levels of acceleration but you will get almost 10,000 lbs. of tow capacity and that will likely be what most Grand Wagoneer buyers are after. Plus, it's more than enough acceleration for highway passing, confident freeway entries (that's what happens when you get all that weight moving) and comfortable cruising after that. Which, by the way, can be done on just four cylinders thanks to a cylinder deactivation system when under light load. You will pay for it at the pump, however; Wagoneer claims 16 L/100 km in the combined cycle and 18.6 L/100 km in the city, but my time spent mostly in Toronto gridlock (plus a trip to the zoo about 35 km away on the highway) had the computers pinging 22 L per. Yes. She is a thirsty gal.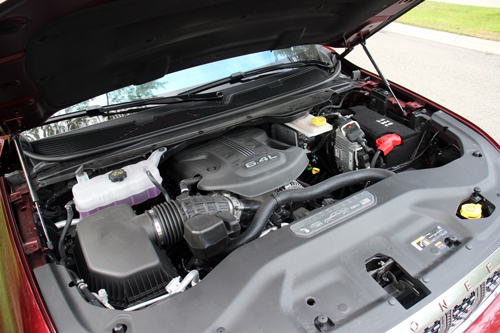 So the powertrain is a strong one but the ride is the real highlight.
The Series III comes standard with air-ride suspension as well as adaptive dampers, which are predictive in that the vehicle reads the road ahead, and adjusts the dampers accordingly. The effects are best illustrated when travelling over speed bumps; in all honesty, you can barely tell you're doing so. It's great, although I was surprised by how readily I felt certain bumps – mainly deep manholes that fell under one side of the car – considering the tech. Trolley tracks, heaving pavement, lean through corners – all kept beautifully in-check by the tech.
There are a few shortfalls; the windows are cut nice and low so shorter passengers can easily see out of them, but the wing mirrors and A and B pillars are quite large, leaving blind spots that definitely took some getting used to. Since the Grand's corners are so nice and squared off, however, and since the wheels are pushed nicely to all four corners, it actually drives much smaller than it is – and than it looks – and that is always a good thing in this game.
Indeed, there's a heck of a lot about the Wagoneer Grand Wagoneer that can be counted as top-drawer features for the segment, and there needs to be if this newcomer is going to make a splash. Judging by my drive and also by the response from those around me, it would behoove buyers in the segment to give it the chance of making one.
2022 Wagoneer Grand Wagoneer
Price as tested: $127,575.00
Configuration: front engine/four-wheel drive
Engine/transmission: 6.4-litre V8 w/cylinder deactivation, eight-speed automatic
Power/torque: 471 hp/455 lb-ft of torque
Fuel economy ratings (L/100 km) city/highway/combined: 18.6/12.8/16 L/100 km
Competitors: BMW X7 M50i, Cadillac Escalade ESV, Land Rover Range Rover, Lincoln Navigator, Mercedes-Benz GLS 580
Links: Jeep Canada