The ZR2 name is jumping up a size bracket; what used to be a choice only for the Chevrolet Colorado small pickup will now be available on the full-size Silverado for 2022.
"The addition of the all-new Silverado ZR2, Chevy's flagship off-road truck, builds on an already strong portfolio of factory lifted pickups from Chevrolet that are bringing in new buyers," said Kelly McDonald, director of marketing for Chevrolet trucks.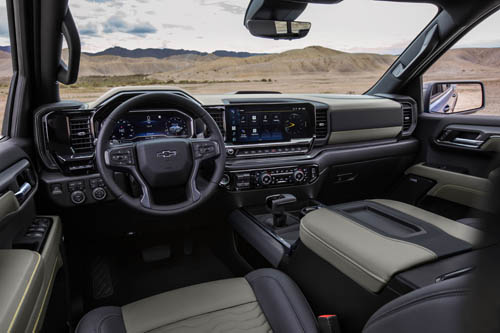 Power for the Silverado ZR2 comes from a single engine choice: a 6.2-litre V8 good for 420 horsepower and 460 pound-feet of torque. It gets channeled to all four wheels via a ten-speed automatic transmission. Those are impressive figures but those in the know will realize that they're down 30 horses and 50 lb-ft on the Ford F-150 Raptor, which is undoubtedly the number one competitor for the Silverado ZR2. You could make an argument for the Ram 1500 TRX but that's a truck that sits in some pretty rarefied air, a little more of a "halo" vehicle than the other two.
So while there is a power gulf between the Ford and the Chevrolet, GM is confident that the ZR2 brandishes a host of other qualities that will distinguish it from the competition.
"We chose to have (the ZR2) place in a class all of its own," said McDonald. "The ZR2 is a product that performs exceptionally well offroad…and performs exceptionally well on-road for ride comfort, handling, great technology and a very plush interior. This was a choice that we made to have the vehicle meet the expectations of the customers across a wide range."
So, in theory, the ZR2 should be the more well-rounded truck, but there's plenty here to help it prove its off-road worth including specially tuned suspension with special made-in-Canada Multimatic DSSV dampers, one-pedal rock crawling capability, 33-inch off-road tires, 11-plus inches of ground clearance, special skid plates and special bumper for improved approach angles.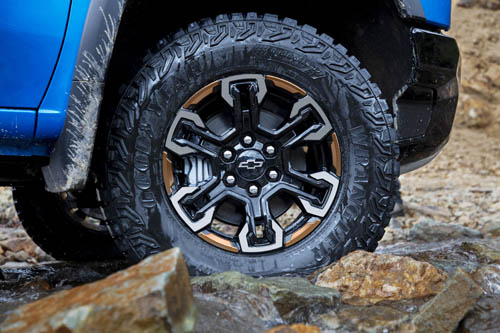 In addition to the on-road comfort provided by the chassis, GM believes that it should improve things while off-roading as well by way of reducing driver fatigue. They've also tested the powertrain in actual off-road races, so you can be sure that when it comes time to start bashing through the trails, the ZR2 will be up for it.
The "new for '22" stuff doesn't stop there for the Silverado; for this year, the High Country version will mark the first time you can get a Silverado with Super Cruise semi-autonomous technology, as it is an option on that trim. There's also a new grille design, new 12.3" digital gauge cluster and 13.4" infotainment display with built in Google via Android Automotive, two different shifters for models with front bucket seats — one column mounted, one console-mounted – as well as stainless steel speaker grilles and open pre wood accents in higher trims.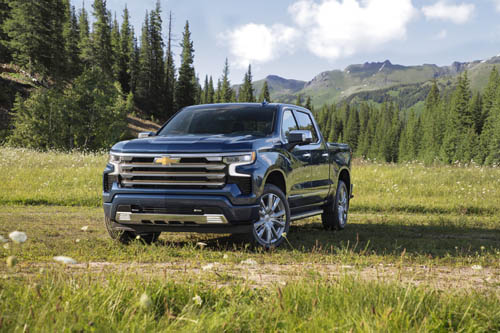 Speaking of trims: there are – LT, RST, LT Trail Boss, LTZ High Country and ZR2 – and in addition to the 6.2-litre V8, we see the return of the 5.3-litre V8, the 2.7-litre turbo four-cylinder (albeit now with a stiffer crankshaft and new tuning for the 8-speed automatic transmission) as well as a 3.0-litre turbocharged Duramax diesel 'plant. Which, as it happens, can two 4,000 pounds more than previous with the now-available max tow package, for a total of 13,300 lbs. in RWD form.
No pricing has yet been revealed; expect more in that vein closer in winter '21; the Silverado is due to start production in Q1 2022.