Believe it or not, the 2021 Ford F-150 Raptor is actually the third generation of the manic off-road version of the Blue Oval's massively-selling F-150 pickup. The vehicle that many thought could be a one-off has soldiered on all these years later, and it arrives for 2021 with more functionality than ever before.
You want Apple CarPlay and Android Auto? It comes as standard, along with four USB ports to charge devices and available 18-speaker Bang & Olufsen sound. You want suspension robust enough to challenge the Baja 1000 off-road endurance test? Well, the redesigned Fox dampers should take care of that, no problem. What about the ability to, I don't know, power a circulating saw? Well, like its F-150 Powerboost cousin, the Raptor will be made available with a Pro Power Onboard power generator. Seems logical when it comes to a rock-crawling, desert-smashing sports truck.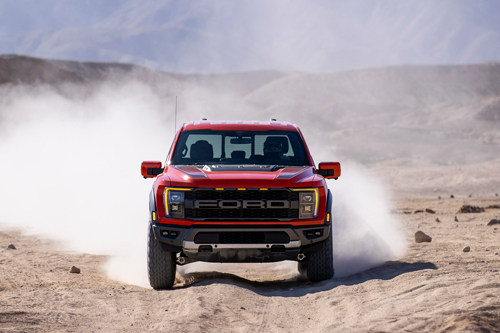 Of course, all that high-techery is well and good, but what everybody wants to know is just how capable this thing is going to be in the off-road world. After all, as Raptor Program Manager Tony Greco says: "The idea of Raptor is rooted in desert racing. Trophy trucks are not only fast, they're built for extreme use (and they) play a role in everything we do on the Raptor team. In the end, it's about a vision that strives to push Raptor closer to trophy truck performance."
How does one get there?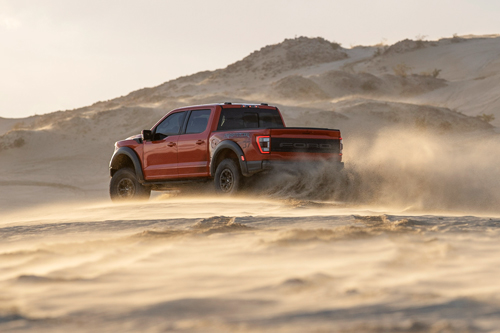 Well, much like the Pro Power unit, the Raptor also shares its fully-boxed frame with the F-150, but does get modifications such as taller shock towers, unique control arms, lower front axle for increased travel (helped by triple-rate 24" coil springs, the longest in class), stronger brackets for springs, dampers and so on and even a Raptor-specific trailer hitch. The 15" of rear suspension travel is the best in class, as is the 14" of travel the front gets.
The newly-designed Fox Live Valve shocks, meanwhile, are still of the nine-zone damping variety as they were previous but can now read what's going on beneath the truck and adjust damping rates faster than ever before, to the tune of 500 times per second. The dampers are also designed to work with the Raptor's Terrain Management System's seven drive modes: Slippery, Tow/Haul, Sport, Normal, Off-Road, Baja and Rock Crawl.
Speaking of rock crawling: through the truck's cruise control system, drivers can activate Trail One-Pedal Drive that allows them to focus on the steering and let computers handle the throttle and brakes when tackling more complex off-road trails. There's also a front-facing camera to make the job easier still.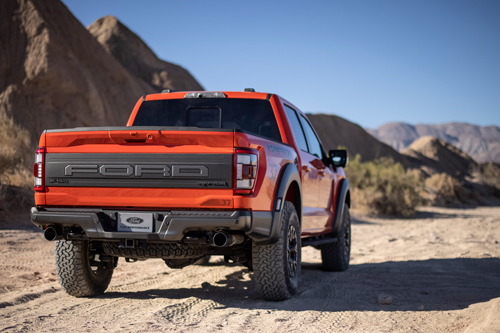 The rear suspension also needed an overhaul in order to deliver the capabilities Ford was hoping to achieve. So, they designed a special five-link set-up with a Panhard bar for better axle stabilization and, as Greco puts it, "dramatically improves traction, allowing more torque to be put to the wheels."
The overhaul was so complete that Greco maintains the Raptor has never used this many unique parts, as that's what was required in order to help the '21 Raptor reach that elusive trophy truck status.
Of course, more than just tuning the suspension, the wheels and tires needed to be seriously looked at as well and Ford has found a way to provide 25 per cent more wheel travel than the original truck, which has allowed Ford to fit optional 37" tires , which are the largest evert fit to a production truck of any kind. The Raptor also gets BFGoodrich T/A KO2 all-terrain tires as standard, which is probably a requirement for a truck like this and so should surprise nobody. The larger tire allows for 13.1" of running ground clearance, a 33.1-degree approach angle, 24.9-degree departure angle and 24.4-degree breakover angle. It all combines to make this one capable truck. There's also a full-size spare installed underneath the bed.
Power-wise, performance figures have not yet been announced, but last year's 3.5-litre twin-turbo V6 returns, so we can expect at least 450 horsepower and 510 pound-feet of torque, and likely more than that. It will be loud, too, thanks to a newly-designed "trombone loop" exhaust that also gets a "Quiet" mode, just like in a Mustang. Power will be fed to all four wheels via a 10-speed automatic transmission and an electronic locking rear differential plus optional Torsen front limited-slip differential are both fitted with 4:10 final drive ratios. Payload and towing are both up by 91 kg, and the Raptor will be available as a SuperCrew and only as a SuperCrew with a 5.5-foot bed. So, while you do get that onboard generator, it's unlikely many will be using a Raptor as a work truck. Unless you're talking about the US Border Patrol, which has used Raptors as patrol vehicles in the past…
Styling-wise, Ford has draw inspiration from two sources, both sharing the "Raptor" namesake: everyone's favourite dino from the original Jurassic Park (seriously; who could ever forget that kitchen scene?) and the F-22 Raptor fighter jet. Certain body details such as functional air vents on the hood and front fenders are meant to look like something you'd see on the jet, as does a graphics package that provides alphanumeric coding styled to look like what a fighter squadron might use. Another graphics package comes paired with the 37" tire off-road package that's styled to look like the livery you might see on a desert racer. Features like available Rigid foglamps help round out the exterior styling, while "Code Orange" exterior paint will be a Raptor exclusive.
Inside, there are more connections with the latest F-150, including the collapsible shift lever than once stowed allows for a massive, flat surface perfect for resting your Big Mac on…or your army rations. Whatever. When not eating those, meanwhile, you can store them in lockable rear underseat storage bins so they stay in place as you bounce over the dunes.
The seats are more highly bolstered and covered in a carbon fibre-like weave that helps hold occupants in place as the going gets rough. There's also leather in the high-traffic areas for better durability. If you want the full-pull performance experience, Recaro seats are also available but come finished just in a light-blue colourway to ensure it feels as unique as possible inside. Also unique to the Raptor is an overhead console, sports steering wheel and special graphics on the gauge cluster and infotainment display.
When it goes on sale later this year, the Raptor will be available in three trims: Base, High Series and Accent Series. Pricing and power figures will be announced closer to launch.
That's great, but it is a little odd that Ford didn't release power figures at launch; we all know that with the arrival of the Ram TRX, the Raptor has some competition it's never really had before and that truck makes a whole heck of a lot more power than 450 hp and 510 lb.-ft. It suggests that perhaps Ford would rather people spend their time talking about the luxury and capability features the Raptor has over the Ram as opposed to any power gulf there may be between Ford and its crosstown rival.
Having said that: Ford also officially confirmed that the Raptor R is a thing, and with rumours pointing to a V8 — perhaps supercharged — for that truck, you can be sure it will make for a fine competitor to the TRX.