The first time you visit someplace is more often than not the most memorable. There are exceptions to the rule, of course, such as Disney World, New York City and Paris, France. Having been to all three locations several times, a subsequent visit always includes something new and fresh to entice me again to come back another day.
The 2012 Bentley Continental GTC is all-new for this year. Redone from top to bottom, it signifies the next step in what makes a Bentley automobile so intoxicating. That said, there is a lot about the new Continental that reminds you of the old. Similar lines, interior appointments and power are certain to generate positive feelings for your previous drive, while at the same time inspire you to push the pedal and experience for yourself all that is new. On that note, there is much to discover.
Performance comes in the form of a 6.0-litre, twin-turbocharged W12 engine. This is the same engine featured in the coupe and highlights 567 horsepower plus 516 lb.-ft. of torque.
Zero to 100 km/h takes .2 ticks longer in the convertible at 4.8 seconds, 0-160 km/h requires 10.9 seconds while top speed crests at 314 km/h. All this and the 12-cylinder engine is FlexFuel compatible.
Significant changes have been made in the areas of drivability plus exterior and interior design. New for 2012, the Continental GTC improves on-road performance with a 40:60 rear-bias torque split for the all-wheel drive system. This improves understeer when accelerating out of a corner and provides the much appreciated thrill of maintaining control by throttle steering. Both front and rear track are increased for added performance.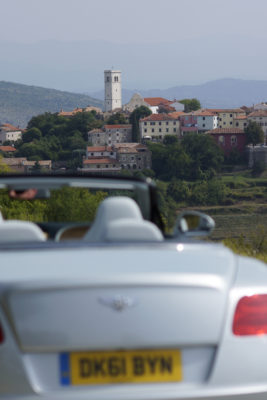 Electronic Stability Control (ESC) is less intrusive than in the past, yet highly effective at harnessing the best traits of the powerful W12 engine. Ventilated front and rear disc brakes, with optional cross-drilled Carbon Silicon Carbide, bring the 2,495 kg Continental GTC to a rapid stop. This is important given I was about to experience all the newest Bentley has to offer in the serenely beautiful country of Croatia.
Situated on the rugged coastline near the magnificent city of Rovinj in the Croatian region of Istra, Hotel Monte Mulini showcases 99 rooms and 14 suites. All feature balconies with views of the cove and protected Zlatni rt park forest.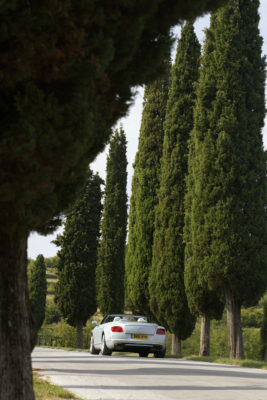 Natural colours decorate my executive room. A flat-screen TV and high-speed Internet access provide the option of staying in touch with what's going on in the world. But on this day, I couldn't care less as glorious sunshine streams through the floor to ceiling windows and I allow my gaze to look past the infinity pool to the many yachts tied up on the crystal clear sea waters of Lone Bay.
Later in the evening I will enjoy the comfy confines of a king-sized bed and spaciousness of the over-sized bathroom with walk-in rain shower and soaking tub. Access to the wardrobe is available from both the main hall and bathroom, making changes to any outfit a breeze. Dual sinks ensure personal space is never at issue.
Dining takes place in three separate locations. Restaurant Mediterraneo serves breakfast and fine dining under the watchful eye of Chef Tomislav Gretic. Inspiration is taken from Greek, Spanish, Lebanese and North African cooking. The Wine Vault combines the best of food with fine wine chosen by sommelier Emil Perdec. Casual fare and incredible views are the order of the day in the Lobby Bar.
Monte Mulini Art Wellness consists of three zones of state-of-the-art fitness and well-being. A small indoor pool combined with large outdoor swimming options is the place to cool down after a vigorous workout or long walk on the coastal walking/bike path. Massage is offered in four themed treatment rooms, with unique bathing options including a Turkish bath, Royal bath and floating room featuring sea salt similar to the Dead Sea. Simply put, it is heaven on earth.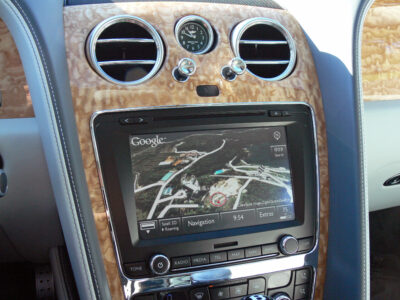 Jumping in the "Breeze" coloured Bentley Continental GTC, the driver's door closes with an obligatory "thunk". A twist of the key and the W12 springs to life with a turbine-sounding whir. Some sounds never get old; it is music to my ears.
A drive through the city of Rovinj is followed by a series of highways and back roads on a southward course to Pula, then north to Opatija, back across the peninsula towards Novigrad and back to the coast. The scenery is equally as intense as the power and beauty I am piloting throughout the Istrian countryside. Blue sky and near perfect two lane pavement, this is how every convertible should be driven.
2012 Bentley Continental GTC
Price as tested (before taxes): $254,880.00
Options on test vehicle: 21" alloy wheels, Tamo Ash trim, Premium Stereo
Freight/PDI: $3,695.00
Configuration: front engine/ all-wheel drive
Engine/transmission: 6.0L twin-turbocharged 12-cyl. / 6-spd automatic
Power/torque: 567 hp/ 516 lb-ft
Fuel (capacity): Regular (90L)
Fuel economy ratings: 24.9 L/100km city; 11.1 L/100km hwy
Observed fuel economy: 17.5 L/100km over 350 km
Competitors: Aston Martin DB9 Volante, Jaguar XKR Convertible, Maserati GranTurismo Convertible, Mercedes-Benz SL63 AMG, Porsche 911 Turbo
Related links:
Bentley Motors
Hotel Monte Mulini