As, like the rest of the automotive sector, Volkswagen continues to race towards full-electrification of its line-up, more details are starting to emerge about the various VW models that are going to be rolled out as part of their "Transform 25+" plan, which includes an 11 billion-Euro investment in electrifying the line-up. Further, VW is hoping to reach carbon neutrality company-wide by 2050.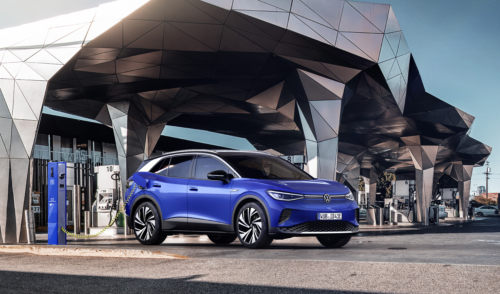 Today, VW debuted the ID.4, an all-electric compact SUV that looks like a sleeker, more modern version of the new Tiguan. The sleek styling has helped achieve a drag coefficient of 0.28 – an important factor in helping increase range because the EV motor doesn't have to waste energy fighting headwinds as you make your way down the highway. The lower drag is achieved in part by pulling the sides of the car in towards the rear, forming an aerodynamic teardrop shape. It's also got short front- and rear overhang for a long wheelbase — meaning more interior space to the tune of 1,818 L of cargo space with the rear seats folded — and small turning radius.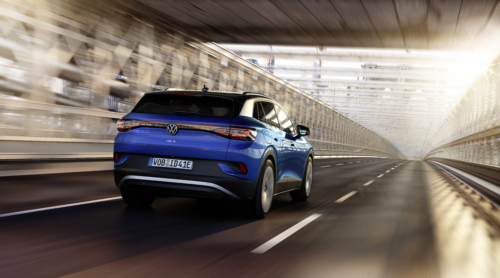 Since the ID.4 uses the modular MEB platform, VW has been able to ensure that as much interior space as possible has been saved and not lost to the electric running gear below. The result is a much airier cabin with less bumps and snags for a more comfortable interior overall. If you want a little more flare, there are 30 ambient interior colours to choose from and of course wireless charging and Apple CarPlay and Android auto are present and accounted for. Those apps are in turn displayed on a 12.3″ infotainment display.
According to VW, the ID.4 is good for over 400 kilometers of range thanks to a 77 kWh battery, putting the new ID.4 squarely in Tesla Model Y territory. It is fast-charge capable and will be able to charge from 5%-80% in 38 minutes and at launch, all ID.4 customers will get free charging via Electrify Canada's charging network. ID.4 will be available in both AWD and RWD, with with the RWD version making 201 hp and the AWD version good for 302 hp.
AWD is important for Canadians, but VW knows that winter life is always going to be a challenge for EV drivers as EV range tends to plunge in the winter. To combat that, you can pre-heat your ID.4 and if that's not possible, Canadian cars get heat pumps that will reduce the load on the battery caused by heating the car, thus saving range.
Look for more details and pricing on the new ID.4 as we move closer to its launch in mid-2021.