Not long after the Lexus IS Series got a redesign for the 2021 model year that saw it gain a lower, wider stance and some new detailing but not much else in terms of power or interior accoutrements, Lexus was quick to satiate the performance lovers in the crowd by releasing this: the 2022 Lexus IS 500 F Sport.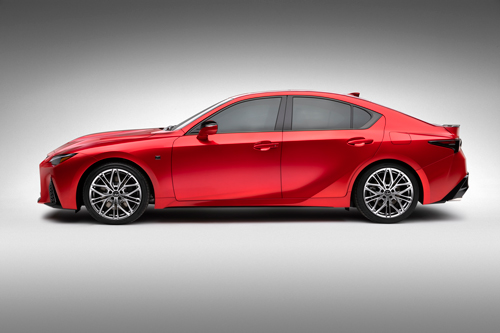 That "500" is a big number because it designates the existence of a 5.0-litre naturally aspirated V8 shared with the LC 500 sports car and good for 472 horsepower and 395 pound-feet of torque. That puts the IS 500 roughly on-par with the likes of the new BMW M3, the upcoming Cadillac CT4-V Blackwing and eclipsing what's on offer from the Audi S4. To make itself heard while it's completing the 0-100 km/h sprint in a claimed 4.6 seconds, the IS 500 also gets a new quad exhaust.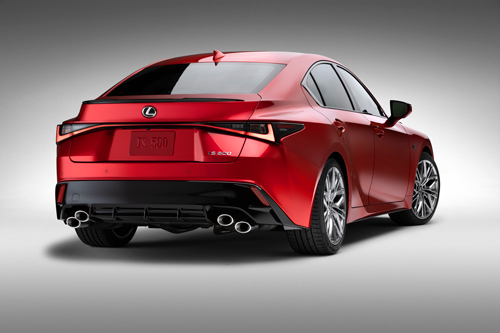 In order to contain all that grunt, the IS 500 – which weighs just five kilos more than does the next-in-line IS 350 AWD F Sport – comes standard with adaptive variable suspension, Torsen limited slip differential and new performance rear dampers developed by Yamaha. Lexus says that not only do the dampers offer more stability at high speeds, but that they help return a more comfortable ride at low speeds as well. The brakes have also been upgraded and now feature 14-inch two-piece aluminum rotors up front, and 12.7" numbers at the rear.
The changes to the IS 500, meanwhile, come courtesy of advanced testing at the new Shimoyama technical center in Japan. Shimoyama includes a test track that offers most any turn and surface variable Lexus can drum up; at one moment, it may be the Nürburgring Nordschleife and a glass-smooth interstate freeway the next.
To differentiate the IS 500 flagship from the rest of the line-up, Lexus has given it special 19" Enkei wheels that are lighter than the standard F Sport wheels, a revised lower rear diffuser and dark chrome window trim. There's also a subtle rear trunklid "lip" spoiler but the IS 500 is interesting in that unlike the new IS line, it's actually what's under the skin that sees the biggest change as opposed to what's gone on with the exterior styling. Which is no bad thing as the new IS a good-looking car. Still, though; to see what the IS 500 really has to offer, you're going to have to drive it. Which shouldn't be a problem, we're sure.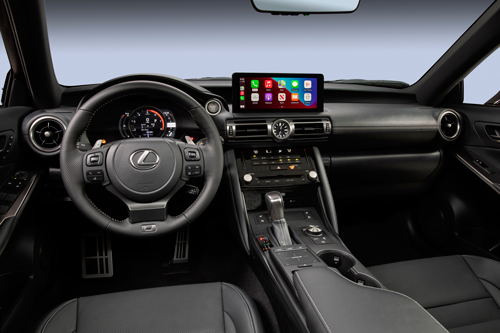 Like other IS models, not much has changed inside past some badging on the wheel and scuff plates and the digital gauge cluster gets an updated start-up animation. The 500 also gets all the safety goodies that come as part of the Lexus Safety System+ 2.5 such as pre-collision warning, automatic emergency braking, the ability to prevent potential collisions while turning left through an intersection. It can also spot pedestrians and cyclists even in low-light situations and help avoid a problem if the driver isn't paying attention. Adaptive cruise control, lane-departure warning and lane-centering assist are also all present.
You have to think all that will kind of fade into the background when you drive this deep-chested sports sedan, though, which you'll be able to do come Fall of '21. Expect pricing announcements closer to that time.