The 2021 Lexus LC500 is a lot more than numbers printed on a spec sheet. Yes, with a starting price of $103,550, it's a hard pill to swallow given it is in some ways a re-imagined Lexus LS. And it's not even that quick off the line neither. By comparison, a mid-engine C8 Chevrolet Corvette accelerates quicker and costs considerably less.
Yet, the LC500 remains an enormously desirable car. As a matter of fact, this may very well be one of the best luxury grand tourers currently on sale. And that's coming from someone who has driven all of its main rivals: the Aston Martin DB11, the Bentley Continental GT and the BMW M850i. Allow me to explain.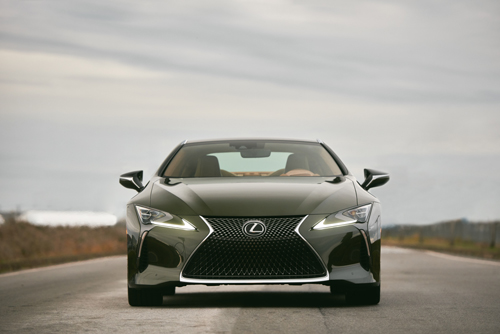 That Aura
You see, Lexus understands that an automobile can be more than the sum of its parts. It can also be an experience. Anyone can strap a launch control system onto an automatic transmission, and pretty much all carmakers possess the technical knowledge to manufacturer a fire-breathing twin-turbo engine. But very few of them understand the art of creating an object of desire.
I'd like to begin with the way this car looks, because in my book, the LC500 is one of the most seductive automotive designs we've seen in the last decade. Perhaps its the modern, futuristic, yet purposeful look that's strikes first. Or the fact that it looks almost identical to the concept car it was inspired from, a rare trait in this age of safety regulations and near-obsessive cost cutting decisions.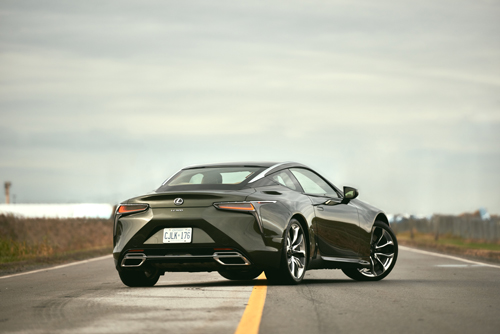 More importantly, the LC500 looks unquestionably Japanese, as if it were sculpted by a katana sword and tailored to star in the next iteration of a manga cartoon. I for one am a sucker for green over tan cars. I've got to say; that new-for 2021 Nori Green pearl paint contrasted wonderfully well with the equally stunning tan leather interior of my tester.
While we're on the topic of what's new for 2021, Lexus also added a new and just as attractive convertible variant to the lineup, as well as the Cadmium Orange paint. New wheel designs, the addition of Android Auto (Apple CarPlay was already available), a revised suspension and retuned gear ratios are also part of the revisions.
It's Got a Soul, too
But the LC500 doesn't end with a pretty face. It's also what's under the hood that makes it feel both like a gem and a bit of an old-school hooligan all at once. Power comes from a naturally aspirated 5.0-liter V8 – a rarity in today's world of turbocharging and electrification – good for 471 horsepower and 398 lb-ft of torque. It's mated to a ten-speed automatic transmission, which sends the power to the rear wheels only.
And my lord is it a peach to send towards its rev limiter! Sure, this engine lacks the low-end punch of its turbocharged rivals, and it's definitely never as quick as what the Germans will sell you for similar money, but my gosh is this engine a magnificent piece of engineering due to its ability to rev freely and sound absolutely incredible along the way.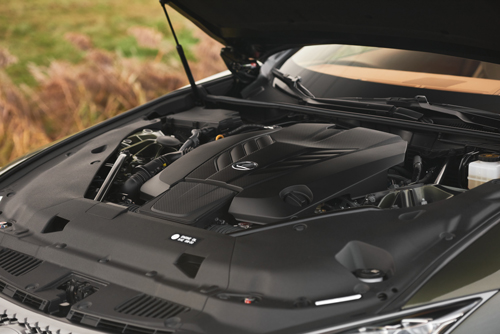 There's a deep, throaty induction wail that suddenly fills the cabin the moment the tach crosses about 4,500 rpm. And when that gearbox snaps the next gear, something it does ironically better than all other Lexus vehicles, the V8 emits a subtle yet satisfying bark through its twin exhaust pipes. You'll want to repeat the experience all day long.
On the road, the LC500 feels every bit as special as when it's parked. Perhaps where this elegant coupe shines the most in its fanatical attention to detail. Everywhere you look and touch, from the carefully polished aluminum door handles to the thick leather dashboard surfaces, the LC500 feels like a high-quality product. More importantly, you sense that you're sitting inside an automobile that's worth twice the price, which quickly makes you realize that $119,000 isn't all that expensive considering the kind of experience the car provides.
Don't expect the LC500 to be as precise as a BMW around bends, but this big girl still knows how to let her hair down. Remove traction control, and yes, contrary to some Toyota/Lexus products, it can be fully turned off, and that rear end will surprise you if you don't pay attention. The LC500 is always willing to wag her tail if you let her, but it's also never scary. It's always easy to control, exhibiting mature and buttoned-down road manners, a result of Toyota's excellent scalable TNGA architecture that focuses on lowering and centering the car's mass as much as possible.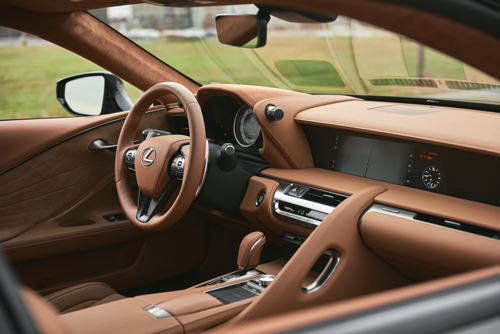 An Interior Tailored for a King
At this point, if you're wondering if the LC500 lives up to its grand touring pretentions, we're telling you it's every bit as, if not more exquisite to ride in than an Aston Martin. That cabin is not only built like a tank, it looks absolutely pristine, complete with neat design touches, presenting a charming blend of technology and art.
The dynamic gauge pod, which moves about at the touch of a button – inspired from the LFA supercar, and now a normal feature in all Lexus products -, remains a cool touch, while those enormous leather thrones hold you firmly in place during long rides as you bask in fresh filtered oxygen Lexus-caressed.
Any flaws? The performance is a bit of a letdown, yes, but the LC500's Achilles heal really is its infotainment system. It's operated by a trackpad, which, for starters, is never a good thing when you're trying to drive at the same time. But even if you get used to its god-awful ergonomics, the interface itself is way too overly complicated, presenting itself as a mashup of intersecting menus that at times lead to nothing, let alone contribute to making the system more distracting than useful. It's just not a good system.
But then, should you even care given you're controlling such a masterpiece of an engine through your right foot? We say no. It even seems as though Lexus is purposely telling you to let go of your connectivity issues and focus on the art of driving instead. And to be fair, we're totally ok with that ethos, because very few sports cars on sale today convey such a focused sensorial experience.
2021 Lexus LC500
Price as tested: $119,271.00
Freight: $2,095.00
Configuration: Front engine/ rear-wheel drive
Engine/transmission: Naturally aspirated 5.0-liter V8 / 10-speed automatic
Power/torque: 471 horsepower/ 398 lb-ft of torque
Fuel (capacity): Premium/Regular (82 L)
Combined fuel economy ratings: 15.5L/100 km city/9.5L/100 km highway/13L/100 km combined.
Observed fuel economy 13.2 L/100 km
Warranties: 3-years/60,000 km (basic)
Competitors: Aston Martin DB11, Bentley Continental GT, BMW M850i
Links: Lexus Canada