While Cadillac has been talking about its EV future and the LYRIQ, The General's luxury brand wants everyone to remember that they have a racing background and continue to race, and that performance vehicles are still an essential part of Caddy's identity. They're also coming off a record year in Canada that saw sales increase 12.4 per cent, a year that saw them release not one, but two all-new sedans – the CT4 and CT5 — in a world where sedans are supposed to be going the way of the Edsel in favour of crossovers and SUVs.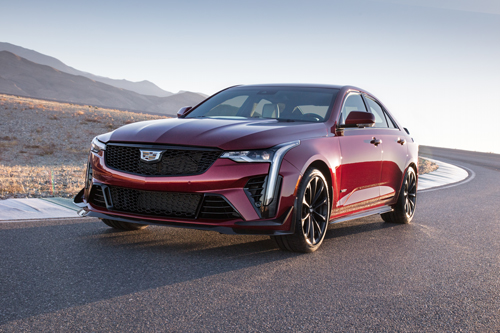 So, what does Caddy do, then, to both honour those two new cars and its performance heritage? Well, release hot performance versions of each, of course!
Each one is called "Blackwing" and they are both powered by hotted-up engines that are built in General Motors' Bowling Green, KY manufacturing plant – yes, that's correct; the same place where they build the Corvette. It's the first time we've seen a Cadillac receive some love from the Cradle of Corvette ever since the XLR roadster circa 2003-2009. Unless you include the twin-turbo V8 that was supposed to power the CT6-V, although that car – and thus, its engine – never made production so we're not counting it here.
Neither the CT4-V Blackwing ($67,198) or CT5-V Blackwing ($89,898) get a twin-turbo V8, however; the larger CT5-V gets a supercharged V8 goodd for a frankly startling 668 horsepower and 659 lb.-ft. of torque; that's more than said Corvette makes on both fronts and more akin to what you might see from a Shelby GT500 Mustang. The CT4-V version, meanwhile, does get a twin-turbo set-up that sees the snails attached to a 3.6-litre V6 good for 472 hp and 445 lb.-ft.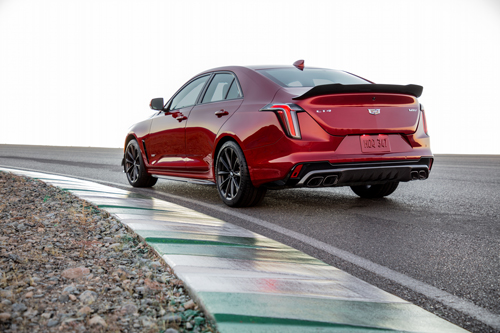 The processing power required to attain such figures from the CT5-V Blackwing means a 6.2-litre V8 matched with a 1.7-litre – one-point-seven litre – Eaton four-lobe supercharger that's bigger than the engine found in some compact cars and crossovers. That makes the CT5-V the most powerful Cadillac ever and is good for a claimed 0-100 km/h sprint of a paltry 3.7 seconds on to a top speed of – wait for it – over 200 miles per hour. That's if you're using the optional 10-speed automatic transmission; a six-speed manual is standard on both the CT4-V and CT5-V, to which we say a big "why, thank you, Cadillac!" It's all about making these vehicle more involving to drive.
According to Cadillac's preliminary testing, meanwhile, the CT4-V Blackwing can complete the 0-100 km/h sprint in 3.8 seconds when using the 10-speed auto, just a tenth of a second slower that the CT5-V.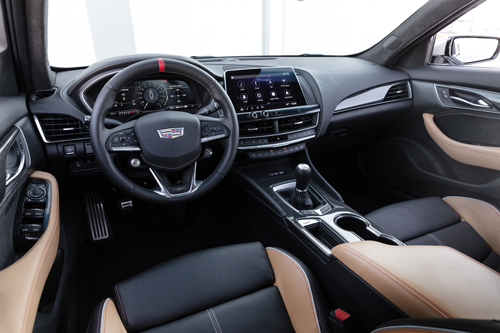 More than that though, these two have performance above all and not just everyday performance, but track performance, as well. Which is why these are both only available as rear-wheel-drive vehicles; Brandon Vivian, Executive Chief Engineer at Cadillac said in a sneak preview to media that "if it doesn't make the car faster on a racetrack, we don't put it on the car (and) AWD on the racetrack for these cars does not make them faster." That's all well and good, but with the likes of the BMW M5 and Mercedes-Benz AMG E 63 going to AWD, will that be a costly decision? Only time will tell.
Of course, all that power needs also to be harnessed, to which Cadillac has responded by providing the CT5 with 15.7" front rotors – meaning not only is it the most powerful Caddy ever, but it also has the largest brakes ever to be fitted to one – that can be upgraded to carbon ceramic rotors. The smaller, lighter CT4 doesn't get those, but the 15" front and 13.4" rear rotors plus six/four piston Brembo calipers it does get are sure to get the job done both on the road and track.
Both models, meanwhile, are wider (and look quite aggressive as a result) than their "lesser" brethren  and get wider front and rear tracks and tires as well. Every vent and intake you see, meanwhile, is functional and there's a carbon-fibre track package option that sees the front splitter, canards and rear spoiler finished in the material.
All that unsprung weight is harnessed to the chassis via same-as-the-Corvette magnetic ride dampers at all four corners that can read the road below five-times faster than previous. There are also stiffer spring rates, hollow stabilizer bars, higher-rate bushings and stiffer rear knuckles. All that power, meanwhile, is transferred to the road via Michelin Pilot Sport 4S tires wrapped around staggered forged aluminum wheels. Want more lightness still? Magnesium wheels are on the way.
Inside, the Cadillac has gone "to the nines" with these, providing carbon-fibre seatbacks (that are heated and cooled, which isn't always the case), Alcantara inserts all over, sports-style wheel with red centering band and a "V-mode" button that provides a link to a drive mode with customized presets. So important was the manual transmission to Cadillac, that they designed the deeply-bolstered seats to ensure that they don't get in the way of the driver's arm when they reach for a shift.
Little question that Cadillac has got everything in place with the Blackwing models to ensure that they hit the performance benchmarks. Drivers of the world, rejoice.