Honda Trail 125 Crosses The Border
We're big fans of Honda's MINImoto lineup of bikes. There's just something about the proportion of fun to physical mass that they pack that cannot be denied. And while the Monkey may be my current favourite among them, I've had a serious soft spot for the Trail 125 since it was introduced south of the border back in '21.
Well, the good news for us fun lovin' mini bikin' Canucks is that the Trail can now be had here too!
Available this spring, the 2023 Honda Trail 125 ($5,639) will be equipped with the same fuel-injected thumper found in the Grom and Monkey. However, instead of the 5-speed manual transmission those bikes offer, the Trail will come with a semi-automatic 4-speed unit. What that means, is that you will be able to shift through the gears with your left foot, but you won't need to futz with a clutch to make it all happen.
Honda's Trail-series of bikes (CT90, CT110 and CT125) have long been prized for their ability to go just about everywhere. And while they won't do it particularly quickly, with the requisite high-mount exhaust, longer travel suspension, light weight (116kg) and kick start, they're just as likely to get you home too – probably on a single tank of fuel.
Indian Motorcycles Sport Chief Debuts
The Indian Motorcycles Chief lineup of bikes has been impressing both dedicated cruiser fans and critics alike, since its debut in 2021. Our own Justin W. Coffey claimed the Chief Dark Horse was "the perfect blend of big motor, stiff chassis and technology that delivers an awesome riding experience". For 2023, Indian has created a performance honed version, the Sport Chief, and it seriously looks the business.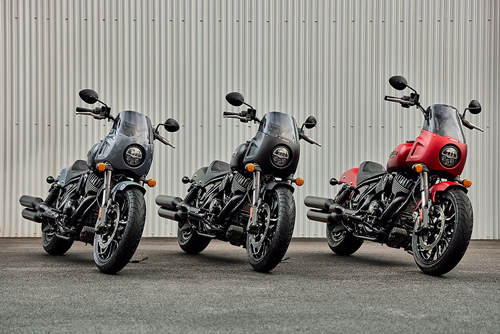 Director of Industrial Design with Indian Motorcycles, Ola Stennagard decrees that "with Sport Chief, we wanted to maintain the same care-free attitude and American muscle (of the lineup) but elevate it even further with componentry that not only delivers a style and attitude that exudes performance but raises the bar entirely for performance cruisers."
To that end, the Sport Chief is equipped with a twin set of floating Brembos up front, rides on an inverted KYB fork, up front and has a pair of piggyback Fox shocks in the rear. Those suspenders are tuned for a more aggressive riding style and add some appreciated travel and lean angle to the overall package.
There are other changes too, which include the front fairing, mid-mount controls and a set of Pirelli Night Dragon tires, all of which should contribute to the performance oriented vibe… which I'll be happily telling you all about in just a few days' time as I'm currently riding this new beast, as we speak.
ROUSH Tunes the Polaris Slingshot
Have you been debating adding a Polaris Slingshot to your toy-shed, but just weren't sure which model was right for you? All new for the 2023 season, the Slingshot ROUSH Edition is an amped up version of the R, packing plenty of bespoke bits.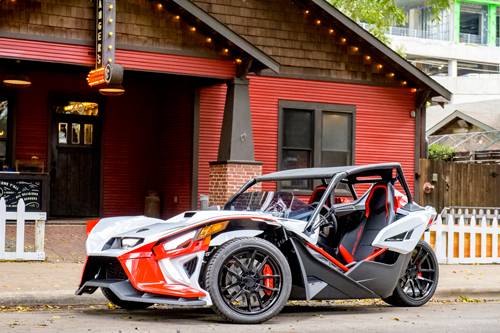 A set of larger, Brembo brakes get fitted up front (complete with slotted rotors) and an Excursion Top provides some overhead protection while the driver can tickle their toes on the billet, Sparco pedals. The Roush Edition can be had with either two or three of those fancy Sparcos as there is both a manual and paddle-shifted automatic version available. If you're a subscriber to our gorgeous magazine you may have read my thoughts on the Auto-Drive transmission, and if you're not, well hint, hint.
Powered by the same 203 horsepower, ProStar, 2-litre, four cylinder engine from the R, the ROUSH will certainly boogie, and the "Racetrack Red" livery looks pretty damned sweet too. Pricing for the manual is 46,999 loonies and the automatic will run around $2,500 more.