Motorcycles just hit differently than cars. Both will play with your emotions but with added wheels come extra expectations. There are technological needs, comforts and luxuries that are de rigueur for even an entry level car, nowadays. And to be considered good or fun, those niceties need to be amplified.
A bike simply doesn't need those extras, to be good. In fact, some of the best have hardly any at all.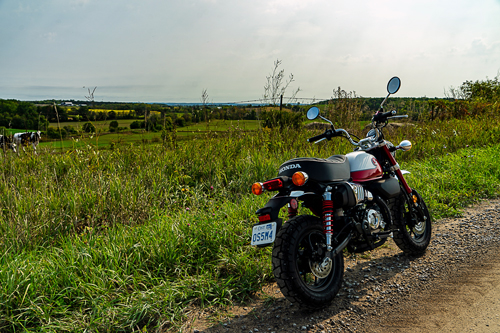 Take the Honda Monkey, for example. It's a mini bike. And a mini-bike has nothing extra – they're beginner motos at heart, really, so just the basics are accounted for. That means its purity and simplicity needs to do the speaking.
Well, the Honda Monkey is a mini bike that doesn't just speak, it howls. And even if you've got decades of riding behind you, it still hits hard.
Powertrain: Of course with only one lonely piston and 124cc's of displacement that hit isn't exactly coming from its performance (nor is the howl, really). The horsepower number that the Monkey delivers is laughable by modern moto standards: it isn't even double digits!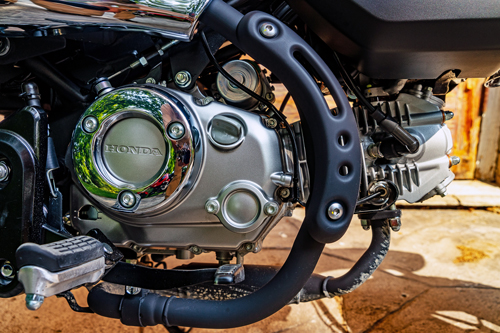 Peaking at a mere 9 ponies and offering a paltry 8 pound-feet of torque, paper racers will write the Monkey off without a passing glance, let alone a twist of the wrist. But toss the spec sheet in the bin, open your mind and give it a shot and you'll soon be having more fun than a barrel of… well, you know.
At only 105 kg fully fuelled, there's barely any mass to motivate. Even if you outweigh the Monkey, it will feel adequately quick. Hitting a hundred from a dead stop may or may not ever happen – headwinds and elevations can be fickle things – but you won't care. Speed is not what the Monkey is about.
The engine is a free-revving thumper that loves to run wide open. The bore has been narrowed and the stroke has been lengthened for 2022, which helps keep a polar bear or two cool. Those changes also mean that the compression has been bumped to 10:1, which added a bit of punch, too.
Overall it's a mighty smooth running mill. It has decent pull from the line and power builds with absolute predictability. Couple that with a newly adapted, close ratio, 5-speed manual transmission and you have a commuter that will happily ping off of the rev-limiter all the way to the office and back or across a few trails. Every day. For years to come.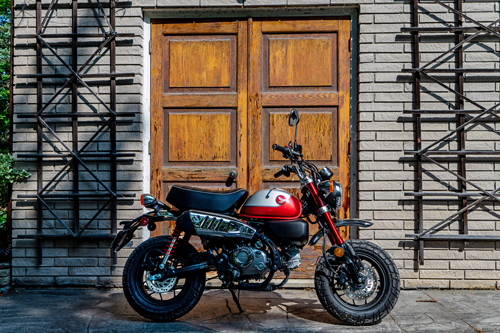 Styling: I reckon most riders who do give one a shot will hang onto their Monkey, too. I mean just look at it! The perfect mix of retro and fun, the Monkey looks like a vintage hipster build that shrunk in the wash.
The miniaturised peanut tank, high pipe, banana-esque seat and round headlight combine to create the cutest chunk of nostalgia since Macchio and Zabka reunited for Cobra Kai. The red and silver livery looks fantastic on this bike and the level of detail, fit and finish is surprising for a machine costing what this does. Next year's model might look even better as Honda has switched palettes to a Banana Yellow hue and even painted the frame to match.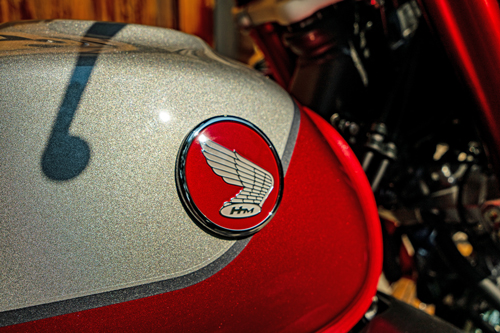 The 5.6-litre, metal tank features some nice grey pinstriping and the retro Honda badge looks absolutely perfect here. Oh, and just take a look at how smooth those seams are at the bottom of the tank!
Suspension/Brakes: The Monkey rides fairly high for a mini, with the seat cresting around 775mm. That's thanks, in part, to the revised suspension it wears for 2022. The twin, outboard shocks in the rear have grown a touch and deliver 102mm of travel, while the fork offers up an even 100mm.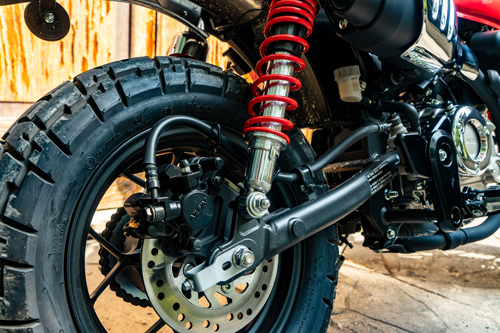 Unsurprisingly, there is no adjustment available on any of the suspenders. However, compression, damping and rebound all feel really well dialled in for this bike, with the chunky 12-inch hoops handling a good chunk of shock absorption too.
What may raise an eyebrow or two though, is the fact that the Monkey comes standard with ABS brakes. Unlike its Grom stablemate, you can't spec the Monkey without this e-nanny and I wonder why the Grom hasn't followed suit.
There is a single 220mm disc up front and a smaller 190mm one in the rear. Feedback from the lever and pedal are pretty good and I liked that the initial bite from either didn't feel too strong, considering the relative lack of inertia they need to clamp down on.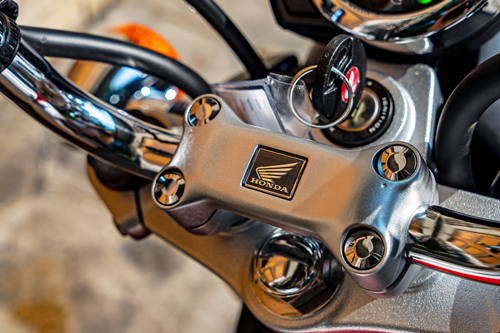 Infotainment/Tech: There's really not much in terms of advanced technology going on here and the Monkey is all the better for it. The LCD dash is well sized and delivers the info you need and even "winks" at you when you start the bike up. Visibility in certain angles of sunlight can get a bit tricky as there isn't much contrast going on. Personally, I would have preferred to skip the digital theatrics and just go with an analog clock but I won't dock any marks for what's here.
Ride: The ride is really what the Monkey is all about. Sure, it looks as flash as anything when parked (and it will attract countless looky-loos), but bombing around on this nimble little moto is like being given free reign at a candy shop when you were six: you want to try everything, all at once.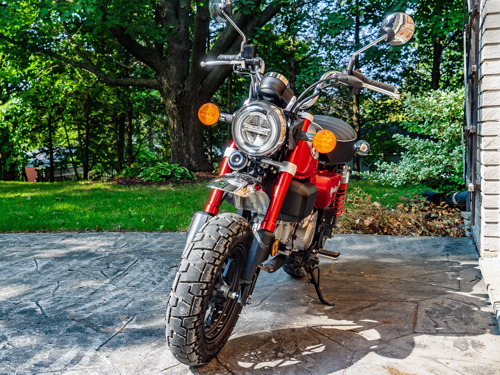 Slot first and let the light, smooth clutch engage and you'll surprise more than a few at the lights. The Monkey accelerates fairly quickly, and that's a good thing: because of its size you'll want to get out in front of traffic as fast as you can.
The gearbox is typical Honda greatness. Gears slot with a positive click and, should you wish to skip clutching in, you can pop sequentially with some well-timed work on the throttle.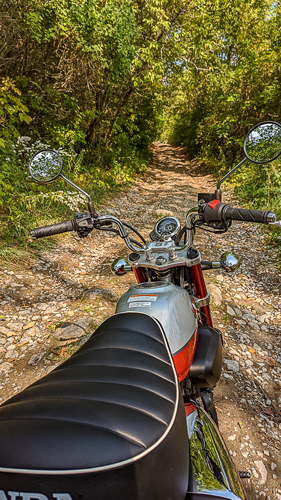 The tiny but bulbous 12-inch Vee Rubber tires deliver an exacting style of handling that will likely catch most veteran riders out initially. Turn in is laser quick and you really don't need much body english to initiate or execute anything. However, once you get used to its tendencies, you will doubtless be hanging off the Monkey and sliding a knee before long.
The beauty of the Monkey (and it's Grom sibling, too) is that because of its size and lack of speed, experimenting with your riding limits becomes a much lower stakes game. Taking a tumble at parking lot speeds might skin a knee and bruise an ego but it likely won't land you in the infirmary. For new riders, starting out on a bike like this should almost be a prerequisite. And for us wily veterans, the Monkey makes for one of the best second or third bikes you could want in your garage. It delivers unbridled motorcycling fun, almost as if it were on-tap.
2022 Honda Monkey
Motorcycle Style: mini-bike, pocket-bike, miniMOTO
Engine: 124 cc, 4-stroke single-cylinder; Power: 9 hp; 8 lbs-ft torque
Transmission: 5-speed manual
Weight: 105 kg (ready to ride)
Price: $6,069.00 (including freight, PDI and fees)
Link: Honda Motorcycles Canada