With its unique three-wheeled stance and hyper-aggressive styling cues, the Polaris Slingshot is one of the best choices for extroverted gearheads who want to inject a bit of fun into their road trips. The company recently plugged a smoother and more powerful ProStar drivetrain into this tripod; now, they've fettled the transmission and a few comfort features as well.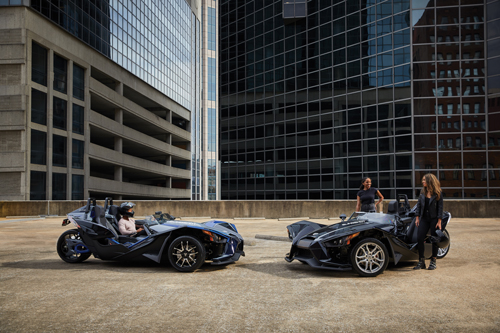 The introduction of an AutoDrive transmission opened the door for more people to get into a Slingshot, with Polaris reporting nearly 4 in 5 customers this year being new to the brand. For 2021, paddle shifters have been added, bringing Slingshot one step closer to the video-game-in-real-life experience it very nearly is. After all, with an open top and just five inches of ground clearance, it's easy for drivers to pretend they just immersed themselves into a game of Forza. The transmission's gearing has also been retuned for better shifts.
Customers who prefer to row their own gears haven't been left out in 2021, with the introduction of a hill holder feature making driving duties just that much easier for those of us living in a city that's less than pool-table flat. In a fit of good customer relations, owners of 2020 models can have this feature retrofitted to their machine as well.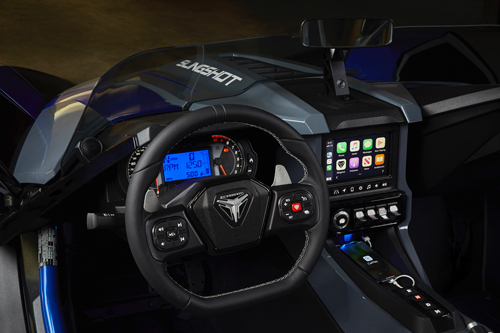 In Canada, there are now a trio of trim levels. Entry-level SL models are a good step into the lifestyle, equipped with Polaris' dandy 7-inch RideCommand and the aforementioned newly-tuned automatic transmission (the paddle shifters are optional on SL). Taking a walk to the R a bump in power from 178 horses to 203 ponies along with the choice of a 5-speed manual or flappy paddle automatic. The top-line R Limited Edition, new this year, packs an eye-popping colour scheme and banging Rockford Fosgate audio system.
"Listening to our owners, we left no stone unturned to fully refine, update and enhance our product lineup for 2021. New features like Apple CarPlay and paddle shifters for AutoDrive were among the top requests," said Chris Sergeant, Polaris Slingshot Vice President. "We also took cues from our owners to expand our accessories for 2021." The group does have a wide array of add-ons for Slingshot, ranging from a Slingshade canopy roof to inventive storage solutions. All these items, when appended to a new machine, do a fine job of increasing the brand's average transaction price, a key metric for investors.
Perhaps recognizing all those new customers might be unfamiliar with the type of kit they'll need to be comfortable in this definitely-not-a-car, Polaris has taken a page from their powersports side of the showroom and introduced feature bundles to help reduce the paradox of choice. An Excursion Series brings storage options, for example, while a Concert Series adds ambient lighting and extra boom for the stereo.
The 2021 Polaris Slingshot will start at $33,999 in Canada and climb to $42,999 for an automatic-equipped R Limited Edition model. These too-cool toys are shipping to dealers right now.