Kawasaki ZX4-RR KRT Edition Debuts
With a pair of fully electric motorcycles ready for prime time and hybrid electric in the oven for its final bake, the last thing any of us expected from Kawasaki was a small displacement, four cylinder, petrol powered supersport. The 2023 Kawasaki Ninja ZX4-RR KRT Edition is a fully kitted, 399cc-engined screamer that calls back to the halcyon days of late 80s and early 90s Japanese racing. What's even better is that Team Green is letting North America have a go with this one.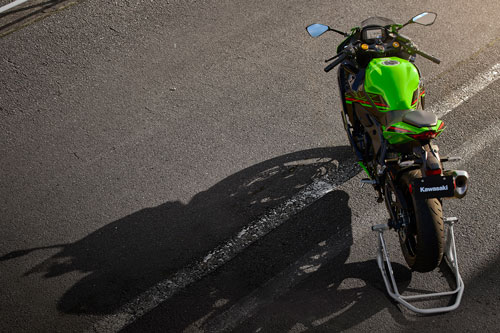 I know what you're thinking. Kawasaki already has a 400cc Ninja!  And yes, they do; the Ninja 400. However this new Ninja scores the "ZX" designation, which means it's a supersport bike. But, more importantly, the engine that powers this lil' Ninja isn't the parallel twin from that other lil' Ninja. This one scores a 4-banger that will scream all the way to 16,000 rpm!!!  Or, at least it can do that. In Canada we're limited to only getting 11,500 revolutions per minute, in order to keep things quiet.
Regardless, the top of the line ZX4-RR KRT Edition should offer upwards of 80 or so horsepower and 26.5 pound-feet of torque (at 11,000 rpm), making it an ideally suited engine for the track. Coupled with a World Superbike-derived trellis chassis, fully adjustable Showa suspenders, a dual-direction quickshifter and the full suite of Kawasaki software (including a Circuit Riding Mode), I'd imagine knee-draggers will be well rewarded.
The Ninja ZX4-RR KRT is selling for $10,999 (there is a ZX4-R for $1k less), which is nothing to sneeze at really. But these types of bikes don't exactly come around too often. If you've realised that you're just not getting everything out of that litre bike, or are looking to take your track game to the next level, this could just be the most exciting way to do so.
Irish Road Racing Needs a Shillelagh
One of the most incredible racing experiences I've had the good fortune to experience was attending Northern Ireland's North West 200. Similar to the Isle of Man TT, the North West 200 is a motorcycle road race that's run annually up near Portrush and puts riders into the public streets (which are closed, of course) to compete. Unlike circuit racing, there are no run off zones or ARMCO barriers to provide buffer zones for when things go wrong. And unlike the TT, all of the riders are competing together, at the same time.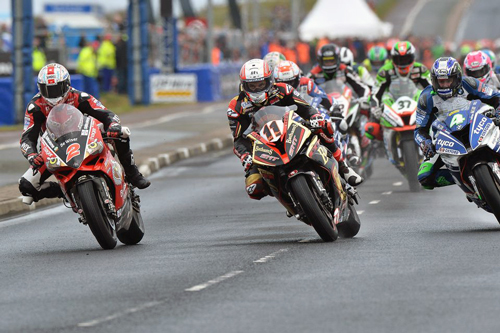 Thanks to rising insurance costs associated with the road racing events (Northern Ireland boasts five such events per year), the governing body, the Motorcycling Union of Ireland (MCUI) has been unable to secure public liability insurance, and the racing has effectively been cancelled.
According to John Dillon, the MCUI chairman "the costs proposed were, at this time, unsustainable for most clubs in order to provide the required public liability cover to run our planned events. The MCUI will, however, continue to pursue all options for the provision of public liability insurance, should they arise in the near future."
While I (and all of Northern Ireland) is hopeful that one of those options being pursued may come through, it doesn't seem likely as the season would typically start in just a few short months, so timing is tight. Here's hoping Irish road racing isn't lost for good.
Aprilia Racer Days 2023
If you've been eyeballing one of Aprilia's new bikes or just have a hankering for one heck of a good time at a track, I highly recommend you sign up for Aprilia's only Canadian Racer Days stop, at Shannonville Motorsports Park, this September.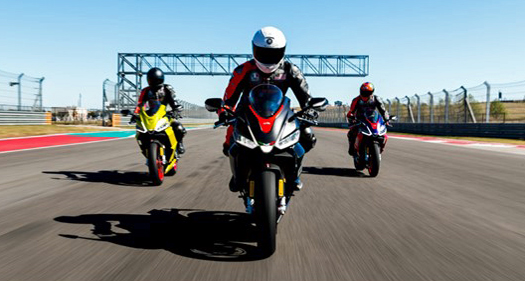 Interested riders can enrol as either A (advanced), B (intermediate) or C (beginner) class riders and be treated to a full-days' worth of on-track time, rider instruction, lead/follow lapping and, best of all, can "borrow" a shiny new Ape for a run around the track.
I was silly enough to bring a Ducati Monster to this event the last time it crossed into our border and, despite friendly ribbing about riding the competition, was treated to some of the best riding camaraderie I've ever experienced. Every rider, from "brand new" to seasoned vets were just out to have a good time and learn some new limits. Dainese is also on site to showcase new gear, including their D-Air stuff, and so is Pirelli for tire related queries. I can't recommend it highly enough. Hope to see you there!