Exiting turn five — the hairpin — on Shannonville Motorsports Park's "Pro Track" configuration, I bury the chinbar of my Arai as deeply as I can into the void between the 2021 Ducati Monster's sculpted tank and wide flat bars while simultaneously cranking the throttle. In no time at all second and third gears have been used up by speed and spit out by the quickshifter.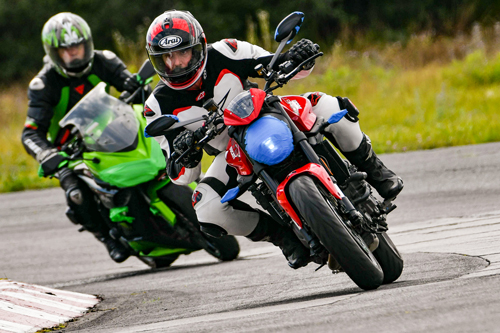 In what feels like milliseconds, I'm alerted to fourth's fast-approaching redline by the blinking lights on the TFT dash. Fifth engages as I eclipse 180 km/h on the back straight and fight to keep tucked. At the second cone on my left I pop up, forward, and shift to stick out my right knee to slow the bike, maximize grip on the Pirelli Rosso III and begin my dip into the 120 km/h sweeping right hander that leads into the chicane.
Despite how this all feels, I know this all-new Monster will happily go faster, transition quicker, lean deeper, and brake harder. If only the same could be said about the meatsack in the saddle, we'd both be truly quick.
Powertrain:
Thundering away beneath me is the 937cc Testastretta 11°, V-Twin engine. This is the same motor that powers Ducati's hooligan bike, the Hypermotard, so you know it likes to party.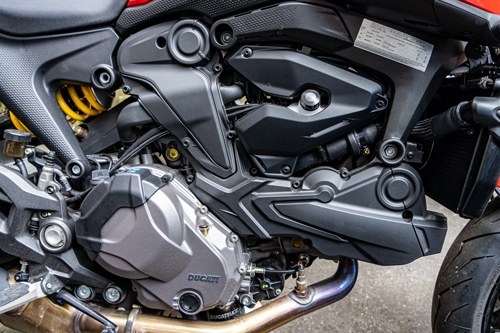 Power has increased by a pair of ponies over the outgoing Monster 821, to 111 horsepower. Torque is up from 65 lb/ft to a healthy 71 lb/ft and this mill is a full 2-kilos lighter. It's also more responsive. That extra twist also hits earlier in the rev range, so this Monster is quick to squirt from apexes but also more civilized in day-to-day settings.
In those commuter landscapes, ride-by-wire throttle inputs can feel a bit choppy in the Monster's Sport mode, but selecting Touring calms things down. There is also an Urban setting available that will chop HP down to 75, but I only toggle it on for the deluge I'm forced to tackle on my way home from Shannonville. After a steamy-hot day at the track, Ma Nature's pressure wash is appreciated.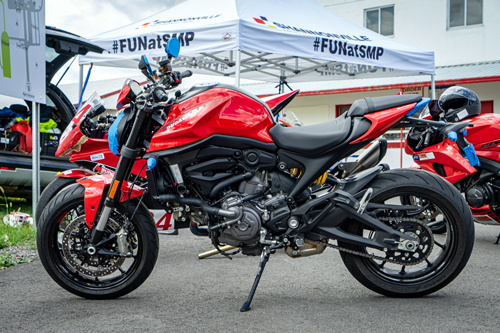 Styling:
Despite that lighter, more powerful engine most of the Monster's attention will be garnered by its looks. This is completely understandable, given the standing Miguel Galuzzi's trellis-framed original has achieved in the pantheon of motorcycling. The 1993 Monster M900 was an absolute work of art. It's the bike that launched the naked genre of motorcycles and, in most rider's eyes, the first generation Monster ranks among Ducati's highest of watermarks in terms of style. Hell, it was even inducted into the Guggenheim.
But let's be honest here. The last generation — the Monsters we've seen since 2010 or so — looked kinda meh, right? Like the Monster was trying to play in too many pools? That gorgeous rib cage just kept getting shorter and fatter and became less a stylish functional element than a hindrance to overall design. In my eyes, the second gen Monsters have always looked muddled.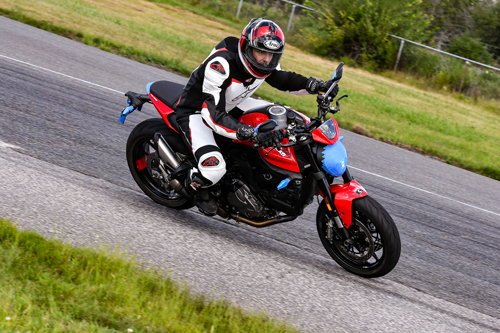 Here? That just isn't the case.
The 2021 Monster bolts both a front-frame and polymer rear subframe to its engine to deliver a focused, superbike derived effort. Losing those iconic ribs helped shave some 6kg in frame mass alone. The rake is tighter, the wheelbase shorter, and the rear tire is narrower.
Everything is sleeker, more refined. Less showy, more go-y. The complete package is an impressive 18kg lighter and, more importantly, you can feel that in all riding conditions. The 2021 Monster is a wholly modern naked bike, again.
Now, I will grant you that (thanks largely to its shapely, LED-rimmed headlight) the Monster does bear a striking resemblance to another Italian nudist out there (the MV Agusta Brutale), but I wouldn't dare call either unattractive. In the Shannonville paddock, resting between sessions, this Ducati Red Monster is equal parts aggression and minimalism — defining traits of Galuzzi's original — that both look and feel right at home.
Ergonomics:
Much of that feel is helped by the ergonomic changes this new Monster boasts. The rider triangle is roomier and more relaxed, with the handlebars sliding 66mm closer to the rider and the footpegs shifting rearwards 35mm, and down 10mm, too. The tank is scalloped and slim where it meets the saddle and provides a comfy spot to lock your knees.
On the highways and byways, all of this combines to deliver an easier ride. The positioning helps keep weight off of the wrists and ease lower back strain. In my 215km trips both to and from Shannonville (as well as the 100 or so I logged on track), I didn't feel any real discomfort and the seat was wide enough to shift weight when I needed to. In and around the city, the same could be said, meaning the Monster also makes a comfortable commuter.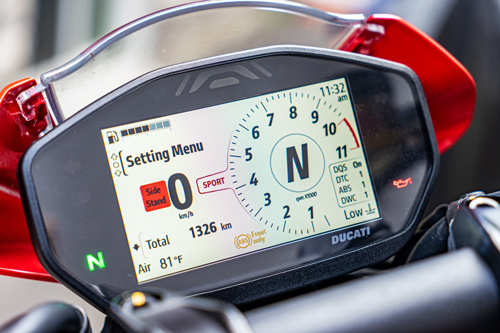 Infotainment/Technology:
Given that the Monster is the least expensive Ducati currently on offer, you may not expect much in the way of tech, but it's actually quite loaded.
The riding modes (Sport, Tour, Urban) I mentioned above are all programmable, so you can fiddle with all of the settings. This means you can tailor the throttle response and electronic intervention to your liking, even on the fly.
And that electronic intervention comes in the form of a Six-Axis IMU controlled suite that includes corner sensitive ABS and traction control. Also, there is wheelie-control and launch control baked in.
Everything is easily accessible via buttons on the left side of the handlebar and communicated via the 4.3-inch TFT display. The colour, contrast and presentation of that dash is spot on. It communicates everything you need both clearly and concisely.
Ride:
From the moment I fired up the Testastretta 11° engine, this Monster felt decidedly lighter and more carefree than the bikes preceding it. Weaving through Durham back towards the city, the Monster felt equally happy when trundling or bolting. Sure, there is a bit of vibration when the engine is loping but it rides smoother and less manic than the Monsters of yore.
Tip-in feels natural and progressive, regardless of speed. The chassis feels communicative and responsive. Holding a line on the Monster is easy stuff and working through high(er)-speed transitions felt absolutely fluid.
The KYB fork and rear shock do a great job of absorbing bumps in the road but understand they will never be ADV bike levels of compliant. I probably should have dialed up some extra preload in the rear (the fork is non-adjustable) to better handle lugging my gear as well as track battling, but I'm not fast enough to have noticed any real issues.
The Brembo brakes provide excellent initial bite and were easy to modulate, something I greatly appreciated when getting out on the track. The rear brake did feel a touch vague at times but again, it wasn't off-putting at all.
During my on-track sessions, a customized version of Sport mode was dialled up. With a few taps I was able to run with the most aggressive throttle response and least intrusive wheelie-killer while also having the ABS at the rear of the bike take a break, should I feel like heroically "backing it in".
Spoiler alert: I did not back it in.
However, for a rider who hasn't put a knee down in over four years, the Ducati Monster delivered everything I could have wanted for a day chasing speed. It was ferocious when called upon but forgiving when I needed it to be. Spending my day in the "C" group (novices), I felt progression from session to session and even scored a few compliments on my increasing speed by day's end.
Conclusion:
In my week with the Monster it saw time as a daily mount in downtown Toronto. It ferried me and my Power Ranger gear up to my cottage, along dirt roads, no less.  And it happily let me persuade it around a fairly rough and rugged racetrack before hopping on to hammer it home through a torrential storm.
It's rare that I get the chance to ride a bike in as many settings as I did this Ducati Monster. Typically, if a track session is on the agenda, an OEM will have a fleet of bikes prepped, complete with extra sticky rubber and tire warmers. For any on-road session, either a second set of bikes sit in wait or at the very least a tire swap is done, usually overnight, before that portion of testing begins. Here, Ducati simply gave me a key to their all-new motorcycle and told me to have fun.
And that should almost tell you everything you need to know.
While we've all been perfecting sourdough and having craft beer delivered to our houses, Ducati's engineers shed 11% of the Monster's body fat. While adding both muscle and agility. And they made it more comfortable and easier to ride — both at speed and around town. This is the best Monster Ducati has ever built.
2021 Ducati Monster
Price: $13,485.00+
Engine: 937cc, Testastretta 11°, V-Twin
Transmission: 6-speed
Power/torque: 111 hp/71 lb-ft
Weight: 166kg (dry)
Warranties: 12 months
Competitors: Aprilia Tuono 660, Kawasaki Z900, MV Agusta Brutale, Suzuki GSX-S750 A, Triumph Street Triple, Yamaha MT-09
Link: Ducati Canada