2019 Harley-Davidson CVO Tri-Glide
Of all the motorcycles I've had the privilege of riding in 2019, it was the one I spent the least amount of time with that left the biggest impression. And it wasn't really a motorcycle at all…
The Harley-Davidson CVO Tri-Glide ($59,999) is The Motor Company's top-of-the-line trike. It is a hulking, 577 kg beast of a machine with a trunk, top-box, reverse gear, seating for two, a complete package of state-of-the-art electronics and a pair of 215-series tires at the rear.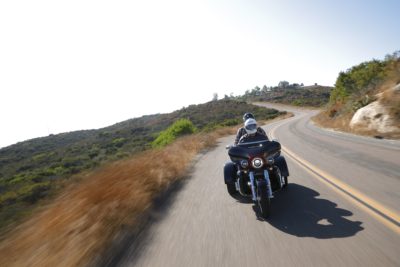 Hopping onto the saddle for the first time, I fully expected the Tri Glide to behave like a larger, heavier version of the Ryker I had borrowed earlier in the year. And while that presumption wasn't wrong, it wasn't exactly right, either. But more on that later.
Acceleration from the 117 Milwaukee Eight V-Twin is smooth and linear. It's not as quick as it is in the CVO Street Glide to be sure, but you won't be left wanting for oomph. I had no problems keeping pace with any of the other proper motorcycles in our group (at least in straight lines and one of the other editors had already proven that wheelies were possible.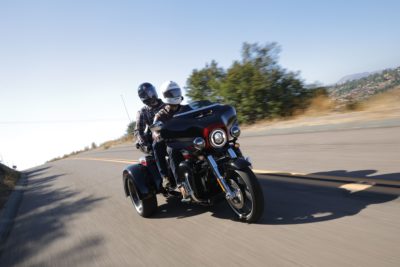 Braking is also ample, thanks to a twin-set of four piston Brembos up front and another pair of single-piston clamps in the rear. There is definitely some effort needed on the lever but thanks to H-D's electronic linked braking (ELB) and ABS modules, everything halts in a controlled manner. Not surprisingly though, it's the handling department where the Tri Glide suffers.
The front feel is vague, especially at speed. And it can be easy to overwhelm that single patch of rubber trying to dictate direction. When riding any three-wheeler, understeer is a reality you need to keep in check. On the Tri Glide, doing so involves some honed and heightened levels of concentration as well as a whole new style of body-English. Unlike the Ryker, the Tri Glide has its two-wheeled half positioned in the rear. This still means you need to throw your weight around to stick a corner, but you also want to shift forward as far as possible, to transfer weight where it's needed. It's a definite workout and you won't exactly win any cool points, but this isn't the type of fun the CVO Tri Glide (or any trike) was necessarily built for. Long days of stayin' straight on the interstate would be another story entirely.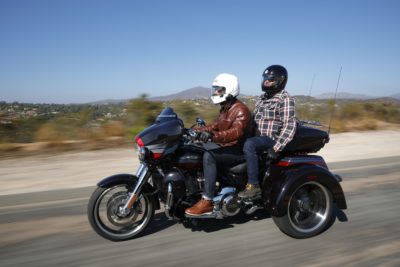 The CVO Tri Glide is certainly not built to be everyone's cuppa but for those of you out there that can no longer ride — due to health, age, intimidation or any other reason — know that Harley-Davidson has a stunning option to get or keep your knees in the breeze. Best of all, the view from the saddle of the Tri Glide looks like exactly the same as riding a big Harley bagger. Just don't forget to accommodate for its extra width out back; curbs can and will bite.