A supermoto is the glorious result when you put a set of street wheels onto a dirt bike. They are light, lithe and lively machines that encourage all of the bad behaviours your parents scolded you for back in your BMX days — wheelies, stoppies, skidding a rear wheel into a corner. But, there's a flipside to all of those shenanigans. A supermoto is also the perfect platform to both find and push your riding limits — especially one with minimal power.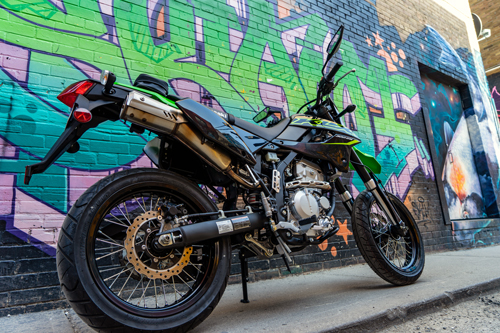 The 2021 Kawasaki KLX300SM aims to be just that.
Powertrain: With a bike that tips the scales at a mere 138kg, there need not be a high-horsepower engine to make it move. The KLX300SM is powered by a 292cc, liquid-cooled, dual-overhead cam, single-cylinder engine that puts out 26 horsepower and almost 18 lb-ft of torque. Power builds in an approachable, linear fashion and the mechanical throttle control is both smooth and reactive. There's enough grunt to muster clutch-up wheelies, should you desire, but you'll need to use some body-english and learn to commit.
A six-speed transmission puts that power to the wheels via a very light clutch. For city riding in stop-and-go traffic, the KLX300SM is an effortless bike to control. Best of all, when gaps open up, you can run this thing wide-open while staying on the (mostly) legal side of posted limits. Highway travel is an option too — I hit a VA of 127 km/h — but things do get quite buzzy.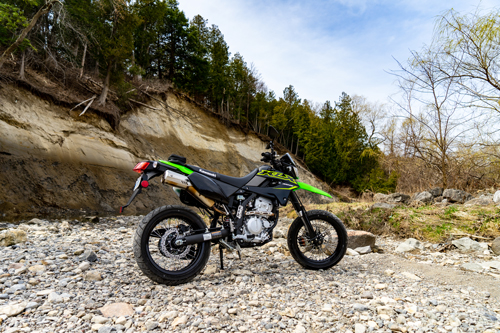 Styling: There's really not much to say about the styling here. It's clearly a dirtbike with street tires but I dare say that's not a bad thing at all. It's simple, clean and all of those black-out bits help give off a hooligan's vibe. In terms of stature, despite being a "small" bike, it doesn't appear so — even with 185cm and 80kgs of rider on board.
All of the plastics are beefy and thick, so any accidental spills or drops shouldn't ruin anyone's day (or bank balance). The SM is also available in Oriental Blue but I'm kinda partial to the Lime Green — this is a Kawi afterall
Ergonomics: The seating position on the KLX300SM is upright and commanding. The bars sat at just the right spot to keep my elbows both bent and up and the rearsets helped keep my spine straight and weight forward. I had no trouble at all flat-footing when stopped and, thanks to the slender waistline, I'm sure most rider's won't be put off by the 860mm seat height.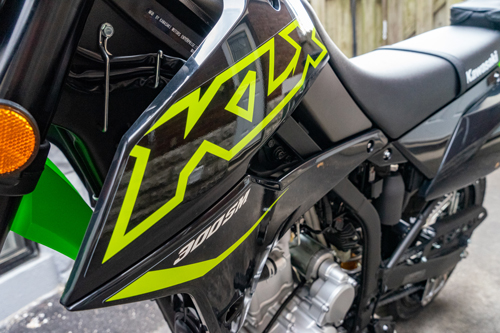 As I mentioned above, clutch pull is light and easy although I would have loved to have had some lever adjustment to bring it in a smidge closer. The same can be said for the front brake too, but given the asking price of the SM, having to shell out a few bucks in the aftermarket isn't a big deal.
Features: Kawasaki has outfitted the KLX300SM with the same digital dash readout that adorns the dual sport version. It is a basic digital display that provides engine RPM, speed, a clock and odometer/trip meter. There's nothing fancy going on here and that's no problem at all. A fuel gauge and gear indicator would be nice touches, but their lack thereof isn't enough to get upset about.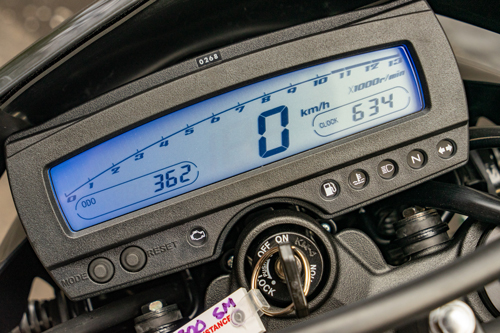 There is no suite of e-nannies or rider modes baked into the KLX300SM either. Traction control and any attempts to avoid leaving skid marks are all up to you. Some may see that as a negative but I don't. This is a bike that, due to its other metrics, can be safely flogged and experimented with.
Suspension and Brakes: Suspension up front is tackled by an adjustable set of 43mm, upside-down forks. They offer 230mm of travel and the compression damping can be tweaked to firm things up. In the rear, a piggyback reservoir, Uni-Trak shock is mounted to the swingarm and provides adjustable compression, rebound and preload. Travel is a bit shorter, at 205mm. I didn't have to make any adjustments for my week on the SM and found the ride to be compliant and engaging. There's plenty of communication transmitted through the chassis and the suspenders weren't unsettled by Toronto's pot-holed roads.
Braking is tackled by a single disc up front, clamped by a dual piston caliper while the rear uses a single piston set-up. There is more than enough stopping power here and feedback was intuitive and predictable.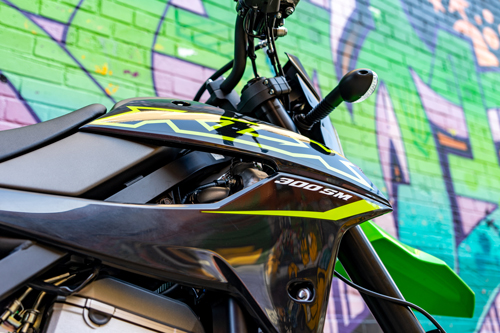 Ride: In my week aboard the Kawasaki KLX300SM I tried to throw a little bit of everything at it. Downtown streets and alleyways, suburban sprawl, some highway time and even a little jaunt down a dirt trail or two. It handled everything like a champ and kept me grinning the entire time.
Pin the throttle, rip through three gears and cackle as you're barely cresting 65 km/h. On the highway, do the same only this time blast through all six cogs. There's just something addictive about running a throttle wide open everywhere you go and this bike not only allows for it but encourages it. It's rowdy yet restrained, debaucherous yet deferential.
I love that it's so light, maneuverable and infinitely approachable. You can slide in and around traffic with ease and the ergonomics are comfy enough while providing for a commanding view of any obstacles ahead. On the trail, traction was limited by the street rubber but the SM didn't suffer. Even in some deeper sections of wash, when the front end starts to wallow, the bike is light enough to just put feet down and paddle your way through.
Kawasaki has built a potent little machine with the KLX300SM. Would I like more with an extra 10-15 hp? Definitely. But that's a different beast altogether. I reckon the KLX300SM is ideally suited to new riders seeking their first "new" bike or veterans looking to dabble in a different discipline, to further improve their skill set. This lil' SuMo is something that riders can enjoy now and also grow into. It's light, approachable, as fun as things twice its size and it's as cheap as chips, too. Well done, Team Green.
2021 Kawasaki KLX300SM
Price: $6,799.00
Engine: 292cc, DOHC, single-cylinder
Transmission: 6-speed
Power/torque: 26 hp/17.7 lb-ft
Weight: 138kg (fuelled and ready)
Warranties: 12 months
Competitors: Honda CB300R, KTM 390 Duke, Suzuki DR-Z400SM, Yamaha MT-03
Links: Canadian Kawasaki Motors