After spending two weeks coddled by the infinite comforts of a mile-munching Gold Wing, I felt I needed to remind myself that motorcycling can be a pain in the ass, both literally and figuratively. Masochist that I am, I happily swapped the keyless fob of the Wing for a sharp and pointy metal thing that would give life to my next ride: the 2020 Honda CRF450L.
The transaction wasn't exactly a smooth one. Honda's weekend security personnel weren't so convinced the tall, red, knobby-clad ride needed a key at all.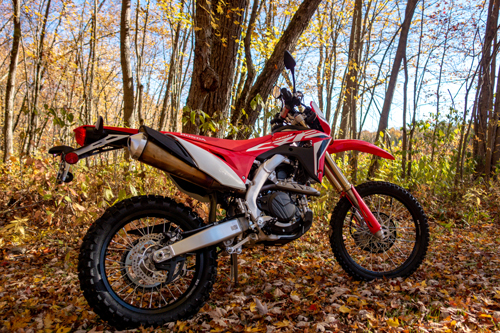 "It's a dirt bike, right?  Don't you just kick-start it?" and "Shouldn't you have a trailer or a pick-up truck to get it out of here?" Legitimate questions. Despite having the "L" at the end of its name, this version of the CRF450 looks every bit like it belongs atop a Monster Energy SuperCross ramp.
But that "L" is where the differences lie.
First off, Honda uses that letter to refer to electric start. So no, I wouldn't be kick starting things and I most definitely need a key. It also means that this machine differs from its competition-ready stablemates (CRF450R and CRF450WE) by being outfitted with turn signals, brake lights, a stacked LED headlight and a license plate, meaning the CRF450L is street legal. So no again, I wouldn't need anything to haul this bike away, other than that key, thank you very much.
If its looks weren't convincing, minutes in the saddle will assure you that little other than those necessities listed above make the CRF450L a street bike. First gear is short and that thumper motor spools up quickly. On a trail, that combination will prove perfect for lofting over downed trees, rocks and other barriers. On smooth level ground though, I barely manage to keep the front wheel on the ground as I hop from concrete parking pad to asphalt driveway.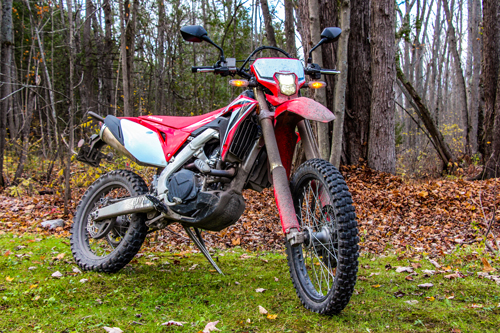 That seat isn't a welcoming place for extended tarmac stints. It's not very cushioned or even wide enough to cradle an entire ass. And at 970mm high, riders of shorter stature will be challenged to flat-foot at stops. The shifter is a knurled nub of aluminum that can be tough to find and the rear brake pedal hangs quite low. Vibrations at highway speed can be felt everywhere too, as that thumper engine and relatively short ratios combine to confirm something I was already pretty sure of: the CRF450L's road time is best limited to riding to the closest gas station or getting to the next trailhead.
After some cold and rainy October days the trails have been left puddled, rutted and rough. In other words, they were perfect. On the dirt, the CRF450L comes into its own. From a standing position those foot controls are expertly placed. The wide Renthal bars provide excellent control — though I'd probably roll them forward a touch to better fit my reach — and the drivetrain finds harmonic balance in its mid-range, at aggressive trail speeds.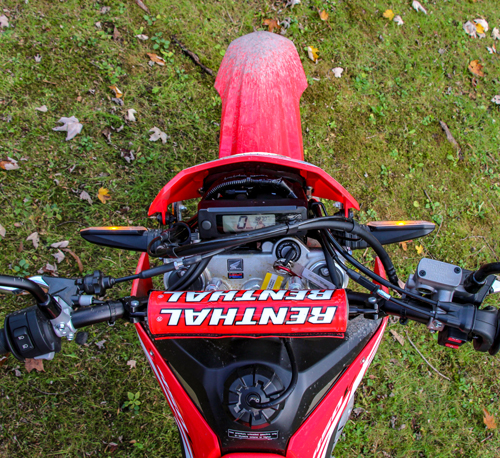 The suspension is soft enough to soak up everything I'm able to throw at it while keeping its skid plate off of the rocks. There's 268mm of travel up front via the 49mm Showa forks and 300mm of flex in the rear. The rebound and damping rates can be adjusted at the forks and the Pro-Link setup out back can be fully tuned (preload, rebound and compression). The slender chassis allows me to move around and use body english to manoeuvre the bike in tight spots and the equipped IRC Trails GP Dual Sport rubber offers plenty of grip for my level of riding.
But be warned. Where the KLX230 I rode earlier this year was clearly a mild-mannered, entry-level learner, this Big Red machine will punish rookie mistakes: there's more than double the horsepower (41hp vs 19hp) from a bike that's both taller and some, thanks to its titanium fuel cell, 3kg lighter (131kg). The mechanical throttle response is intuitive but with a 12:1 compression ratio, being sloppy or choppy can lead to sharp behavioural changes. You need to be smooth to be fast, even in the dirt.
I find my sweet spot for keeping the Honda reined in with one finger resting on each of the front levers. This limits my throttle inputs over bumps and berms allowing me to keep a steady and dialed pace, engaging the clutch quickly when needed. The lack of ABS sensors keeps my right finger light — it will be used for emergencies only. Besides, most speed-scrubbing around here will come from the 18-inch hoop out back. The lack of e-nannies makes the ability to steer with the rear a welcome treat on something this light, especially through areas of washed out gravel. Playing around in the slop behind the Marmora mines, I'm soaked, muddy and steaming in no time at all. So is the bike.
When it comes to off-road motorcycles, there is a spectrum. Some riders want a bike that performs best as an adventure touring mount that can slice and dice asphalt and tackle the technicalities of a backcountry discovery route. Others simply want to get from trail to trail to lose themselves in the wilderness, without needing to bring the old pick-up truck or trailer along for the day. Provided you've spent some time playing around in the dirt already, the 2020 Honda CRF450L is a great choice for those of you in the latter camp.
**Editor's note: for 2021 Honda has replaced this bike with the CRF450RL. The 2021 CRF450RL receives a set of handguards as standard, sits 37mm higher at the front and features an upgraded ECU and fuel-injection settings. It retails for $12,099. All other features appear virtually identical.**
2020 Honda CRF450L
Price as Tested: $11,999+
Engine/transmission: 449cc, 4-valve unicam single-cylinder / 6-speed manual
Horsepower: ~29kw (38ps)
Torque: 38Nm
Fuel (capacity): Premium (7.6 L)
Weight: 131kg
Competitors: KTM 350 EXC, Suzuki DR-Z 400, Yamaha WR250R
Links: Honda Motorcycles Canada