The Eastern Ontario Trails Alliance does an incredible job of managing and maintaining the hundreds of mixed-use trails slinking through the Bay of Quinte area of southern Ontario. I'm currently making my way from a trailhead just outside of the Hamlet of Moira, north-east towards Arden, around one-hundred kilometres away. Smooth dirt and gravel stretches are interrupted by a few stop signs here and there and a collection of wooden bridges that provide safe access over creeks and rivers. The conditions and the scenery are impeccable offering hidden views of lakes, rivers and MRCA (Moira River Conservation Authority) land you'd never even know was there. And in a week's worth of exploring, I've yet to run into another soul taking similar advantage.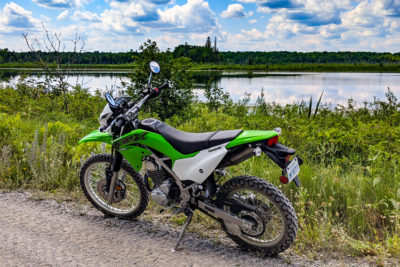 Whether your choice of recreational vehicle has two, three or four wheels, this section of The Great Trail (aka The Great Canadian Trail) provides an easy entry into the world of off-road travel. Nothing is too technical and there's just enough challenge to keep things fun. Of course, I'll always encourage you to choose a motorcycle — they're literally the most fun vehicle ever created — and the one I'm bombing through this section on is honestly more fun than it has any right to be.
I'm riding the 2020 Kawasaki KLX230, Team Green's all-new, entry level dual-sport. A smidge smaller than the array of 250cc machines on offer from Honda, Kawasaki, and Yamaha already in this space, the KLX230 was designed to be a gentler, friendlier companion for new riders just getting their boots dirty. And to that effect, Team Green has done a bang up job.
Powered by a 19ps, 233cc, air-cooled single, there is little to worry about when it comes to power delivery. Throttle input is smooth, intuitive and ample. Even if you mistakenly twist a bit too much, there's no fire-breathing ferocity to watch out for, so riders can safely explore their limits with little fear of catastrophic consequences.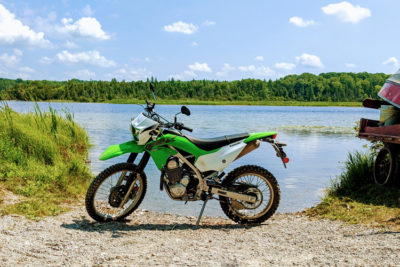 The KLX230 is also fuel injected, has an electric starter and features a dual-sport tweaked ABS module that incorporates limited intrusion to the rear tire. Add to that a nifty injector tune that, while a touch finicky, all but eliminates the possibility of stalling and this bike keeps the learning curve flat and inviting while still prioritizing fun.
Tipping the scales at a mere 133kg (293-pounds), the KLX230 is light and easy to manoeuvre. Riding on a full-sized set of hoops (21-inch front and 18-inch rear) and boasting 265mm (10-inches) of ground clearance, even if there were debris or downed trees on this trail, getting over and beyond obstacles shouldn't be a problem. In truth, a few inches of that clearance will disappear as soon as you swing a leg over the bike as the suspenders are fairly soft. Consider this a blessing and a curse; it keeps costs down and makes the listed 884mm (~35-inches) seat height actually land somewhere south of 812mm (32-inches) making it very approachable for a wide variety of riders at the cost of bottoming out easily when thrashed. On the trails I'm attacking this is a non-issue as they're more manicured than manic. In fact, it's making such light work of this ride I'm debating extending it on to Perth… Or maybe even Calabogie.
A quick glance down at the dash convinces me otherwise. There's a solitary LCD bar of fuel showing on the gauge, so I need to dash out onto the slab to refuel. A mere six-bucks tops the tank with premium and I keep to the asphalt for a run back towards Tweed.
This decision dispels any dreams of the KLX230 being seen as a small Adventure Bike alternative as highway travel is definitely not its forte. The single-cylinder thumper felt like it was pounding faster than the heart of a meth-addled hummingbird as I crested the century mark on the speedo. There's no tachometer to peek at but the buzz through the bars and pegs is immediately telling of an engine that really needs to sing for its supper. If cruising along at posted limits is enough for you, the KLX230 will oblige but any attempts to pass slower moving traffic calls for some advanced planning. The fastest I saw on the speedo was 120 km/h before the rev limiter kicked in but that took some tucking, drafting, a wide open throttle and some help from a tailwind. I spent all of my highway time hugging towards the right side of the lane, with eyes glued to the mirrors for all of the objects getting even closer than they appeared. Around town and with limited exposure to 80km backroads to link some trails, the KLX230 is just fine but extended Long-Way type trips with intercontinental highway mileage, luggage and provisions should be left to bigger beasts.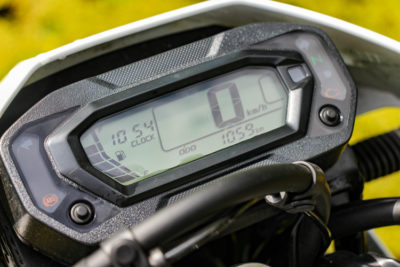 So, does that mean the KLX230 is a one-trick pony? An entry level learner that will be quickly outgrown and sold off for a bigger, faster and more aggressive bike? It'd be easy to say yes but I'm not so convinced. With over twenty years in the saddle and exposure to all types of bikes and riding, I thought I'd quickly dismiss this little Green machine as just that, but I honestly had an absolute blast during my two weeks of exploring with the KLX230.
During my time with the KLX230, I rode through terrain, trails and roads that my Tiger 800 XCX and I have hit a number of times before and, on those trails and more technical terrain, I had way more fun on the KLX230. It's a light and nimble little bike that can be happily thrashed with little fear of biting back. I found it far easier to enjoy the ride and appreciate my surroundings simply because I didn't need to work so hard at keeping the shiny side up. As a result, I was more prone to try things and explore areas I wouldn't on my near-five-hundred pound machine. That fact alone had me immediately checking both my garage and bank balance for space for a smaller bike.
If you're thinking about finding your first motorcycle or experimenting with light off-roading, you won't be disappointed with the KLX230; it is a fantastic choice for a beginner that is more capable than it needs to be. It's also a bike that I'd wager will be held onto even after a more focused arrow might find its way into your quiver; it's a perfect second bike or cottage ride and, more importantly, is an easy way to let your friends in on the fun that is off-road motorcycling.
2020 Kawasaki KLX230 ABS
Price as Tested: $5,499.00
Engine/transmission: 233cc, SOHC, Air-Cooled, Single-Cylinder / 6-Speed
Horsepower: 13.9kw (19ps)
Fuel (capacity): Premium (7.5 L)
Weight: 134 kg
Competitors: Honda CRF250L, Kawasaki KLX250, Yamaha WR250, Yamaha TW200, Suzuki Van Van