It's clear that Honda was looking to move upmarket with their overhauled 2020 Africa Twin 1100. Changes to the engine, chassis, suspension and a huge influx of available technology have resulted in a faster, lighter and arguably more capable machine than it replaces. I count myself lucky to have been able to ride each new iteration of Honda's celebrated adventure bike in some pretty epic locales since its reintroduction in 2016 and have long been a fan. In fact, had I had any patience at all, there may have been one sitting where my 2015 Triumph Tiger 800 XCX does now. Out of the box the AT has always been more than capable off-road, offering incredible balance and feel while also making for a decent touring mount, albeit with a few minor shortcomings. So, the new one should really be all that and then some, right?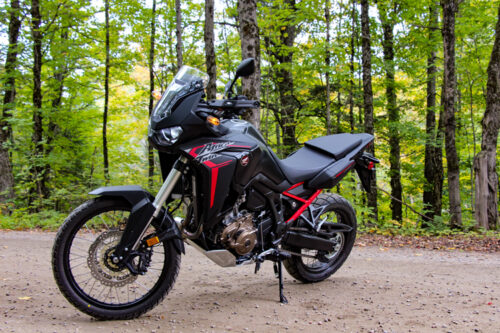 To quickly suss the 2020 Honda Africa Twin 1100, one only needs to look at its dash. Er, dashes. A large, bright, touch-sensitive, technicolor dream-screen greets with graphics, menus and options galore. From it you can be given all manner of information — trip details, distance until empty, traction control levels, wheelie control, power output, ABS bias, the list goes on. And you can adjust all of those settings it reports, too. Interestingly, just below it, a rectangular sliver of OG (original GameBoy) LCD dutifully reports on just the essentials: you get an odometer, gear indicator and speedometer. Honda threw in a few idiot lights for good measure, also. Taken as a whole, this double-dash is both a simple tool and beautifully over-complicated device. And so is the new Africa Twin.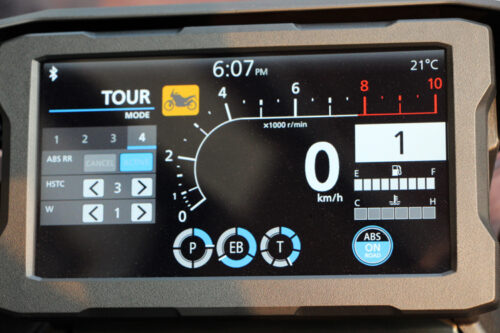 To work through the myriad of options on offer, a rider can either poke away at the touch screen or tap on the array of buttons on the left bar-side. There are fourteen said buttons but it's the cluster of nine in the centre that handle most of these operations. Of course, they only do that after you've accessed the main menu via a long pressing of a separate toggle on the top left…
Regardless of haptic preference, diving into the menus and submenus reveals six rider modes — Tour, Urban, Off-Road, Gravel and two separate User modes — that can each be aesthetically tailored into any of three displays (Gold, Silver and Bronze). Gold delivers the most information, silver slightly less and bronze the least (for reference, Tour-mode is preset to Gold, Gravel to Silver and Off-Road to Bronze). So far, that's eighteen different display choices for that upper screen and we haven't even begun to actually adjust the meaningful bits.
In each of those rider modes, you can tweak and customize the IMU-controlled interventions like traction control (7-levels), wheelie control (3-levels), engine braking (3-levels), ABS (on-road or off-road) and engine power (4-levels). You can also toggle the self-cancelling turn signals on or off (which work quite well, actually), delve into your phone (via a Bluetooth connection), set-up your communications device (again, via Bluetooth) or if you pack an iPhone, use and navigate it via Apple CarPlay (BikePlay?). Niceties to be sure, but I'm not convinced all of them are necessary.
Fire up the AT and the sound coming from the all-new 1,084cc parallel-twin engine quickly displaces the frustrations all of those digital decisions had triggered. Thanks to the 270-degree firing pattern, the Africa Twin grunts like the angry oversized dirt bike that it is. And that engine is much more than just a noise-maker. Weighing in 2.5kgs lighter than its 998cc predecessor, the new mill also cranks out nearly seven more horsepower (74.5kW total) and an extra 4.5 lb-ft of torque (107Nm total), thanks in part to new heads, larger throttle bodies and a longer stroke. Where the last generation ATs felt adequate, in terms of power and performance, the 1100 is raw and raucous, an absolute beast.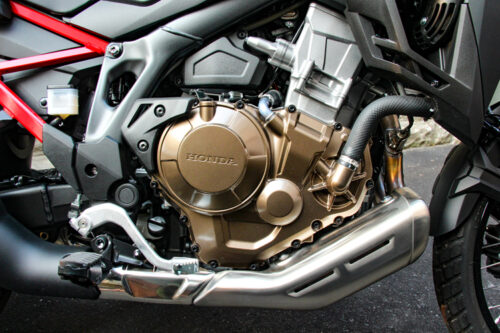 Throttle inputs are now controlled via wire, so this new AT also has cruise control (incidentally not controlled via one of the 14 buttons on the left) and wrist reactions are fairly smooth and refined. I did feel that, when the power and engine braking settings were highest, there was a bit of a herky-jerky action to things during micro adjustments. Initially off-putting, I tweaked things to suit my needs for both around town (lowest power and engine braking settings) and off-road (highest power rating and engine braking at level-2) and never looked back.
On road, the new AT is planted at speed and will easily out hustle near any four-wheeled traffic. Leaving Honda's HQ and hopping onto an almost empty stretch of highway, I was blown away by how much quicker this bike feels from its predecessor. The initial hit low on the tachometer is forceful and the AT almost leaps off the line. Torque tapers off just as horsepower steps in, so there's ample thrust all throughout the rev-range.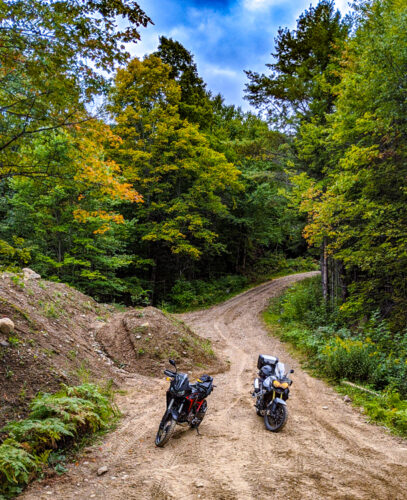 Despite having an off-road biased set of wheels (21-inch front, 18-inch rear), turn in doesn't suffer any overt initial resistance and the new, slimmer chassis made it feel pretty damned flickable for an ADV bike. There's no need to muscle this machine around or use a glut of body english to clip a corner. Just a little push, lean and follow your line.
Seating is comfortable and roomy. There's a nicely tapered tank and wide set of bars that sit in that butter-zone of slightly bent elbows with just a hint of reach. The footpegs are positioned below the body, just a smidge forward of centre and didn't cause my 1.8m frame any cramping or discomfort. Best of all, this ergonomic triangle works both from a seated position or standing.
Hustling the AT through sections of the Algonquin Dual Sport route I can feel the bike flowing beneath me. The revised suspension still offers the same levels of ground clearance (231mm front, 221mm rear) but revised spring rates, damping and an increase in fork fluids make the new AT feel more confident over rough terrain. Where the older felt a touch soft, this new AT stands tall. I didn't attempt any major airborne manoeuvres but over some whoops and tiny jumps, the suspension soaked up everything without coming close to bottoming out.
Transitions from rock strewn dirt to sand wash abound along here and, despite its 226kg mass, the front end stays light under throttle and easily picks its way through a line. Some riders may prefer a higher rise from the bars, but my long arms were happy enough. Rounding a sharpish corner into a climb, I thwack the throttle and the rear end spools up some roost to wiggle into the inside line before short shifting and letting the bike simply tractor up to the top.
Down the other side, I slide back into second and ride the brakes a bit. In Off-Road mode, the ABS is configured so that the rear can lock up, but the front can still pulse. The combination works perfectly, keeping me and the bike in control. The terrain flattens out and I'm spooling up more roost. It's been a while since I've had a big bike in these types of conditions, but I certainly don't feel like I've lost anything other than some speed. The Africa Twin is still a very competent bike, even in gnarly conditions and easily puts a dirty smile on my face.
Ferdinand Porsche once stated that "Change is easy. Improvement is far more difficult". For the 2020 model year, Honda made every change they could with the Africa Twin. And, from the mechanical side, the 2020 Africa Twin 1100 is clearly an improved bike. Brilliantly so, even. Each of those mechanical changes — the bigger motor, slimmer chassis, lighter swingarm and revised suspension — contribute to the whole in a way that minimizes the compromises ADV riders inevitably have to make between dirt and asphalt.
Where I think things went a bit wrong is with the plethora of choice in digital fine tuning. It all feels a bit like booting up a PlayStation 5 to play a simple round of Pong. There's simply too many options and I doubt very many riders will be able to discern all of the subtle differences — I know I couldn't. More importantly, I worry that that tech may overwhelm riders, especially those newer to the ADV fold, to the point of questioning set-up while they should be focused on terrain and simply enjoying the ride.
Maybe I'm overthinking things. Maybe my opinion would change over years of ownership and abuse. Maybe I'm becoming a luddite and a curmudgeon. Maybe I should just trust that riders will figure out that frippery, and marvel how Pong has never played better.
Price as Tested: $16,499+
Engine/transmission: 1,084cc, SOHC liquid-cooled 4-stroke 8-valve parallel twin with 270° crank and Uni-cam / 6-speed manual (DCT automatic available)
Horsepower: 74.5kw (100ps)
Torque: 107 Nm
Fuel (capacity): Premium (18.8 L)
Weight: 226kg
Competitors: KTM 1090 Adventure, BMW R1250GS, Triumph Tiger 900 Rally
Links: Honda Motorcycles Canada