Behold the 2022 Land Rover Defender V8: the Land Vader! The Darth-Fender? The Pig that Pokes? Whatever you want to call it, the Defender 110 P525 V8 drips with evil, snarls wickedly and commands attention everywhere. It's big, black, loud, fast, and black: a cross-cultural touchpoint in the metal. Should you have a spare $135k or so filling a mattress somewhere, it might even be one of the best ways to burn through it, and then some more.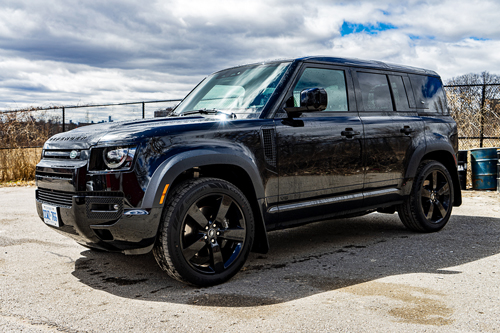 Drivetrain: Deciding to stuff a 518 horsepower supercharged V8 engine into Land Rover's reborn Defender is the equivalent to a pulling the trigger on a last-call round of Jager-Bombs on a Thursday night: absolutely unnecessary but oh-so appreciated.
Push the ignition and the 5.0-litre, supercharged engine barks to life with a sinister snarl. This is the same motor that powers the SVR versions of the Range Rover Sport and the Jaguar F-Pace, albeit slightly detuned (from their 575hp peak). The reasoning behind the reduced output is twofold. First, the P525 isn't an SVO (Special Vehicle Operations) vehicle and second, the Defender V8 wasn't built to hunt Cayennes around the 'Ring – it was engineered to be a Defender, period.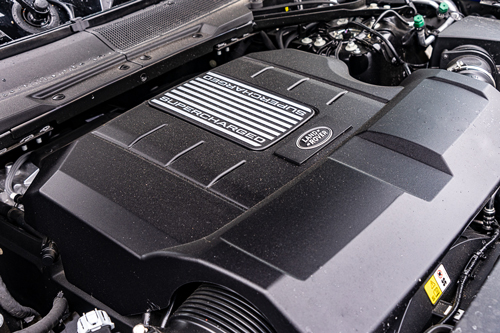 Regardless, this big black brick still accelerates quicker than it has any scientific right to. Land Rover claims a 0-100 km/h time of 5.4 seconds and that certainly feels about right. Mash the gas and the four-wheel-drive, Terrain Response system ensures that each 275mm-wide tire is put to the work of forward thrust. The 8-speed, ZF automatic transmission does its typically excellent job of smoothly swapping cogs – there are paddles, should you wish – and before you know it, 2,600 kgs of right-angles is rapidly punching a very large hole through the air.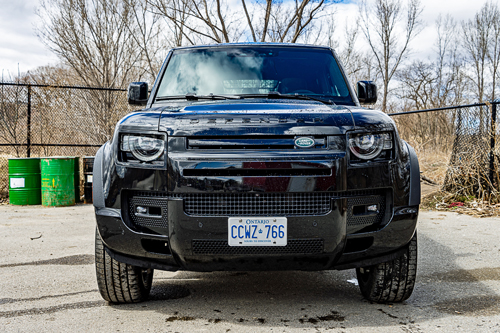 If you're either concerned or curious about mileage, this probably isn't the vehicle for you. Especially nowadays. Expect to see around 14-15 l/100km in mixed conditions and yes, it only imbibes the finest grade of dinosaur.
Exterior: Save for a few filleted edges, the Defender is a study in boxiness that scoffs at wind tunnels and makes sleek SUVs appear delicate in comparison. Personally, I love it. Especially as this tester is, slathered in a shade of gloss black that would make Obi Wan quiver.
I won't argue with those that feel the overall design of the new Defender is a bit too toxic or bro-dozzery – because it most definitely is both of those things – but in a sea of lookalike silver jelly bean-shaped CUVs, it stands out proudly and there's no confusion as to what it is.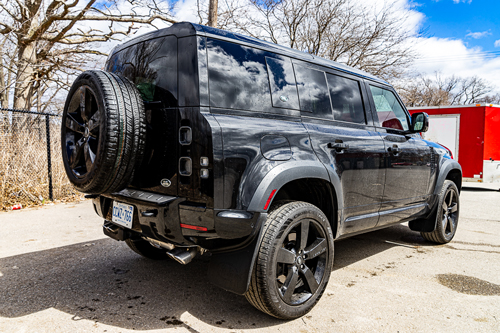 Interior: Many of the thematics from outside find their way beyond the satisfyingly heavy doors of the Defender. The overall aesthetic blends ruggedness and sportiness quite well. There's just enough luxury tossed in to coddle, but I feel like balance has been achieved.
In V8 guise, the seats and steering wheel receive Land Rover's grippy Dinamica Suedecloth treatment. With heating, cooling and full power adjustment, those seats are supportive, comfortable and hold tight enough without the need for sculpting.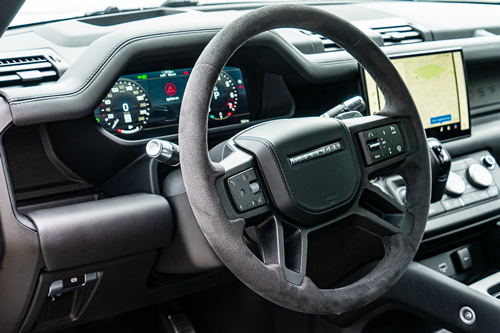 The driving position is upright and everything is fairly well laid out. The rearview mirror works as both a screen for the rear camera or can be toggled to analog status in the same manner you'd normally quell the harshness of high beams. It was a neat feature that helped greatly with visibility but took time to get used to – my brain couldn't compute why my face never made an appearance on that shiny surface at first.
Much has been said about the placement of the volume knob (it's essentially on the passenger side, almost completely out of reach of the driver) but the tiller-mounted control works just fine and sound from the system is good and bass heavy enough to suit its personality.
Accessing the myriad of features, including the various off-road modes, can be done quite readily via the switchgear on the center stack. Most can also be toggled via the optional 11.4-inch ($140) touchscreen, should you prefer.
Rear seat comfort is good, with plenty of leg and headroom available. Passengers back there have their own HVAC and bun-toasters, too. Our tester had an optional full-height cargo partition installed, so I didn't fold the second row down to flat, but there is 962-litres of storage available with them up. Should you not opt for the fencing (or choose to remove it first) there is up to 2,231-litres total space within this box.
Infotainment: The Defender V8 comes with the latest version of Land Rover's Pivi Pro infotainment system and, much like it did in the Discovery we tested earlier this year, works well with only a slight bit of lag.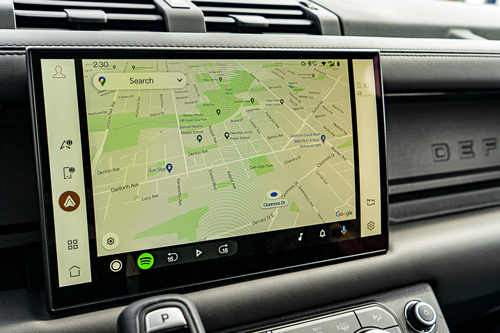 Wireless connectivity for Android Auto and CarPlay is standard and I only suffered one misstep between the two machines conversing – my phone refused to reconnect after a stop to feed the beast more Tyrannosaurs.
Drive: I made the comment above that the Defender V8 wasn't built to chase Cayennes around the Nurburgring – which is true, it's not nearly as nimble – but it's still no slouch when the asphalt curves.
The chassis and suspension have all been tweaked to handle the extra grunt from the engine. There are thicker anti-roll bars, stiffer bushings and the suspension tuning is unique to the P525, so it holds a line quite well for a flying brick.
The brakes – which include 14.9-inch front discs, 14.3-inch rears – are provided by Brembo and they deliver good feedback and didn't falter or fade, despite having to halt something with the Defender's heft from speed.
Unlike the last Defender I drove, I didn't get up to any axel-deep shenanigans with the P525. Though rest assured, the basic recipe for off-road competence remains. The Terrain Response system has been tweaked with a Dynamic mode and there is a new, active e-diff to sort the added power and speed, but the changes shouldn't affect off-piste performance. The air-ride suspension will still give you a 900mm wading depth and you can option off-road tires, provided you swap the double-dubs for a 20-inch set of rims.
Conclusions: To paraphrase Beck, in a time of chimpanzees, the Defender P525 is a monkey. It's a high-powered, omnicapable, boxy throwback to a time when gas cost as much as Kool-Aid – a time we'll likely never see again. It's an antique. An evolutionary step or two behind the curve.
And it's wonderful.
Land Rover could have gone the BEV (battery electric vehicle) route with their top-tier Defender like GM did with the Hummer, but they didn't. Instead of Watts to Freedom they gave us Tyrannosaurs to Tetley, and while that may hurt the world a little bit more in the long run, it certainly makes it feel like a better place today.
2022 Land Rover Defender 110 P525 V8
Price as tested: $134,745.00
Configuration: Front engine, permanent four-wheel-drive
Motor/Transmission: 5.0-litre, supercharged V8 / 8-speed automatic
Power/Torque: 518 hp, Torque: 461 lb/ft
Cargo Capacity: 2,231 litres
Towing Capacity: 3,719 kg
Fuel Economy: 14.5 l/100 km
Alternatives: Jeep Wrangler Rubicon Unlimited 392, Mercedes-Benz G 63
Link: Land Rover Canada