Chasing cool is a fool's errand. Mere effort pushes it out of reach. It's a trait that develops naturally and is bestowed over time. Take the Land Rover Defender, for example. It started life as a piece of farm equipment — basic, utilitarian, boxy, boring. Fast forward seventy-plus years though and that focused, purposeful design combined with legendary capability means every model, from the Series I on up, can rub fenders with the most celebrated icons. It's one of the coolest vehicles of all time, full stop. In fact, I'm shocked the world didn't implode when Life magazine published shots of Steve McQueen loading up his Series II A for a camping trip.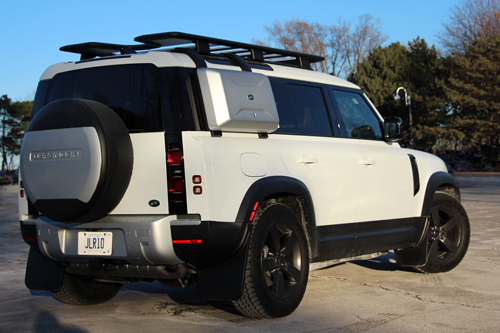 As such, like choosing the next Bond, building an all-new Defender was never going to be easy. It couldn't stray too far visually from its roots — It still needed to look the part. But it also had to be bigger, stronger, faster and more capable than ever while also ticking every luxury box we come to expect from our SUVs in 2020, especially those bearing the Land Rover badge.
Those are some big Wellies to fill.
So, the real question is, has Land Rover built a better Defender with the 2020 version or were they simply chasing cool with a nostalgic shape and hoping to cash in?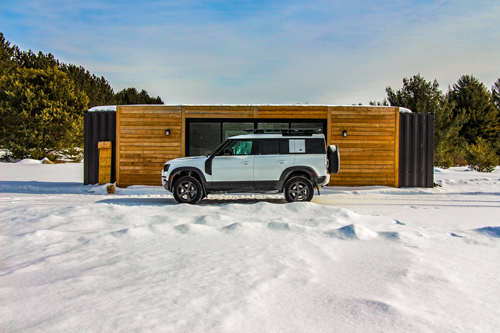 Powertrain: Despite the news that next year's Defenders will have a stump-chucking, 518 horsepower, supercharged V8 engine option, our Defender 110 P400 SE had to make do with the turbocharged, inline six-cylinder engine. Not to worry though as this mild hybrid motor still brews up an impressive cuppa. There is 395 hp and 406 lb-ft of torque available. And it's a techy piece of kit, too.
There's a 48-volt electrical system on board in this Defender, that powers both an electric motor as well as a supercharger that has been plumbed in to reduce lag from the twin-scroll turbo. That supercharger can whirl up to its peak abilities (65,000 rpm) in just half of a second, so throttle response is crisp to say the least.
With the loud-pedal floored, those engines will shove the Defender's 2,286kg mass to 100 km/h in a tick over six seconds. The electric motor acts as the inline-6's starter, a generator for the 48-volt batteries and gives the Defender the ability to cut petrol power when stopped at lights or when stuck in traffic, too.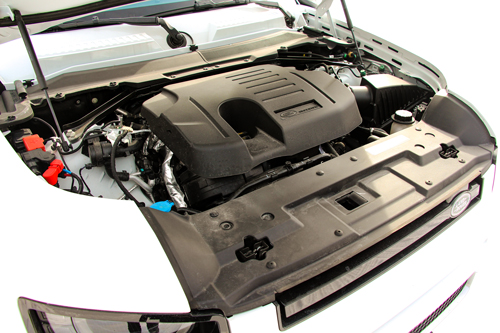 The Defender P400 SE comes equipped with a smooth-shifting, 8-speed ZF automatic transmission. There are no flappy-paddles but you can slot the dash-mounted shifter into "Sport" mode and sequentially swap cogs yourself. I found the reach to the shifter to be more annoying than that would be worth, plus the system does an exceptionally fine job on its own anyway. Combined fuel economy when driving in a civilized fashion is pegged at 12.3 L/100km.
Power is put to pavement (or dirt, or mud, or snow…or anything really) via Land Rover's Terrain Response 2 (TR2), full-time four-wheel-drive system. Gone are the days of getting your hands dirty by manually locking hubs or, dare I say it, physically shifting a transfer case. Drivers can choose between specialized modes from the TFT display, with each tweaking suspension, transmission and traction settings to optimize control. The differentials are computer controlled and will lock automatically, when needed. For those who can't be effed, you can just leave the Defender's TR2 system in automatic mode, hit the gas and bescumber away. There is little in the way of terrain or obstacles that the Defender shouldn't be able to overcome, save some door-sill deep, fluffy Canadian powder — but that's a story for another day.
Exterior: Clad in Fuji White, with its chic, contoured snorkel, expedition roof rack, enormous mud flaps and side-mounted fanny-pack, the 2020 Defender 110 P400 SE makes every attempt to look the part. You can tell it's trying to be cool.
Even if you skip adding the Explorer Package, the hallmarks of history are everywhere on the Defender. The squared rear lights, matte black hood-wrap, (faux) diamond plate panels, overall boxy shape and nearly 254mm of ground clearance clearly announce the lettering on the hood before it comes into focus.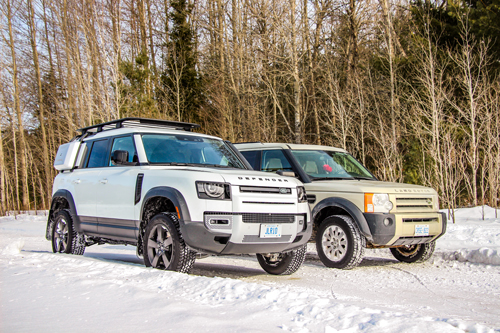 Although many of us would have preferred Land Rover followed the Mercedes G-Wagon road map and continued to use existing or similar molds, I do think the designers did an impressive job of teleporting a tried and true design into the twenty-first century without straying from Land Rover's station in the luxury market.
Mind, if you said it looks like a posh but steroidal redux of a Honda Element, I'd have a hard time arguing against that, too.
A quirk of the Defender that only us left-hand-drivers might pick up on is that that exterior gear carrier (if equipped) eliminates any hope of spotting traffic during a shoulder check. Another niggle I've found is that the rear swing gate is hinged in similar fashion — on the wrong side. And, since the top glass won't open separately, you will peeve the Whole Foods crowd during grocery pick-up — you basically block a lane with it open. I suppose these are just British reminders of the cost of Confederation. To ease tensions, I suggest showing those folks the plastic latch fitted to the gate's end as it is shaped rather playfully. Benny Hill would be proud.
Also, for those keeping score, the wheelbase of the new 110 (which is what gave us its name to begin with) has actually grown to 118-inches, so the badging is really just a bit of nostalgia.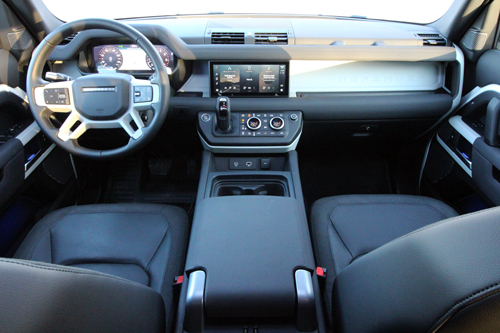 Interior: The Defender's cabin blends a near perfect mix of form and function. The positioning and layout of everything is spot on. The heated, power adjustable seats are comfortable, supportive and the mix of leather and canvas surfacing is fitting.
The driving position is commanding but I did find that the sightlines could be better. Blame the wide pillars, high beltline and this Defender's fanny-pack for that.
There is plenty of room in here though. And storage. The centre console offers up more space than a Toronto condo and even comes equipped with a decently sized fridge. There are more charging ports here than in an airport lounge (remember those?) and with the rear seats folded I'd be happy to set-up the old air mattress for some glamping under the stars.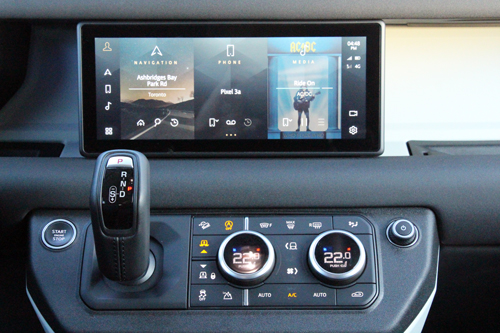 Infotainment: One of the standout features of the Defender's interior is its infotainment system. Or should I say command centre? Regardless, a combination of buttons, knobs and dials, tackle everything from controlling HVAC, operating the navigation system and media to swapping between the TR2 drive modes in an easy and intuitive fashion.
The centre-mounted, TFT screen blends into the lines of the interior instead of sticking out like a poorly hung television. The flat finish keeps glare to a minimum and its triple-stacked column display conveys all of the essentials. It's there to do what it needs to do without causing distraction, which is commendable in my books.
Drive: On the road, the Defender is smoother than it has any right to be. Credit the air-ride suspension for that but it's also much more stable and communicative than any off-roaders I've driven could muster. Considering the Defender is nearly two-metres tall and tips scales at nearly nine-tenths the weight of a Blue Whale's tongue, I should be filing this report from a ditch on the side of an off-ramp. But I'm not and I can assure you I didn't pussyfoot this thing.
You will start to feel the aerodynamic costs of the Defender's design when speeds start to creep. Land Rover lists the Defender 110's top speed at 191 km/h but I'm willing to bet a headwind would stifle that. It will cruise comfortably with the flow of traffic but that fuel mileage will suffer for it. This Defender is a bit cotton-mouthed, afterall.
During an extended run on the highway, there was an annoying audible tone that had developed. Initially I thought it may have been the Goodyear Wranglers reacting to certain types of tarmac at speed but the note stayed the same regardless surface texture, provided I was moving faster than 85 km/h. It was loud and pervasive enough to be an absolute deal breaker on the Defender. Perhaps it came from the 132kg-capable Expedition Roof Rack? Or maybe that bulbous fanny pack? I honestly don't know and presumably never will. The following days, at similar speeds, the noise simply no longer existed.
During my excursions off-road, the Defender felt just as confident and composed. With the suspension maxed out, it clambered over everything I pointed it towards while I sat comfortably and enjoyed the view.
In truth, the 2020 Defender is an exceptional vehicle. It simply does everything and goes everywhere without complaint or lack of composure. Drivers and passengers are coddled from the terrain regardless of how rough and driving it, even at pedestrian speed around town feels like a treat. Compared to those agricultural beasts of yore, this Defender is better in every measurable way.
And yet, I'd still rather have an old one.
Even though used and abused examples cost near as much while offering a fraction of the amenities or safety features, vintage Defenders are cool. They make you suffer in a "built not bought" kinda way that makes for better stories and just speaks my inner, tinkering, gear and oil-infused Luddite brain.
Yes, Land Rover built a better Defender. But despite best efforts or maybe because of them, they haven't caught cool. At least not yet.
2020 Defender 110 P400 SE
Price: $76,000.00 CDN
As Tested: $92,735.00
Freight: $1,700.00
Configuration: front-engine, all-wheel drive
Engine: 3.0L 6-cylinder turbocharged hybrid, with electric supercharger
Transmission: 8-spd automatic
Power/torque: 395 hp/406 lb-ft
Fuel economy ratings: 12.3 L/100 km combined
Warranties: 4 years/80,000 km (comprehensive)
Competitors: Jeep Wrangler Rubicon, Lexus LX, Mercedes-Benz G-Class, Toyota Sequoia
Links: Land Rover Canada