Presence isn't exactly a trait that you can quantify. Sure, it typically involves things or people of style, size or influence but even magnitudes of those metrics alone don't guarantee it. There is an intangibility to it, but you know it when you see it. That's the magic of presence.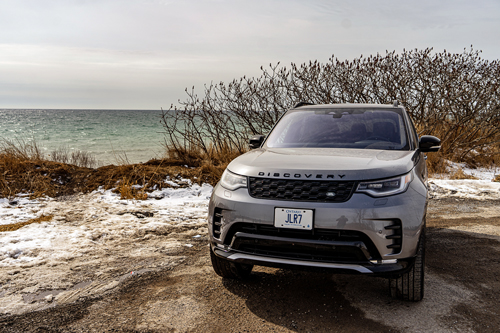 The Land Rover Discovery has presence. It commands attention, respect and admiration without doing anything other than being. It always has. The 2022 Land Rover Discovery P360 R-Dynamic HSE version that I've been driving for a week has it in spades. But is that enough to make it a great vehicle?
Exterior: When it debuted some five years ago, the current generation Discovery marked a departure from its traditionally boxy shape. Gerry McGovern and his design team instead gave us a Disco with a sleek, modern and cosmopolitan silhouette. Hallmarks like the stepped roof remained, but pen strokes ventured much closer to the Range Rover and Evoque in overall style.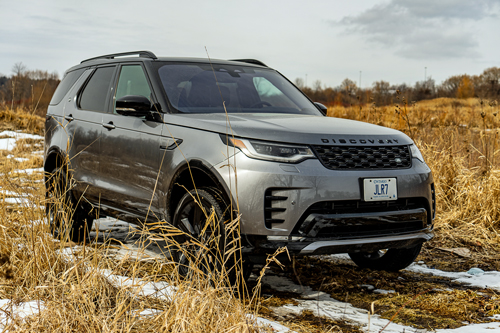 Although tweaked slightly, the same basic recipe applies today. It is a look that has aged quite well in my eyes, and when slathered in Eiger Grey ($950) and riding on murdered-out, split-spoke double-dubs it exudes a proper gangster-with-a-hard-R attitude.
The only angle that seems to suffer is at the rear third-quarter. The angles all converge to some non-existent point which makes this Disco look like it has its butt in the air – and it's a fairly big butt to parade around like that. But I suppose the overhangs are short enough that it's not overly distracting.
Interior: Hop inside and you are greeted by a very dark but clean interior. Just make sure to give that door a healthy tug as it loves to stay ajar.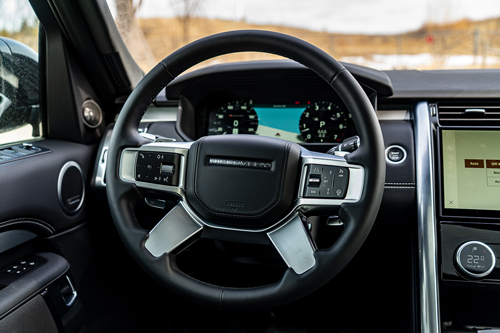 The combination of Ebony Windsor leather seats and Ebony interior wouldn't be my first choice (the Light Oyster/Ebony option is the way to go) but the material finishes aren't affected by colour. Everything has a premium texture and feel inside the Discovery, from the steering wheel to the automated interior "tailgate".
The 20-way adjustable, heated front seats are comfortable and can be tailored to bolster as much as you like. They come equipped with a captain's armrest as well, though I don't think they're needed as the centre console sits at the perfect height.
The second row seating is large, accommodating and heated too. There are dedicated HVAC controls back there if you opt for the ($400) three-zone climate control but there aren't any screens to keep the kiddos entertained. Regardless, I would have zero concerns about losing out on shotgun on even a lengthy road trip.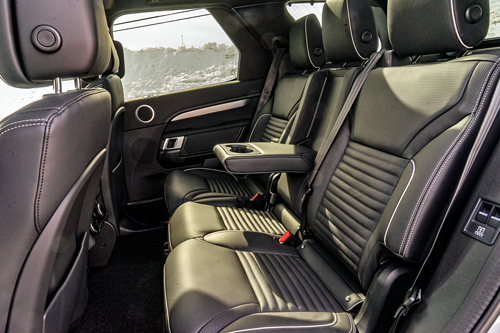 The bleachers in the way-back were surprisingly roomy for my 181cm frame as well, although access and egress isn't exactly a dignified affair. Those too can be heated should you wish.
It should also be mentioned that there are storage cubbies everywhere. Push a button and the HVAC panel folds forward to reveal a lined storage area. Slide the cup holders out of sight and there's another one there. There are two "glove boxes" and the centre console is deep enough to easily swallow a DSLR camera, complete with lens.
Infotainment: The 14-speaker, Meridian sound system provides a decent soundtrack with clear highs, punchy mids and more than enough oomph from the subwoofer. Sadly controls for the music are all buried in the 11.4-inch touchscreen but there is dedicated switchgear on the steering wheel for the driver.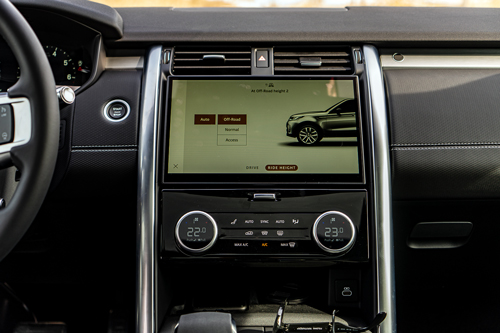 Pairing my Android device was a cinch and the wireless Android Auto interface worked almost every time. The few times that it didn't, I relied on Land Rover's baked-in Pivi Pro navigation and it was intuitive and easy to sort out.
Response on the screen was excellent with bare fingers but somewhat glitchy with a gloved hand. The same could be said for the capacitive buttons below it as well.
HVAC control is tackled by some trick multi-function knobs that perform different tasks after a push or a pull. This again was very intuitive and easy to get used to and there are capacitive touch points to call up the most typically needed functions.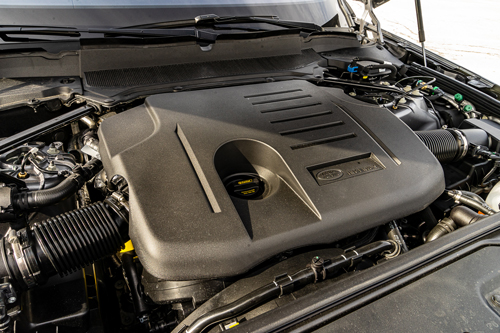 Powertrain: The P360 designation in this Disco's title means it comes equipped with a turbocharged, 3.0-litre, inline six-cylinder engine that is mated to a 48-volt hybrid system. Combined there is 355 horsepower and 369 pound-feet of torque available. An 8-speed ZF automatic transmission spits that grunt out via a full-time four-wheel-drive system. There is a sport mode that can be selected, which activates the aluminum paddles behind the wheel to shift when you like (when it's not selected, the paddles do nothing but look pretty).
Performance is more than adequate to hustle this 2,341kg, seven-seater up to speed on even a truncated on-ramp. Response from the throttle is immediate and even when left in full-auto mode, the transmission is quick to respond, choosing the right cog to get the job done.
Fuel economy during my week in the Disco averaged 11.7 L/100km. This is a little worse than advertised (11.2 combined) but if you're shopping for a big, burly and luxurious SUV, you probably expect to take a hit at the pumps. Just keep in mind, I hadn't loaded this puppy up with people or things. For those of you with toys, this spec of Disco is rated to haul 3,500kg.
Drive: If the last Disco you drove wore an LR3, LR4 or Series badge, know that this latest generation is no longer a body on frame SUV. Underpinned by Land Rover's aluminum unibody architecture, the handling characteristics are noticeably nimbler and more stable at speed, though you'll never forget you're piloting a big sport-ute.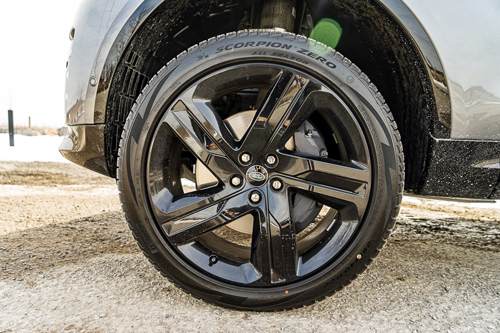 The air-ride suspension is plush enough to soak up most obstacles either on road or off but I reckon things would be smoother still with a higher-profile tire (this one wore 40-series Pirellis). Feedback through the steering wheel is good but not great.
Piloting my way through the burbs, I immediately noticed just how large a vehicle the Discovery is. Its width, length and height can always be felt so negotiating tight spaces may be unnerving at first for some, but you do get used to things and it does provide a commanding view, despite a somewhat tiny greenhouse.
There are options to tailor the drive of the Disco to meet the conditions of just about any bit of land you want to traverse – snowy, muddy, rocky, sandy, etc. – but left to its own devices, the Terrain Response 2 system does a fine job of sorting things for itself. Our tester also came equipped with a two-speed transfer case, but I didn't venture anywhere remotely resembling a spot where 4WD-low would come in handy.
Conclusion: From the moment the Land Rover Discovery occupies your visual field to the first time you plant your foot or meander off-road, that presence that we spoke about earlier is palpable. You expect levels of rugged capability, style and cosseting and this Disco very much delivers: its presence is earned.
If you're looking for a three-row, luxury SUV with power, grace, legitimate off-road chops and a badge that commands as much respect as the vehicle itself, the Land Rover Discovery P360 R-Dynamic HSE is a refined choice and, ultimately, a pretty great vehicle.
2022 Land Rover Discovery P360 R-Dynamic HSE
Price as tested: $93,750.00
Configuration: Front engine, permanent four-wheel-drive
Motor/Transmission: 3.0-litre, turbocharged, inline six-cylinder / 8-speed automatic
Power/Torque: 355 hp, Torque: 369 lb-ft
Cargo Capacity: 1,997 litres
Towing Capacity: 3,500kg
Fuel Economy: 13 city / 9.8 highway / 11.2 L/100 km
Alternatives: Acura MDX, Audi Q7, Genesis GV80, Jeep Grand Cherokee L
Website: Land Rover Canada