In 1989 Volvo ran an ad campaign that was utterly brilliant. Depicting their then new performance, longroof model parked in the shadows of a Lamborghini Countach attached to a U-Haul, it read: "The Basic Idea Behind the Volvo Turbo Wagon".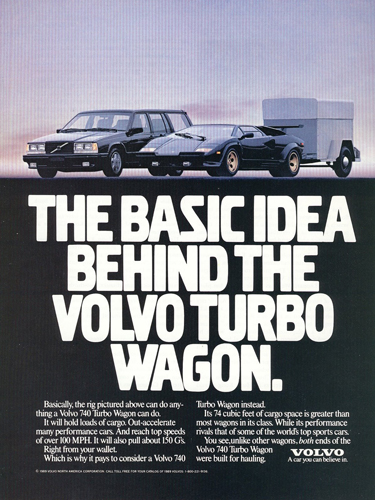 Fast and practical, clear as day. Like I said, brilliant.
But a lot has changed in thirty-two years.
Sure, Volvo still creates stellar wagons. All of them are now turbo charged, some of them are twin-charged, and others still add an electric motor to that already complicated combination. But there's no longer a need to hitch your Raging Bull to a trailer. There are plenty of go-fast whips with storage these days. And Volvo's wagons aren't exactly the quickest, fastest nor most nimble two-box rides in the market anymore. Which begs a question…
Has that once brilliant "basic idea behind the Volvo turbo wagon" been forgotten?
To figure that out, I hopped into the 2021 Volvo V60 T8 eAWD Inscription for a run in the sun, rain and snow.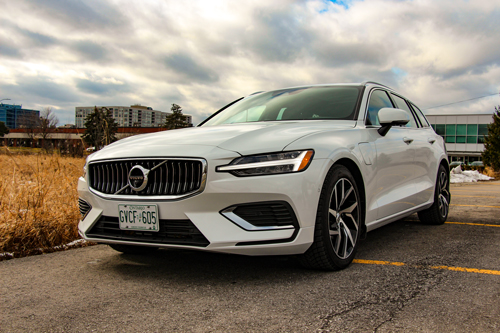 Powertrain: If you think the naming of this Volvo wagon is arduous, the motors powering the V60 T8 eAWD Inscription should really consternate. Under the bonnet, a 2.0-litre, four-cylinder mill, employing both supercharging and turbocharging, whirrs away to create 313 hp and 295 lbs-ft of torque, for the front wheels. This is the same engine that Volvo uses in its T6 badged variants (across all platforms) and, I can say from previous experiences, is a plenty capable engine on its own.
The manner in which it works is simple enough to describe — the blower provides forced induction in the low portion of the rev range and the turbo kicks in when it runs out of puff — although the plumbing and coordination must be a mechanical nightmare. This combination enables the petrol powered portion of my V60's set-up to deliver its impressive torque across a wide spectrum, from 2,200 through 5,400 rpm, while also reducing the amount of 91-octane it needs to do so.
But this is the hybrid, T8 eAWD version of the V60, so there's also an electric motor tacked on for good measure. And it makes its presence felt immediately. An extra helping of 177 lbs-ft of twist is available from its moment of engagement, spinning the rear wheels of the V60. That electric motor also brings eighty-seven extra ponies to the stable, meaning the V60 T8 eAWD Inscription packs an impressive 400 hp and 472 lbs-ft of torque combined. And that's more of both than that Countach ever had.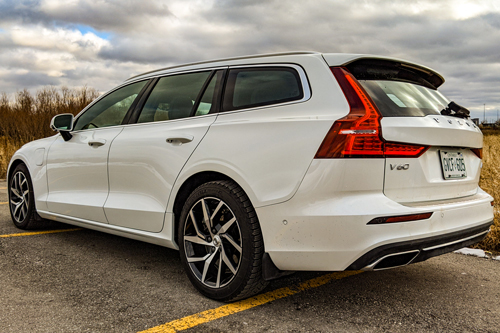 Exterior: Volvo's current design language is outstanding. It's both handsome and debonair in a minimalist way that, it seems, only Scandinavian design can be. And in wagon form, I'd argue, its finest execution is fully displayed. The long hood, tapered rear and aggressive dash-to-axle ratio is near perfect.
The only styling misstep, at least in my eyes, is found in the upward kink of the greenhouse glass towards the rear. Had it followed the contour of the pronounced shoulder line instead, the V60 would be knocking on perfection's door. Regardless, it remains both a stunner and a standout.
Interior: The same discipline and attention to detail follows once you're inside the V60, too. Everything is thoughtfully laid out and only subtly decorated. A striped lime wood inlay, accented by a strip of polished steel, separates the upper and lower dash. The HVAC vents and speaker screens feature the same metallic treatment and anything black is given a piano's deep, mirror finish.
Our test model had the option box ticked for the Zinc wool seating surface (a $250 option that includes the wood décor) that, if this car were on your radar, I would highly recommend. Yes, it's cloth and not leather (which comes as standard) but it's a cloth covering of the most elevated forms. Sourced locally in Sweden, the recycled polyester/wool fabric is warm in the winter, cool in the summer, repels dirt, water and odours quite well and actually saves 3kgs of weight over the hide-wrapped norm. The checked pattern of the weave is upholstered to deliver both visual and tactile texture and it suits the sophisticated character of the V60's interior impeccably.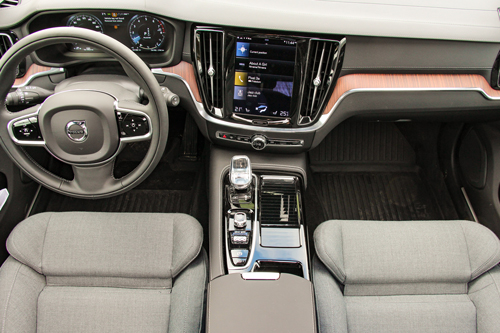 This air is further echoed by the handmade, Orrefors Crystal Eye shifter controlling the V60's 8-speed automatic transmission. Forged and shaped using the same tools that Kosta-based craftspeople have employed since the 18th century, the secret recipe of lead-free silica is heated to over 1,400 degrees-Celsius for sixteen hours before cooling and shaping begins. Of the fifty or so units Orrefors typically creates per hour, only thirty-five will pass inspection to serve a Volvo driver. Now, how special is that?
Infotainment: Opened in 1978, Gothenburg's Nefertiti Jazz Club typically plays host for over 200 concerts per year. Blues, Latin, pop and jazz acts, along with top-billed DJ's do their thing for the audience, while the building's acoustics do the rest. And although I've never been to Nefertiti, or Sweden for that matter, I believe I can say the place sounds incredible. That's because Volvo has tapped Dirac, a Swedish digital audio firm, to recreate those acoustics for use in this V60 wagon.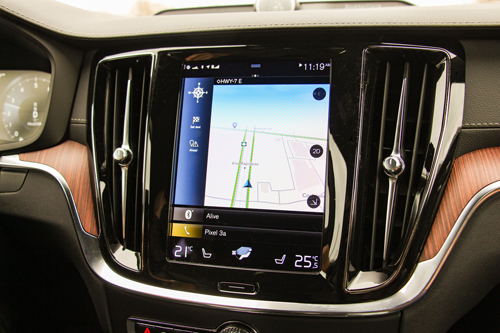 An included extra with the optional, 19-speaker, Bowers and Wilkins Premium Sound System ($3,750), this processed soundfield digitally recreates the effects of a night at Nefertiti by first stripping the acoustic abnormalities of the Volvo's interior – the deadening qualities of soft supportive seats, the noise, vibration and harshness of a propelled object in motion – before regenerating those most characteristic of the actual venue. To do it effectively, the reverb patterns, reflections, spacing and frequency traits of the Gothenburg club were digitized over many hours of recordings of different styles of music by Dirac Chief Scientist Lars-Johan Brännmark and his team, to create a digital fingerprint of the club. This fingerprint is then uploaded into the infotainment system, awaiting yours to select it on the nine-inch screen sitting front and centre on the dash.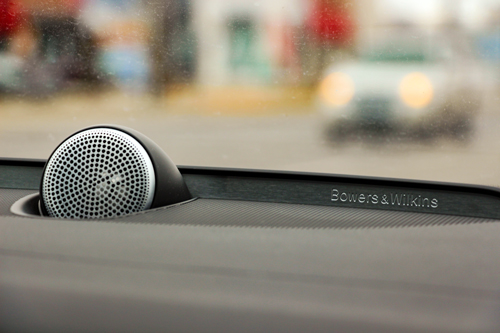 The transformation of sound is appreciably good whether you're listening to tunes via CarPlay, Android Auto, Bluetooth, radio or Satellite. It surrounds with a "live performance" quality that, in keeping with our times, is private to the driver and those sharing space in this mechanical bubble. And again, is a feature that delivers some exquisitely Swedish flair while making the interior experience entirely special.
Drive: Driving out of Toronto, the bluebird skies of a sunny January day are pouring in through the full-length, panoramic roof. The combination of that sun along with the heated wheel and seats are more than enough to create a cozy cabin. The driver's seat of the Volvo V60 is a very nice place to be. As luck would have it, a countdown of the top 500 songs in hip-hop history is providing my roadtrip soundtrack and, with the Polestar Engineered driving mode selected, the V60 has quickly gathered more than enough speed to make merging onto the highway an afterthought.
Despite its impressive power numbers, the V60 T8 eAWD Inscription lacks the accelerative announcement you'd expect. The front and rear motors work quietly and harmoniously to turn their respective tires, the 8-speed Geartronic box does its shuffling almost as imperceptibly and you arrive at speed. It's almost too smooth for its own good.
The adaptive cruise-control and lane assist features work well, blending the V60 into traffic patterns. A little vibration on the tiller signals that the road has strayed from straight and that my assistance is needed to keep us on track.
Continuing east, passing the 35/115 ramp serves some sort of climate barrier. The skies darken and the automatic wipers sweep into action. The coziness of the cabin has escaped so I tap away at the screen to make the HVAC behave. Buried beneath two sub-menus, I'm annoyed at the lack of simple and straightforward buttons. There are already two dedicated to defroster duties, why not simply add two more?
Exiting the highway in Belleville, I'm reminded that the brakes provide little to no feedback — blame their regenerative functionality — and the extra 230 kgs of weight that the hybrid powertrain can be felt in every curve. These aren't traits that necessarily detract from the V60's quality or composure but they do indicate that yes, maybe Volvo has forgotten the basic idea behind their turbo wagons: they continue to be fast and practical, sure but these are no longer defining features.
More likely, that idea has evolved.
It takes more than performance and cargo space to remain relevant these days. You need to make your driver and their passengers feel special, offer those little extras that separate wheat from chaff. The V60 T8 eAWD Inscription does that quite well. Good thinking, Volvo.
2021 Volvo V60 T8 eAWD Inscription
Price: $71,100 base price CDN / $67,300 USD
Price as tested: $81,750.00 CDN
Freight: $2,015.00
Configuration: PHEV, front (gas) and rear (electric) motor, all-wheel drive
Engine: 2.0L 4-cylinder twin-charged,
Transmission: 8-spd Automatic Geartronic
Power/torque: 400 hp/472 lb-ft
Fuel economy ratings: 7.8 L/100 km combined / 3.2 L /100 km combined (hybrid)
Competitors: Audi A4 Allroad, Mercedes C-Class Wagon, Subaru Outback
Links: Volvo Canada