As I stand on the loud pedal, I catch my dad's expression of disbelief in my periphery. Just a few seconds ago, the old man was enjoying a gentle massage from the supple leather appointed passenger seat but now he's trying to grab at a dashboard that physics is keeping out of his reach. This is the quickest thing he's ever been in. Hell, it's one of the quickest I've ever driven.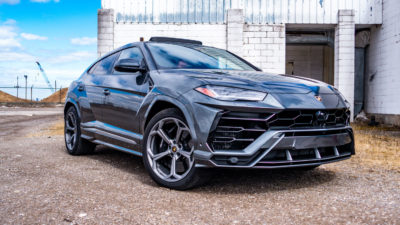 The Lamborghini Urus builds speed at an incredible pace — it will hit 100km/h in 3.6 seconds. That's one-tenth of a second quicker than a Ferrari F40 (although a smidge slower than a Tesla Model X or Jeep Cherokee Trackhawk). It baffles the mind really, that anything with seating for four and a 2.2t curb weight should or could move this fast. But this is the world we live in now. It's not enough to have Supercars, we need Super Sport Utility Vehicles, too. And the Urus is exactly that; a Super SUV.
Underpinned by the same MLB Evo chassis found beneath the skin of the Bentley Bentayga, Porsche Cayenne and Audi Q8, the Urus achieves its platform superiority by embracing the bull on its bonnet and turning things up to eleven.
While purists would prefer that number go to twelve, as in the number of cylinders, they needn't worry. The 4-litre, twin-turbo V8 generates 641 horsepower and 627 lb-ft of torque. That oomph is channelled to all four wheels via a permanent four-wheel-drive system that uses a Torsen (torque sensing) central-locking differential and active torque-vectoring to send as much as 87% of that power to the rear wheels or up to 70% towards the front, so the Urus should be able to get out of any tractive situation as well as its own way.
Stopping power is nothing short of incredible. Stomp on the binders and the Urus can be halted from one-hundred in under forty metres. Credit the track-derived, carbon ceramic discs at all four corners for that feat. Up front, the 440mm rotors are the largest rotors ever bolted up to a production vehicle and even the 370mm units out back will dwarf a dinner plate. In stop and go traffic, you will hear some whinging from the corners but when coming down from speed, pedal feel is top notch and initial bite inspires confidence. Those enormous platters mean that the smallest wheel size the Urus can run on is 21-inches. My tester rolled on double-dubs (22-inch) and while there is a 23-inch option, all wheels are outfitted with proprietary Pirelli rubber.
To boost this speedy, beefy beast's handling abilities, Lamborghini has also equipped the Urus with four-wheel-steering. At low speeds the rear wheels pivot opposite to the fronts to make parking lot maneuvers relatively simple and when this bull starts to run all four wheels turn in sync. Lamborghini states the system alters the dynamic wheelbase of the Urus by 600mm in either direction (smaller/larger). From the driver's seat, I can say it does make steering feel as if it quickens progressively. This can take a bit of getting used to as initial inputs will cause slightly different reactions, depending on speed. I didn't have the opportunity to run the Urus on a track but I have felt the system's effectiveness firsthand at Mosport in the Aventador S (from where it comes) and its addition is certainly in keeping with plethora of superlatives at a Urus driver's disposal.
Inside, the cabin will feel and look familiar to any Audi drivers out there. Most of the switchgear, dash, steering wheel and multitude of touchscreens have served their corporate masters elsewhere. This doesn't exactly make you feel as special as the asking price should deliver (starting at $232,000 and $302,825 as tested) but all of these components are top-notch already so there's no real suffering, just a kick to the ego.
Hit the road or park it up anywhere though, and your sense of self will soon re-inflate. Despite being styled like a stealth fighter, the Urus is on everyone's radar. Short of my time riding around on a Ural sidecar rig, I've never been subjected to so many questions, comments or enthusiastic thumbs up. And my Grigio Lynx sprayed loaner wasn't even a particularly "Lambo" colour.
It's on an everyday road where Urus truly shines. In Strada (Street) mode, the Urus behaves as docile as a lamb. An everyday driver that's easy to pilot, happy to pick up groceries, cart kids around town or schlep Fido to the dog park. The eight-speed, ZF 8HP automatic transmission swaps cogs quickly and seamlessly to maximize efficiency and the Urus plods along comfortably amongst the riff raff of rush hour. Were it not for the badging, you'd forget you were driving a 640 hp SUV.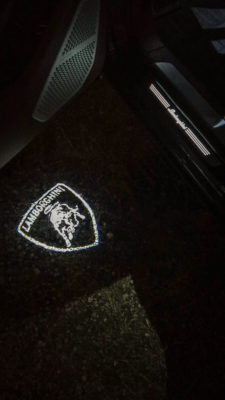 Should you need a reminder though, indulge el diablo on your shoulder and simply slide the Tamburo (Lamborghini's term for the driving mode selector) down into Corsa (Race) mode: it's time to let this bull rage a bit. The air-sprung suspension hunkers down, throttle and steering sharpen and the exhaust comes alive. Spirited driving is rewarded with a visceral assault on the senses. The big SUV stays flatter than you expect through a corner and the trick diffs do their job to unleash torque exactly where you need it. This is the kind of behaviour you expect from a Lambo, regardless of mass or ride height.
If someone had told the ten year old me that the company behind the Countach on my bedroom wall would build a competent grocery getter I would have laughed in their face. The Countach, and by extension, Lamborghini, was that extra helping of crazy — a distinctly Italian combination of vulgarity, passion and reckless abandon. But that was thirty years ago. Our world now sees the buying public marching in droves towards SUV's, money in hand. Thankfully this world also offers up the kind of technology that ten year old me would have thought was witchcraft: the kind of technology that allows for that Lambo brand of crazy to be imbued into an SUV. What a time to be alive.
2019 Lamborghini Urus
Price as tested: $302,825.00
Configuration: Front engine/Four-wheel drive/Four-wheel steering
Engine/transmission: 3.9L Twin Turbo V8
Transmission 8-speed, ZF 8HP automatic
Power/torque: 641 horsepower/620 lb-ft
Fuel (capacity): Premium (85 L)
Combined fuel economy ratings (L/100 km): 12.7 L/100 km
Warranties: 3-years/unlimited km (basic)
Competitors: Porsche Cayenne Turbo S, Tesla Model X, Maserati Levante GTS, Bentley Bentayga
Related links:
Lamborghini