The station wagon is dying a slow and agonizing death, ceding more ground with each passing year to the increasing encroachment and popularity of crossover SUVs. But the wagon isn't dead just yet.
Those who still prefer their vehicles with long roofs, liftgates at the back, and a lower-slung form than a top-heavy sport-ute still have a few options. And we have the Germans, in no small part, to thank for that.
Not only are several of Deutschland's finest still bringing wagons across the Atlantic to our shores, but they're offering them with performance capabilities and levels of output that would embarrass most sports cars.
These are not the Ford Country Squires and Buick Roadmasters that your parents (or grandparents) drove on family vacations. They're performance machines, capable of covering ground as quickly as they'll swallow up your entire family and their luggage. But this particular combination of the best of both worlds doesn't come cheap.
2020 Mercedes-AMG E63 S 4Matic+ Wagon
$124,200.00 (base MSRP)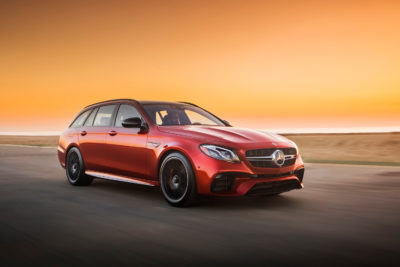 A perennial favorite in its class, Mercedes-AMG's E63 wagon is a wolf in sheep's clothing if we've ever seen one. It looks for the most part like an ordinary family-hauler, but it'll rocket to 100 km/h in just 3.3 seconds and max out as high as 290. Like its main rivals here, the E63 employs a 4.0-liter twin-turbo V8 driving all four wheels – in this case, kicking out an astonishing 603 horsepower and 627 lb-ft of torque. If that strikes you as a bit over the top, AMG also offers the E53 wagon, with a 3.0-liter turbocharged straight-six and a mild hybrid assist to deliver as much as 450 hp, 568 lb-ft, and a 4.5-second 0-100 time. Either way, it'll fit a class-leading 640 liters of luggage in the back, or up to 1,820 liters with the rear seats folded.
2020 Audi RS 6 Avant
Price TBA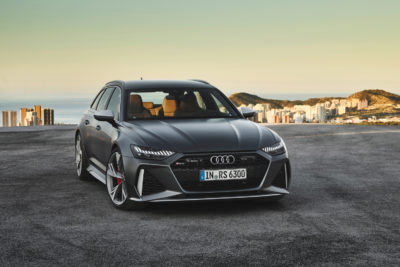 The newest player on the field, Audi is bringing its latest RS 6 Avant to North America for the first time. It's not quite as potent as the Mercedes, and with between 565 and 1,680 liters of cargo capacity, it's not quite as capacious, either. But its 591 horsepower and 590 lb-ft of torque are prodigious, to say the least, and will propel the power wagon to 100 km/h in 3.6 seconds. Spec it right and give it enough runway and it'll top at 305 km/h, which would get you from Toronto to Ottawa or Windsor in a little over an hour… if only the 401 were derestricted like the Autobahn on which it was built to run. Pricing has yet to be announced, but we'd expect it to land in the same $120k ballpark as the rival AMG E63 and the more streamlined RS 7 Sportback.
2020 Porsche Panamera Turbo S E-Hybrid Sport Turismo
$219,800.00 (base MSRP)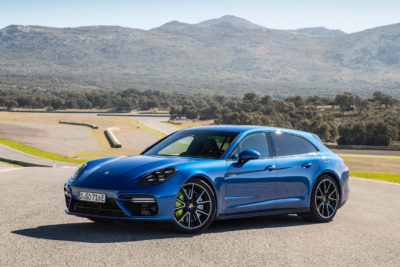 For a sports car with extra space, look no further than the Porsche of station wagons. With a 425-liter trunk (expandable to 1,295 liters), the Panamera Sport Turismo won't carry as much stuff as the Audi or the Benz, but it packs the punch to make up for it. Canadians can get it in three specs, with the same essential powertrain but increasing levels of output and performance. The GTS offers 454 horsepower and 457 lb-ft of torque to return a 4.1-second 0-100 time. The Turbo amps it up to 542 hp and 568 lb-ft for a 3.8-second sprint (or 3.6 with the optional Sport Chrono Package). And the top Turbo S E-Hybrid plugs in to generate a massive 671 hp and 626 lb-ft and rocket to reach speed in just 3.4 seconds.
Of course these aren't the only wagons available in Canada, where you can also get models like the Mini Clubman, Subaru Outback, and both the standard and Cross Country versions of Volvo's V60 and V90 wagons. Audi also offers the Allroad versions of its A4 and A6, and Mercedes can hook you up with a mode sedate C-Class or E-Class wagon. But if you like your wagon with a healthy dose of power and performance, these are the ones you'll want to cross-shop.
Related links:
The "Alternative" Super Sedans