It's not something you see often nowadays: A manual transmission.
Rarer still, it was fitted to the pickup truck we tested for the week – a 2020 Toyota Tacoma 4×4 Double Cab 6M SB (it's a mouthful, I know). And if the choice of gearbox doesn't make it stand out enough, our ride was a bright Voodoo Blue which, well, casts a spell on you.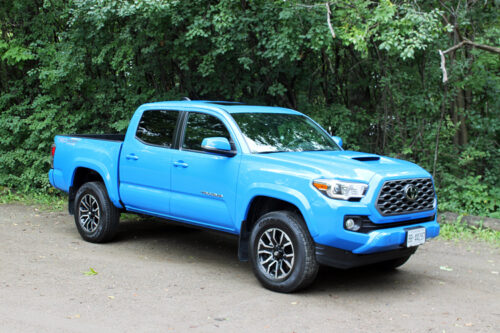 With the litany of drab colours on pickup trucks these days – hello, white, black or grey/silver – this colour choice is a nice alternative.
My test vehicle is near the top of the Tacoma trim lineup, ringing in at $46,696.40. (The model starts at a shade under $40,000).
The midsized pickup from Toyota is up against some stiff competition from the likes of the Nissan Frontier, Honda Ridgeline, Ford Ranger, GMC Canyon and others.
Under the hood – which is equipped with an air scoop thanks to the TRD Sport Premium package on our tester – is a 3.5-lite V6 engine. It is rated at 278 horsepower and 265 ft-lb of torque, which helps give the Tacoma a towing capacity of 2,900 kilograms. To accomplish that, it also comes fitted from the factory with a Class IV weight distribution tow hitch, 7-pin wiring harness and Trailer Sway Control technology.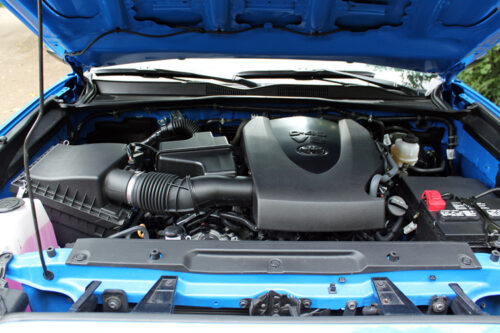 The manual gearbox mentioned earlier is the 6-speed variety, which may seem a bit outdated compared to some pickups that have a few more gears in their automatic transmissions.
However, I found it refreshing to be able to make my way though the gears to control the power from the engine, but it does come with a bit of a penalty at the pump. The Tacoma with manual transmission is rated at a combined fuel consumption average of 12.9 L/100 km, which is about one litre per 100 km higher than similar automatic models.
The problem I had, however, was that the real-world test of the Tacoma didn't even come close to that figure, with a 16.6 L/100 km average. Ouch.
The TRD Sport Premium option on the tester also adds things like leather seats, a power moonroof, wireless charging and Toyota Blind Spot Monitor and Rear Cross Traffic Alert safety technologies – all very nice things to have on such a utilitarian vehicle.
Apart from the attractive blue hue and the sporty hood scoop, the Tacoma has some other appealing exterior qualities that make it stand out. That starts with the grille and sculpted front bumper, fender flares, nice wheels and more.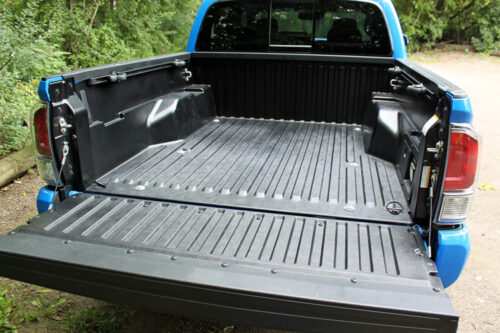 The cargo area, while not the largest in the pickup truck world, is lined with a composite bed.
On the inside, the Tacoma has a generous amount of space for a truck this size and offers some comfortable seating.
Do not come in expecting a whisper quiet environment, because that really isn't the case for the Tacoma. I mean, it's a truck for crying out loud.
And loud is just what you get from the engine noise in the cabin, especially under hard acceleration. On the highway cruising, that does get somewhat better though.
Among several storage areas throughout the cabin, you can find some to keep precious items away from prying eyes by flipping the seatbacks forward to reveal a hidden compartment.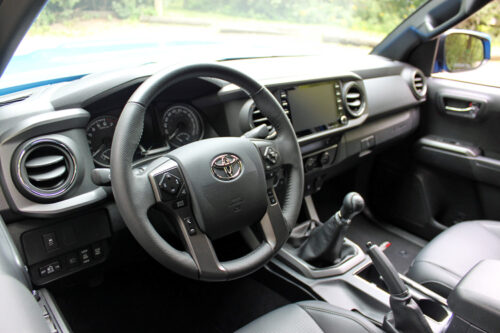 The Tacoma's infotainment system is compatible with Apple CarPlay and Android Auto, as well as offering Connected Services by Toyota. Thanks to the TRD Sport Premium package, it comes with an 8-inch touchscreen, which also includes navigation and satellite radio connectivity.
It's a decent system from Toyota, with easy to understand menus and controls.
Out on the road and helping to keep you safe, the Tacoma comes with Toyota Safety Sense, which includes auto high beam, lane departure alert, dynamic radar cruise control (high speed) and pre-collision system.
The Tacoma drives and feels like a truck, but that is not a bad thing at all in my view. Overall, it's a solid performer on the road and definitely settles in for nicer driving on the highway. But you will feel all the bumps thanks to the stiff suspension setup.
It also has off-road capabilities thanks to the four-wheel drive system and the 17-inch off-road tires.
There aren't many rough edges on the Tacoma – both in terms of styling and how it stacks up against the competition. You don't have all the cargo room as some larger trucks because of the bed size, but it remains a capable midsize truck.
Oh, and the manual transmission was a winner for me.
2020 Toyota Tacoma 4×4 Double Cab 6M SB
Price as tested: $46,696.40
Freight: $1,815.00
Configuration: Front engine/Four-wheel drive
Engine/transmission: 3.5-litre V6/ 6-speed manual
Power/torque: 278 horsepower/ 265 ft-lb of torque
Fuel (capacity): Regular (80 L)
Combined fuel economy ratings (L/100 km): 12.9 L/100 km
Observed fuel economy (L/100 km): 16.6 L/100 km
Warranties: 3-years/60,000 km (basic)
Competitors: Chevrolet Colorado, Ford Ranger, GMC Canyon, Honda Ridgeline, Jeep Gladiator, Nissan Frontier
Links:
Toyota Canada