The Gladiator and I sit, watching others of its ilk tackle conditions that would defeat lesser competitors. Each completed run brings thumbs up. Each completed run ended with a mud-caked vehicle ready for another contest.
The Gladiator is Jeep's new mid-size pickup that is a great deal more than simply a Wrangler with a box.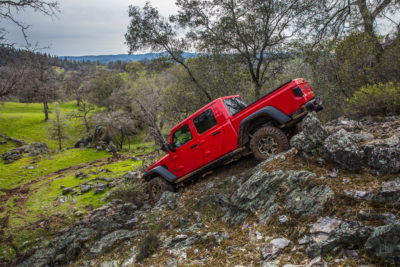 There's a family resemblance to be sure, but the 2020 Gladiator is its own on-road and off-road warrior that's unique in the world of pickup trucks.
It does look a little like a Wrangler with a box, and that's not a bad thing. The front end looks like a Wrangler with the same slotted grille and lighting. The taillights are Wrangler. The interior looks like a Wrangler, but with more rear legroom.
You can remove the doors and flop the windshield and remove the top. Like a Wrangler. But you can haul stuff in the box – 1,600 lbs of stuff. Can't do that in a Wrangler. Or any other mid-size truck for that matter.
You can tow 7,650 lbs of trailer, or boat, or whatever. Can't do that in a Wrangler. Other mid-size pickups fall short here too.
Jeep brought us to the Sacramento area to show how it all came together with a test route that ran from urban traffic to multi-lane freeway to two-lane backroads that got progressively narrower while pavement got progressively rougher until it disappeared altogether, giving way to gravel, then dirt. And mud. Lots of mud. Sticky, gooey, slippery mud.
The real fun began when we were routed up a rough, rutted, muddy trail to a "base camp" where we parked our rides – Gladiators clothed in Sport S and Overland livery. From here on, Renegade Gladiators would do the dirty work, although every Gladiator is Trail Rated.
It has been raining over the past several days. A lot. What was a technical enough off-road course has become challenging.
The trails have become deep, muddy ruts, the rock climbs and descents made more slippery by the rain.
A team of experienced off-roaders is on hand to shepherd us through the roughest parts, guiding us with hand signals indicating the proper placement of tires to prevent mishap.
If you've done any off-roading, you know that the standard advice is to stay out of the ruts because you will lose steering ability.
I knew something was up when the instruction was "stay in the ruts" to avoid an uncontrolled sideways slide. Those ruts have become long water-filled channels cut through mud deep enough in spots to use all of the Gladiator's 11 inches of clearance as it sucked at the tires. Water never got deep enough to test the vehicle's 30-inch wading capability.
Rain-slicked rocks and boulders add to the challenge of climbs and descents which at times become what one instructor called "controlled slides."
Gladiator takes it all in stride as we get to use all the off-road controls at our disposal including electric front and rear-axle lockers, sway-bar disconnect, TracLok limited-slip differential and 33-inch off-road tires.
This thing really will go anywhere. And take a box full of stuff with it.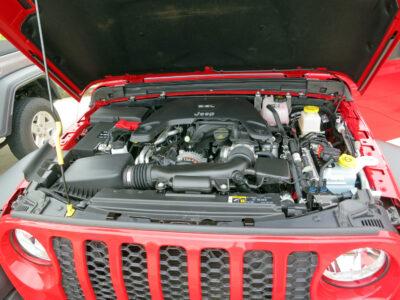 Power is from the standard 3.6L Pentastar V6 engine rated at 285 horsepower and 260 lb-ft of torque. A 3.0L Eco-diesel V6 rated at 260 horses and 442 lb-ft will arrive later in 2020. A manual transfer case and six-speed manual transmission are standard. You can get an eight-speed automatic.
Jeep has always been able to go anywhere and there's no doubt this is the most capable wild country pickup in the segment.
No real surprise there, but highway manners are a step above Wrangler. The ride is smooth and it's quiet!
We had the base Sport S model with soft top for our trip to the off-road area and cabin silence was impressive. Driving a soft-top Jeep up to now has been like riding in a really fast tent. Now it's like riding in most any other convertible.
Its ride is smoother than Wrangler largely because of a wheelbase that's 19 inches longer and overall length that measures 31 inches longer. Handling is a little less sharp than Wrangler due largely to the increased length.
The interior has some unique features. The rear seat bases can lift and lock for secure storage behind the seatbacks. When lifted there's storage at the seat base. The seats will also fold flat to access cab-back storage and provide a load floor for larger objects.
Infotainment features FCA's terrific fourth generation Uconnect with a 5-inch screen on Sport S and 7-inch screen on the others. An 8.4-inch touchscreen is optional. Other than that, the interior is the same as Wrangler's, especially concerning off-road gauges and readouts. And the ability to hose out the mud and grime.
The seats are comfortable for four. Frankly, I could ride in the Gladiator all day. Oh wait, I pretty much did.
Fun? No question. Capable? Check. Versatile? Oh yeah!
Pricing starts at $45,405.00 for the Sport S. I want one.
2020 Jeep Gladiator
Trim levels: Sport S, Overland, Rubicon
Price before Sport S: $45,405.00, Overland: $49,495.00, Rubicon: $52,495.00
Freight: $1,895.00
Configuration: front engine, 4WD
Available engines: 3.6L Pentastar V6, 3.0L EcoDiesel V6 (late availability)
Available transmissions: six-speed manual/eight-speed automatic (optional)
Power/torque: 285 hp/260 lb-ft (Pentastar), 260/442 (diesel)
Fuel economy ratings city/hwy. 13.7/10.7 (automatic), 14.3/10.4 (gas)
Warranties: 3 years/36,000 km (basic), 5 years/100,000 km (powertrain)
Competitors: Ford Ranger, GM Canyon/Colorado, Toyota Tacoma, Nissan Frontier
Related links:
Jeep Canada