If your were to tell me a decade ago that in ten years, Toyota would release a TRD ("Toyota Racing Development") version of their venerable all-things-to-all-man Camry mid-size sedan, I would have looked at you quizzically but I wouldn't have completely dismissed you.
After all: Toyota has been running a Camry in NASCAR since 2000 and while those vehicles tend to be the same as their roadgoing counterparts in name alone, the name on a NASCAR matters else Toyota wouldn't have bothered going there.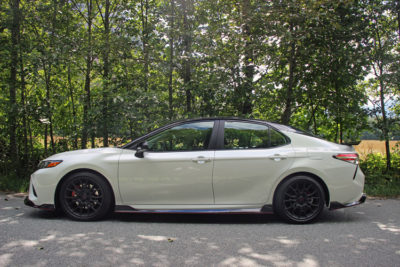 I guess when you think about it, it's almost surprising that Toyota's taken this long to capitalize on the successes it's had in NASCAR, to the tune of three championship wins and 18 total race wins. You'd think that a "fast" Camry of sorts would already be here. Stranger still is the fact that now that it is here, Toyota only runs a car named Camry in the NASCAR Cup series, not the Xfinity Series as that is now the Supra's playground.
What a cynic would say is yet more interesting still is that as bewinged as the Camry TRD looks, the powertrain hasn't changed all that much. Indeed, much like the Camry NASCAR is a Camry in name only, could it be that this TRD is a TRD in name only, too?
Well, surprisingly, not entirely.
We mentioned the looks, so let's start there, because there's quite a lot to talk about and it does form a big part of this transformation.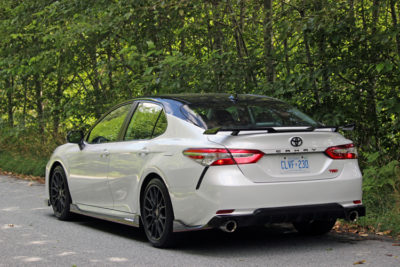 First, the obvious; that wing. Not something I would have ever pictured sprouting from the back of a showroom-spec Camry, but there you go. I don't mind its height, but am less enamoured with its dual-tiered look; I would have preferred something straight across, touring-car style.
The wing's aggressiveness is equaled by its rocker panels (which I actually scratched my Achilles on numerous times while stepping out; if you're going to get one of these, wear long pants or tall shoes), rear underbody diffuser and aggressive front splitter. It sits 15 mm lower than the Camry XSE on which it's based (the TRD is basically an option package for the XSE) and has larger brakes with two-piston front calipers. The 19-inch wheels are also a TRD special.
Put simply, it all woks quite well, not seeming overly ostentatious, just well-accessorized.
The theme continues inside, where the TRD gets special red-on-black stitching, TRD logos on the headrests and gearlever and special red-coloured gauges and – wait for it – red seatbelts at all four corners. Why the heck not?
I did hint that the powertrain adds were few, and they are as it boils down to one thing: a cat-back exhaust. Doesn't add any power (it remains fixed at 301 horsepower and 267 pound-feet of torque from a 3.5L V6), but it adds a whole heck of a lot of noise and that's not a bad party trick coming from a Camry. It makes it all that much more fun to use the wheel-mounted paddles to move through the eight-speed gearbox – no CVTs here – all by yourself. If only flipping those led to quicker shifts, though; as it stands right now, the gearbox response doesn't really equal the immediacy of the exhaust note.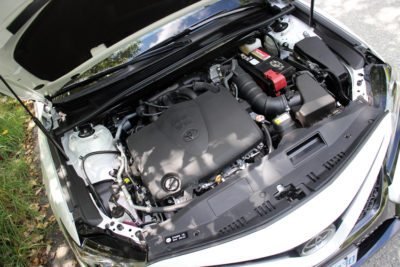 The handling, though, does have some added immediacy that speaks to the Camry's TRD transformation being more than just window dressing. Steering response is good with quick turn-in and even a modicum of feel, but the real notable change is the ride. It's noticeably firmer and less couch-like than a standard Camry. While that may seem like anathema for a Camry, that's kind of the TRD's MO.
It's not slow, either. There may be no change to power levels but with 301 horsepower (and the weight savings brought on my deleting the sunroof and other tweaks, including the TRD being front-wheel-drive only while the XSE V6 is also available in AWD), forward progress is almost as quick as the exhaust note suggests it is. It's not sports-sedan quick, but it definitely gets some sports sedan vibes.
Lest we forget, though, that once you move past all that, you've still got a Camry in your hands and the Camry is a very good midsize sedan. The TRD is roomy both front and back, there's a big trunk (but as we'll see in a minute, there is an asterisk there) and all the controls and spacious storage bins are placed so they're easy to reach.
It also means the existence of Toyota Entune infotainment which remains somewhat divisive for me. I guess the touchscreen is responsive enough and the fact that we have Android Auto and Apple CarPlay now is much appreciated. It still looks ultra-dull, though, thanks to plain-o graphics and somewhat smudgy text. There are better options in the Toyota world – look to the all-new Highlander to see what I mean – but this isn't quite it. It needs modernization. Oh, and the piano black that surrounds it is an absolute dust-magnet, as you can see in the photos. Which, of course, is more about the material itself than anything Toyota's done wrong, except for the fact that they've decided to fit so darn much of it to the dash.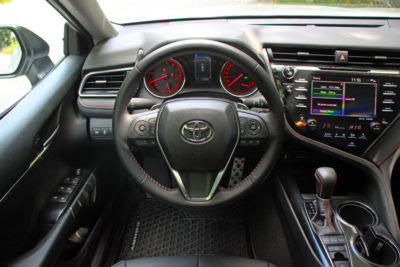 The back seats are as roomy as you'd expect them to be in a Camry regardless of trim level, but the TRD does get a feature that actually causes the loss of two important back seat features: the ability to fold-flat the seatbacks, and a centre armrest. Those features are gone because the TRD gets a V-brace at the back that means you can't have folding seatbacks, which means you can't haul longer items unless you store said items in the cabin.
The cost of entry for the TRD is actually lower than that of a non-TRD Camry XSE V6, which surprised me as I thought the TRD would be extra. It's not, though, because while you gain those chassis features, you lose a lot of niceties. We mentioned the moonroof and AWD, but there's also no blind spot system, no heads-up display and no wireless charging, either.
You still get lane-keep assist, though, and radar cruise control. The latter I like, the former I like less as I found it too sensitive. Luckily, you can switch it off with a simple press of a wheel-mounted button. Big fan of that ability.
Am I a big fan of the Camry TRD in general, though? I think I am and I think the biggest "plus" for me here is the fact that in costs about $5,000 less than the Camry XSE V6. That's a good start and you still get some added performance bits even with that cost reduction. Yes, you lose AWD but I do seriously wonder how many people will worry about that because if they want AWD, they'll go and get a Highlander which shares the Camry's TNGA platform.
So the TRD transformation for the Camry, it has to be said, is a successful one. The question remains, of course, is how many people that are considering a Camry even know what TRD means? That's not the car's fault, though.
2020 Toyota Camry TRD
Price as tested: $36,785.00
Freight: $1,745.00
Configuration: Front engine/front-wheel drive
Engine/transmission: 3.5L V6, 8-speed automatic
Power/torque: 301 horsepower/ 267 ft-lb of torque
Fuel: Regular
Combined fuel economy ratings (L/100 km): 9.4 L/100 km
Observed fuel economy (L/100 km): 11.7 L/100 km
Warranties: 3 years/60,000 km
Competitors: Honda Accord 2.0 Touring, Mazda6, Nissan Altima SR
Links:
Toyota Canada