Continuing to defy categorization, the too-fun Polaris Slingshot has been selected for an East vs West build-off between two renowned automotive customizers – The Auto Firm and DUB. The former is based in Miami while the second, plunked squarely in the heat of California, will be familiar to any gearhead who gamed a PlayStation in the early 2000's.
Squaring off head-to-head, each build team will design and modify a stock 2020 Slingshot SL. They've each teamed up with a celebrity partner whose job it is to provide a dose of inspiration and build direction that embodies the celebrity's personality. Miami is represented by pop singer Teyana Taylor while the Californians have added Travis Barker to their roster.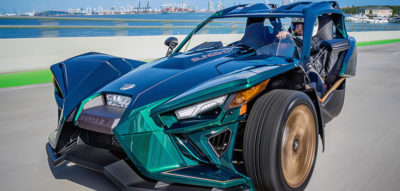 Each will make their mark by adding custom features amplified by their self-expression. If you're a '90's kid who listened to Blink-182, you'll know that Barker's creation will very likely involve a whole lotta tattoo-inspired artwork. "Even in its stock form, the Slingshot is packed with style and personality," said Barker. "Customizing a vehicle isn't too different from writing or producing music – they both serve as a platform of self-expression, and I'm excited to work alongside DUB to create a one-of-a-kind masterpiece." The man has a point.
The build team in Miami is equally on board. "In 2017, I joined the Slingshot community when Alex and his team customized my ride. There is really nothing like the Slingshot on the road and personalizing it to your interests is half the fun," said Taylor.

For this model year, the Polaris Slingshot received a raft of updates, including a 2.0L ProStar engine that was developed by Polaris itself to replace the old unit that was plucked from General Motors. A new Autodrive transmission was also introduced, opening the door for legions of drivers who don't want or aren't able to stir the pot on a manual transmission.
As for the build-off, fans can follow each shop's progress on Slingshot's various social media platforms. The rides will be ready in early November and were planned to be shown at the SEMA Show in Las Vegas before the event was cancelled due to the global pandemic. Watch for a reveal of a different sort for these one-off builds as the calendar flips closer to November.