Polaris turned the three-wheeled adventure segment on its ear when they stuffed a 2.0L 178hp four-cylinder of their own design in the too-cool Slingshot. With a choice of three different trims and a raft of accessories, the 2020 Slingshot looks like nothing else on the road.
Cranking things to eleven are a pair of build teams south of the border. In a classic East vs West battle, two groups have been given the task of amping a pair of custom Slingshots beyond its already outrageous premise. Based in Miami, The Auto Firm has partnered with pop singer Teyana Taylor while the world-famous DUB brand in L.A. has teamed up with record producer Travis Barker who you'll recognize from his presence on drums in Blink-182.
Squaring off head-to-head, each build team designed and modified a stock 2020 Slingshot SL. With inspiration and direction from their famous partner, each build team created a one-of-a-kind custom ride that is intended to show off the celebrity's personality. A fan vote, go here  to select your fave, will determine the winner.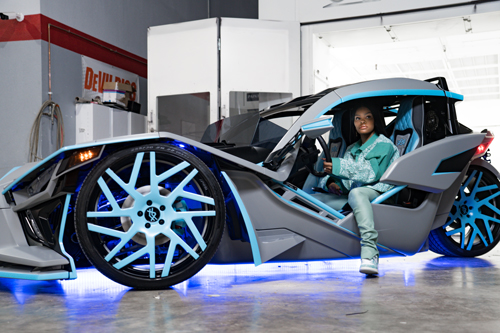 The results are striking. Teyana Taylor's creative direction led to a Slingshot with a definite Miami flavour, with "Tiffany's Blue" details playing well with a silver paint job. A set of enormous wheels have turned the tires into simple rubber bands but, if you've ever been to Miami, that's not exactly an issue in the city's tonier parts of town. Blue underglows bring a 2Fast2Furious vibe to the Slingshot, appropriate since that movie was set in the southern Florida city. The team also added a hardtop like the one available through Polaris' own accessory catalog.
In L.A., Travis Barker and the DUB team created a sinister black-on-black Slingshot that's right in tune with the drummer's image. A tinted low windshield pops up ahead of the driver and passenger, who are separated by a banging set of speakers. There's a gentle set of underglows here, too, except they are white in colour. It's easy to imagine this thing on the Pacific Coast Highway or tooling slowly up Wilshire Boulevard.
The 2020 Polaris Slingshot starts at $33,499 in Canada and can be equipped with an automatic transmission or, in R trim, a tasty manual. Sitting atop the range in this country is a Grand Touring LE that incorporates a slick roof panel and comforts like full-grain leather seats and a Rockford Fosgate sound system. All Slingshots come with the Polaris RideCommand system.