Cars and coffee, coffee and cars. It doesn't matter in what order you say it, the two blend together perfectly.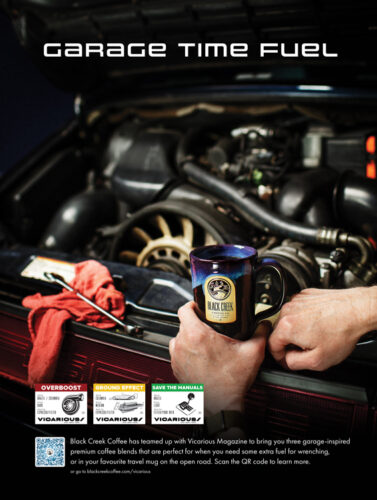 Add to this Canada's #1 automobile, motorcycle and travel magazine and you have the ideal pairing for a relaxing read at the cottage, on your backyard deck, or at the end of a long drive or ride secure in your tent under the stars with tablet in hand. Whether you get your Vicarious in digital or print form, nothing helps turn the pages better than a cup of coffee!
As a proud partner of Black Creek Coffee, we are pleased to introduce you to our 3 new flavours.
Overboost: Dark Roast
Ground Effect: Medium Roast
Save The Manuals: Light Roast
Can't decide which one to try first? We've made it easy with our special Vicarious Magazine Garage Time Fuel pack. Try all 3 today and see for yourself just how good coffee and cars pair together!