It has been one of those rare summers in several positive ways. Even in the midst of a global pandemic, there was much to celebrate. Summer weather was spectacular in my part of Canada making it a perfect time for outdoor adventure. And with fewer vehicles on the main highways in Southern Ontario, it meant getting around was much less congested than pre-pandemic. I know we all want things to get back to normal, but it is important to remember the good things in the midst of chaos, as well as deal with all the significant challenges we still face today.
Another big bonus for me this summer was the rare opportunity of getting to drive three exceptional sports cars all equipped with a manual transmission. And here you thought the manual was dead. Well, for several automotive companies it is, but thankfully not all have given up on the desire for grabbing gears and driving with the level of skill required to truly enjoy your favourite backroads in a car with a stick and a clutch pedal. Here are my three favourite manual drives in the summer of 2020.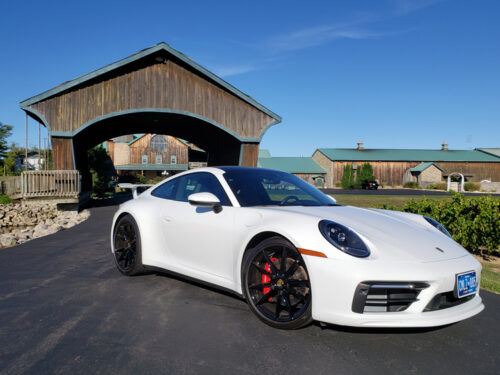 2020 Porsche 911 Carrera S
As a general rule, when it comes to colour, I am not overly inspired by a white vehicle. It is obviously popular these days as it seems every second car on the road is white, but it wouldn't typically make my top five list. I would prefer red or black, maybe even silver, especially for a sports car with a name as revered as the Porsche 911 Carrera. But I was surprised by the number and frequency of people stopping me to comment on how striking the colour combination of my test vehicle was over the course of a week and I am happy to admit they were right.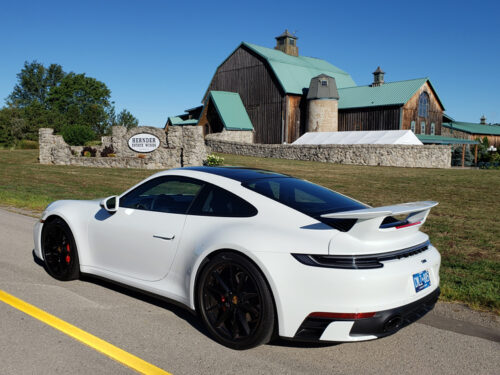 If you have paid close attention to our road tests and first drive reviews here at Vicarious, you are fully aware the 2020 Porsche 911 Carrera is all new for this model year. My first chance to drive it was at the famed Formula 1 track at Hockenheim, Germany and since then I have also spent time in several models including the 2021 Porsche 911 Turbo S, one of the fastest cars on the planet. So how would a 911 Carrera S stack up compared to the behemoth of the 911 family? In a word, exceptional. In fact, this is the model I would be most likely to choose for personal use, should that ever be a consideration for inclusion in my driveway.
With 443 horsepower and 390 lb-ft of torque underfoot, power is both impactful and linear in its delivery. It doesn't so much hit you in the gut like the Turbo S, though it is very quick. Rather it just keeps building and encouraging you to push your own personal limits, safely, of course, and that of the car.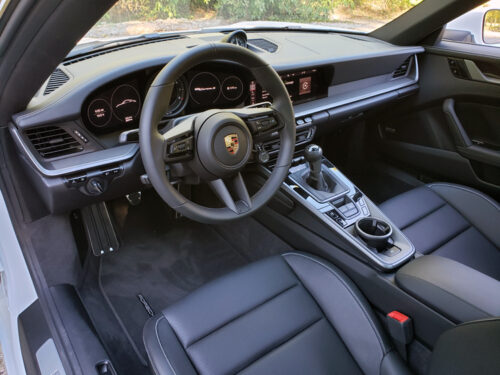 What makes this one of the most attractive and crowd-pleasing 911's I have driven to date is the optional aerokit package, gloss black wheels and exclusive design taillights. Together, it provides the impression you are driving a Porsche GT3, which is impossible since it is not available in the 8th Generation 911 at this time. But it fooled numerous people and may just be the best $7,880 option you could add to your 911 Carrera S.
Porsche has done a masterful job of combining the essentials needed as a driver and passenger with the style and ease-of-use required in today's exotic sport cars. This is a place you want to spend copious amounts of time. As for the manual transmission, it is near perfect, with excellent pedal travel and quick shifts both up and down the gears with only a slight flick of the wrist. Rev-matching not only helps improve the driving performance, it sounds amazing with each downshift in Sport and Sport Plus mode. Porsche has once again stamped the 911 Carrera S for greatness. The manual gearbox lives!
Price as tested: $158,300.00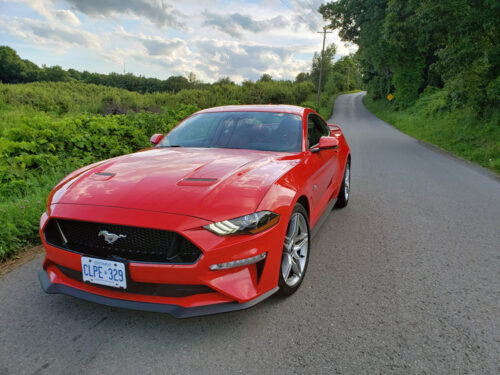 2020 Ford Mustang GT
If there is a better, more comfortable, fun-to-drive sports car in the market that looks and sounds great, while not asking you to break your bank account, I want to know about it. It is impossible not to smile and inhale the good life with every shift of the gear lever in the 2020 Ford Mustang GT. And my test vehicle was featured in red, with red sport seats, the perfect colour combination for a summer drive in what is arguably North America's premier, 4-seater sports car.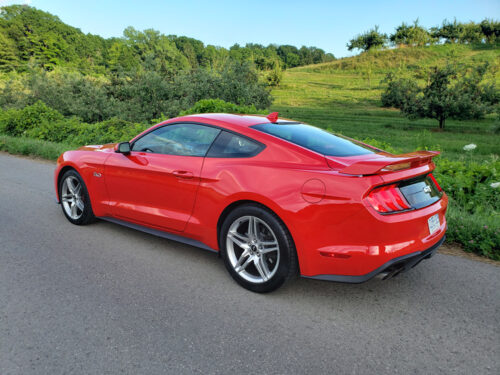 For some people, nostalgia belongs in a museum and should have little impact when designing a modern day sports car. In their opinion, the vehicle's shape should be the result of extensive wind tunnel testing, or take its cue from a cad design on a studio monitor. I get it, especially when talking about cars priced at six figures or more. But there is a sense of timelessness and strength of will expressed in the current Ford Mustang GT that looks so good and sounds, feels so right. A time will come when the glory days of muscle and eight cylinder engines are no more, but for now, it should be celebrated.
Under the hood of the Mustang GT beats a 5.0L Ti-VCT V8 engine. Matched to an automatic, or in our case 6-speed manual transmission, it pushes 460 horsepower and 420 lb-ft of torque to the rear wheels. The extensive options list on our test vehicle puts 19-inch Michelin Pilot Sport 4S tires on Luster Nickel alloy wheels at all four corners. Stopping power is provided by Brembo 6-piston brake calipers with oversized rotors at the front. Active exhaust insures everyone within shouting distance will hear the sweet sounds of the V8 with every up or downshift.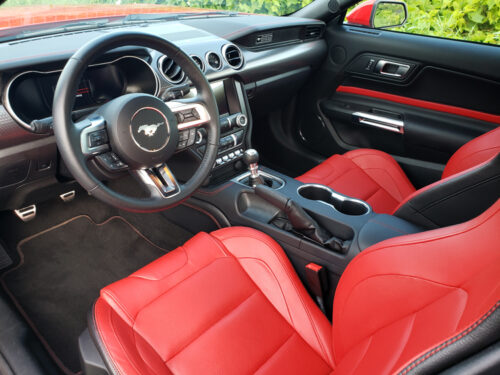 Driving is both fun and little harder than the other two sports cars featured here. It requires a sincere push of the clutch as you engage each new gear, but for me this is also part of its charm. Heavy duty springs, unique chassis tuning, a substantial rear sway bar and the optional magna-ride damping system combine to deliver excellent cornering and straight-line capability.
Inside, our test vehicle is equipped with exclusive Recaro seats in bright red, premier trim and just the right mix of brushed satin metal, black trim and panels, a carbon fiber inspired dash and red stitching for the ultimate interior experience. The thick leather-wrapped steering wheel hosts all the essentials and I enjoy the fun of toggle switches and round gauges as a nod to the past while being fully plugged into the present. The 2020 Ford Mustang GT is as good as it gets in American muscle.
Price as tested:  $64,425.00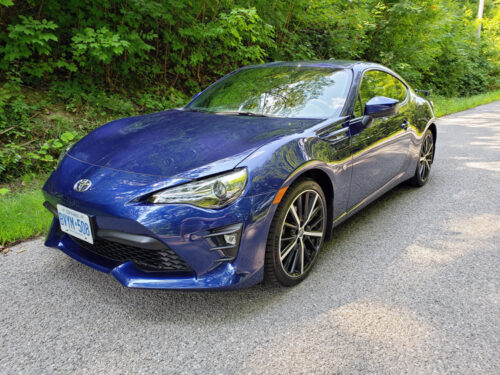 2020 Toyota 86
Have you ever wondered if somewhere in the world there is one person who looks exactly like you? Not a twin, rather a doppelganger, a person who could be your mirror image without the need for a mirror. Most celebrities have them, it's the look-a-like that takes all the risks, not the superstar.
In the case of the 2020 Subaru BRZ, it also has what many would consider to be its doppelganger, the surprisingly lesser-known 2020 Toyota 86. Which one is more desirable is not up for debate here, rather, I will say I was shocked to have two mid-20's men step out of their Corolla (also surprising) and ask what model of Toyota I was driving. They had recognized the brand symbol on the front, but had no idea what it was. When I said it was a Toyota 86, they both took on a blank stare that spoke volumes, but said it was a really great looking sports car. On that note, they are correct.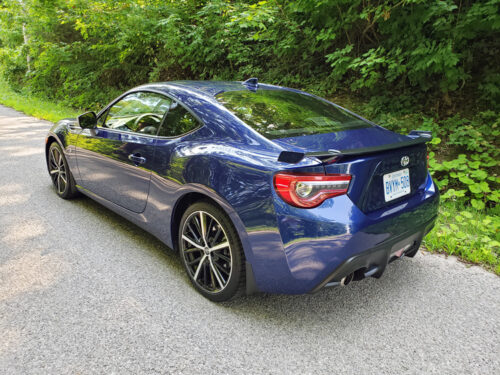 I cut my teeth learning how to drive a manual transmission sports car back in the 80's with the Porsche 944 and 944 Turbo, with tail-happy 911's throw into the mix as well. While it may sound strange to say in the year 2020, the Toyota 86 reminds me a lot of those cars, it is, in fact, a very good thing. You see, what Porsche did get right back in the day was how easy it was to control and have fun in a rear-wheel drive two-door sports car like the 944. The Toyota 86 is a refreshingly uncomplicated throwback for the driver who just wants to get in, hit the start button, pop the clutch and get at it. It is an excellent weekend getaway sports car for the budget conscious driving enthusiast.
Power comes in the form of a 2.0L flat 4-cylinder engine w/VVT matched to a slick 6-speed manual transmission. It delivers 205 horsepower at 7,000 and 156 lb-ft of torque at 6,400 rpm. While these numbers may not be overly inspiring at first glance, especially the torque, the delivery is to the rear of the vehicle only and that is what makes it so appealing.
Electric power steering allows you to toss it into a corner with ease and vehicle stability control, plus the active rear sport differential, helps keep you on course. Ride comfort is a little stiff, but you expect that from its compact 2-door outer façade and double-wishbone rear suspension. Personally, I will trade a little comfort for better handling every time.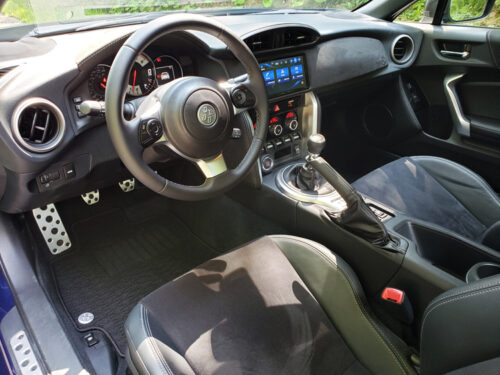 Inside, all the basics are covered with a thick 3-spoke steering wheel commanding the action both inside and out. Everything you need from audio volume control to driver info, headlights and wipers is within reach. Easy on the eyes round gauges are protected from bright sunlight under a large oval canopy.
The center console hosts a full array of digital information together with round knobs for control. Traction control can be turned on or left off and the manual gear lever is attractive, so too the drilled metal foot pedals. Seats offer form and function, though a little more seat cushion padding could be added in my opinion. Overall, if you are looking for an affordable, reliable and somewhat incognito sports car alternative to American muscle, the 2020 Toyota 86 delivers.
Price as tested: $34,450.00