This story originally appeared in the Summer 2019 Issue of Vicarious. If you'd like to read more of our travels, adventures and interactions with community figureheads- JOIN THE CLUB!
You can never plan around Mother Nature. The rain had started some thirty-six hours before the 2019 Moto Social was to kick-off in Toronto. With just two hours to go before things officially opened, the skies remained dark, dreadful and damp. It was damned cold, too. More mid-March in feel than early-May; I know I'm not the only rider who debated leaving the bike at home. I'm glad I didn't.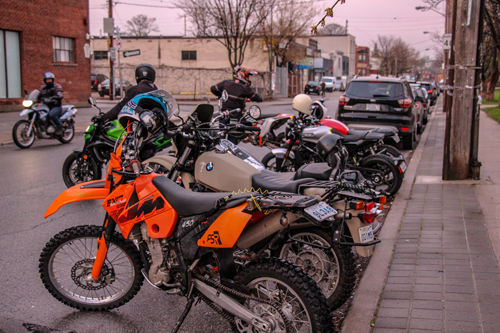 The coffee and hot chocolate being served up by our host, The Dark Horse Bakery, immediately took the chill from our hands but as always, it was the people that provided the actual warmth. The less-than-stellar conditions only meant those in attendance were extra friendly and welcoming; happy and proud to be a part of the collective.
This is precisely the atmosphere that Viktor Radics and his wife Sam were hoping for when they spawned the Moto Social, five years ago. For the uninitiated, the Moto Social is a monthly community event held in different host cities. It certainly caters to motorcycle enthusiasts but it's open to anyone and everyone. Founded in Toronto, that same recipe is currently being applied in twenty-one cities around the globe, with great success. I sat down with Viktor and Sam to chat about how this all came to be and where it may be heading.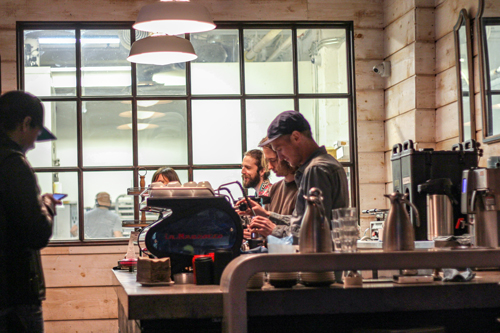 Where did the idea for The Moto Social come from? What led to its inception?
The whole idea of the Moto Social grew from me feeling disconnected from Toronto. I started to think, what made me identify as a Torontonian? It's a large city with millions of people and dozens of individual communities but we're all a part of this singular city. We wanted to try to create an event that would help promote unity.
If I've never been to a Moto Social, what should I expect? How do I fit in?
If you've never been to one of our events, we want you to come and just be yourself. Our atmosphere is that anyone can come into our fold to grab a coffee and within minutes be involved in a conversation and included in the group. Whether it's us, hosts from other cities or just other people already there, we encourage them to look out for new faces and engage them, help make them feel welcome. A healthy, open and well hosted event will grow organically — we look at this as hosting an event, not just organizing a hang-out. So we try to host people the way we would at our home. Make people that you don't know feel welcome — go out of your way to be welcoming, don't stay stuck in your cliques.
You say I don't need to be a rider to attend — Are you going to treat me differently?
Absolutely not. We've always said we're more about people. I'd rather a bunch of moms with their strollers mixed in with our group than have it be all bikers.
Does motorcycling have a stigma attached to it? What is that? Is it changing? Do you believe the Moto Social is helping change that?
We think our community helps break down the stereotypes associated with motorcycle riders — especially for those who've never been exposed to them. As a female, I've (Sam) experienced this firsthand. Our events give us a community that's open and welcoming.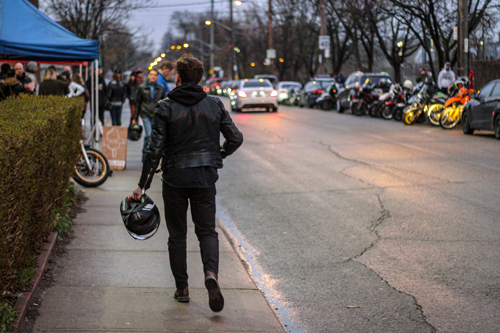 Do you think communities like the Moto Social can help grow motorcycling?
Yeah, for sure. I think it already has. At least in Toronto, we've seen a lot of new riders over the years. Folks that have showed up to an event
The city roster is still heavy on Canadian content. Is that by design?
Initially we thought to make this a Canadian thing — we wanted to have it be homegrown. Our first followers were Canadian and the bulk of them still are — Canadians pay attention to Canadians, the world, sadly, tends to ignore us. After Ottawa and Montreal (the second and third cities) we set up, we knew we wanted to make this Canadian, but needed to expand. Montreal and Ottawa were close so we could ride there (to host the events). Vancouver was next but we had to fly out every month to start it off and things got pricey but it gave the community a true Canadian footprint.
Cape Town was the first international city — how did that come about? Why not look a little closer to home, to our neighbors to the south?
I think its because it wasn't about being practical. We did it in Toronto and could feel it was making a positive difference, so we figured this model could work and should happen in other cities. It wasn't initially a global concept but as it expanded we realized we could reach a larger audience and affect positive change. Cape Town happened because like minded homies reached out (Devin Paisley and Archie Leeming). Archie was the catalyst; he had been through some crazy experiences on his bike — he rode to Cape Town from Scotland and just never rode back. We flew over to get things started, so to speak, but the folks there had the same mentality and vibe. They had tried to do something very similar on their own previously and followed our presence on social media, so hopping on board with Moto Social seemed like a good idea. And its proven to be really successful.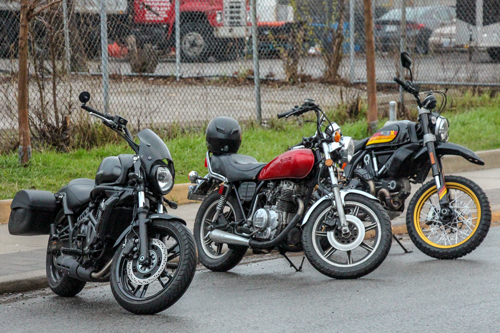 You've just returned from LA — Why no L.A. on the roster? Is it in the works?
Yeah, the way we've expanded is to have the right people reach out to us. In my mind I'd love to set something up in L.A. — it's a massive city where everyone seems to feel separated. So, we're looking at meeting with people who would be interested in expanding with us.
How do you "qualify" new host cities?
It's about the right people. Folks who are stoked about connecting people in their city. There are certain things that we look for and a lot of that boils down to heart and attitude. This year something switched in our heads to shift focus away from major cities, so big cities were the places we focused on to start but that's changing this year. We have enough momentum as a brand — if the scene locally can make it happen and they have the right people in place then we can make it happen.
Does one city stand out as best embracing the ethos of the Moto Social?
The vibe is definitely the same amongst all of our cities but San Francisco is incredible. It's already a very open and embracing city so the growth rate there has been great. Also Auckland (New Zealand). Within a year they were seeing 300-plus people turn out. Ottawa has also grown quite quickly, too.
Are there any corporate sponsors involved? Why/why not?
No, there's not. If we have one brand sponsoring the Moto Social, riders of other brands may question our intent. We want everyone to be a part of this, without stigma or exclusion. To some level we don't need sponsors — there's no cash costs to putting the events together, only time and effort. However, to grow the events and do things for our hosts, having sponsorship would help. But we could only do that with the right people/brand with the same mentality and agenda that our ethos has — so, less of a sponsor and more of a partnership.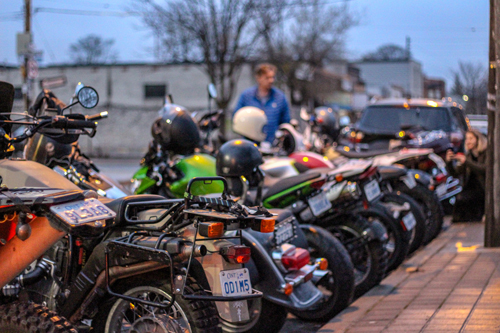 What's next for MotoSocial? What's next for you?
We want to build community better than we are today. Positively affect humanity. We want to do more than just these monthly events. We want to give people more opportunities to connect with each other and our cities. The Moto Social in most peoples' minds is still based in their own cities — we're lucky enough to experience it in almost all of our host cities — so Sam and I have met people and made connections in those other cities, we've found "our" people in other cities and we'd like to open this global community to the individual cities. Turn the city specific experience into a global one.
So, even in this dreary start to Spring, things are a success. The Moto Social has expanded yet again, on all sides of all ponds, and with it that collective of friends and family, linked by either a love of life on two-wheels or the curiosity of what sparks it. Hopefully some of us will see some of you at one of this summer's coming events, in Toronto or elsewhere.
Apparently you can plan around a pandemic. While Covid-19 restrictions continue to prevent many of us "bike-minded" folks from getting together, the Moto Social continues to support its community by creating and hosting virtual meet-ups. On March 28, 2021 the first online Moto Social goes live, world wide. Whether you're a motorcycle enthusiast or are curious about finding out some more, be sure to drop in here: The Moto Social 2021