Nothing is better than cruising down a new road on your bike with the sun on your back and ready for a new adventure but reading about biking adventures and perhaps planning some trips of your own come a close second. That is what I have been doing with the help of Colette Coleman and her latest book: Magnificent Motorcycle Trips of the World.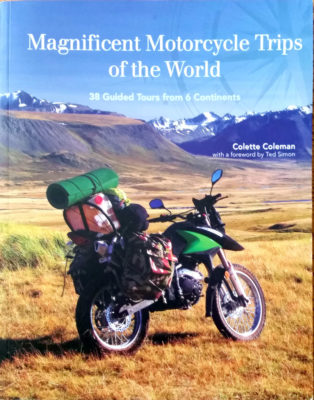 Coleman is a motorcycle adventurer who has ridden for 30 years over 6 continents and believes the best way to see the world is on two wheels. Her latest book is a condensed guide to short riding trips that can be made part of a two to three-week vacation and are accessible for most levels of riding skill. There are 38 adventures on 6 continents, grouped by continent and there is something for every rider to enjoy. The pictures are inspiring, making me wish to take more on my travels and it is enjoyable reading even if you don't ride a motorcycle.
For each adventure, Coleman gives a descriptive overview of the route complete with mini-map with suggestions for timelines, miles to ride and sights to see. Tips in the sidebars include getting a bike. Some countries is it easy to import your own bike while in other countries it is near impossible to import but you can rent a bike there to take a tour. Weather Watch gives the best times of year to visit the area, avoiding wet seasons when possible, and there are tips on extending the ride if possible to take in even more adventures.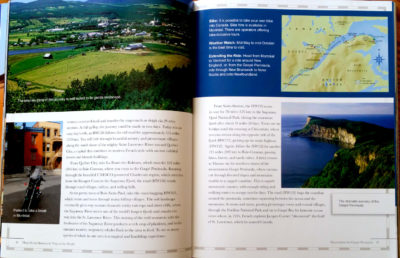 The book doesn't pretend to be a list of the best rides in the world but is a compilation of relatively accessible rides and each feels like the ride of a lifetime. Using her experience, Coleman has given enough information to get you interested and make you dream but doesn't include details such as getting there, accommodations or where to get gas. Instead, it is an overview of great roads around the world and inspiring to read. Again, the pictures are simply amazing.
Magnificent Motorcycle Trips of the World by Colette Coleman is published by CompanionHouse Books and will be available this May, ready for you to plan your next motorcycle trip.