I recently felt like I was allowed into a very exclusive club.
No I didn't join the Stonemasons – but it was in a vehicle that can definitely climb rocks.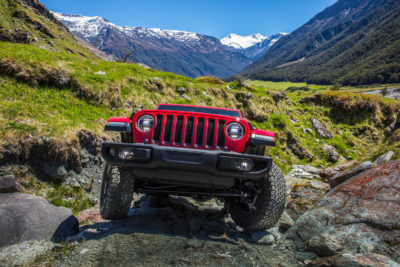 During a week with the 2020 Jeep Wrangler Rubicon, I was constantly waved at or receiving knowing nods of acknowledgement.
I was either being let into their world, or they were just fascinated by the exterior colour of our test vehicle.
Either way, I'll take it!
But there's a hefty price to pay to be part of that club. The 2020 Jeep Wrangler Rubicon 4×4 we tested totalled $65,525, far above the base price of $48,845 for this trim thanks to a bevy of options – 18 to be exact!
These incorporate some much-appreciated ones for a February test – a remote starter and the Cold Weather package with a heated steering wheel and heated seats. Other options included a navigation system, steel bumpers and more.
The Jeep Wrangler offers two engine choices, either a 2.0-litre inline four-cylinder engine or the much larger and more powerful 3.6L Pentastar V6.
Our tester was also equipped with an 8-speed automatic transmission featuring eTorque technology, which is another one of the options on the Wrangler ($1,795).
The engine delivers 285 horsepower and 260 ft-lb of torque, which means this Wrangler has plenty of go power. And combined with a 4×4 system, there's almost nothing that can stop it.
But you will be forced to stop at the gas station quite often, with our average of 15.2 litres per 100 kilometres, well above the estimated 11.0 L/100 km Jeep claims.
The two-door Wrangler Rubicon 4×4 is instantly recognizable as a Jeep.
It's boxy, has that large front grille and overall rugged good looks.
Flanking that grille are two sets of LED daytime running lights – a ring around the main lights, and a horizontal bar to the sides of each headlight.
The large 17-inch wheels – outfitted with off-road rubber – aren't overly flashy, but they look really good on the Wrangler.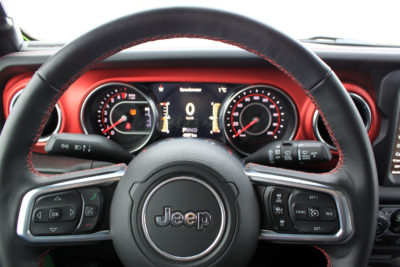 And consider me a fan of the way the rear door opens to access the cargo area – just remember to put the glass down before you close the hatch!
However, if cargo space is what you are looking for, the Wrangler Rubicon is not for you. There's barely enough room for a weekend bag back there unless you drop the back seat down to open up some space.
With only two passenger doors, this Wrangler is not what you would call family friendly. With a young child still requiring some assistance to get buckled in, I needed some Cirque du Soleil-like acrobatics to get into the back seat to help out.
The cabin is much more function over flash, but there's still some of the latter thanks to the red accents on the dash.
The leather seats are quite comfortable and emblazoned with the Rubicon branding in red stitching, an accent that is carried through elsewhere on the seats and the steering wheel.
There are a lot of buttons and switches on the centre stack controlling everything from the ventilation, radio and other features.
Being the middle of winter, I wasn't able to benefit from the Wrangler's removable body parts, but because the roof is not permanently affixed, it does result in quite a bit of road noise intruding into the cabin.
The UConnect system on the Jeep is a good one that is easy to use and responds quickly to your inputs. On our test vehicle it features an 8.4-inch screen and is compatible with Apple CarPlay and Android Auto. As mentioned earlier, ours also featured a navigation system.
With a vehicle that can take you just about anywhere, that's a nice feature to have – but sometimes the best roads are those not found on the map.
Now I wasn't exactly expecting a smooth ride with the Wrangler, but I also wasn't prepared for being tossed around like a blender on some rough city streets – to the point where I was even feeling nauseous.
The 4X4 system of the Wrangler is easily activated through a lever located next to the gear selector, with a 4H or 4L setting, as well as a two-wheel drive selection.
It's a complete package that combines the trademark Jeep look, functional interior and above average capabilities when it comes to off-roading.
2020 Jeep Wrangler Rubicon
Price as tested: $65,525.00
Freight: $1,895.00
Configuration: Front engine/4×4
Engine/transmission: 3.6-litre Pentastar V6/ 8-speed automatic
Power/torque: 285 horsepower/ 260 ft-lb of torque
Fuel (capacity): Regular (81.4 L)
Combined fuel economy ratings (L/100 km): 11.0 L/100 km
Observed fuel economy (L/100 km): 15.2 L/100 km
Warranties: 5-years/100,000 km (basic)
Competitors: Land Rover Defender, Toyota 4Runner
Links:
Jeep Canada
Car and Driver