If I were to ask you to describe the Jeep brand of SUV's in one word, what would you say? From my experience, there is a good chance you might say something like rugged, tough, go-anywhere or revered. All of these words are true; at the core of every Jeep is the ability to exit a paved road at any moment and head off into the dust, mud or rocks without much concern. By contrast, it's not style you typically think of first when it comes to Jeep, although it is hard to miss the classic grille and round headlights of the classic Wrangler. It is first and foremost the promise of being ready for almost anything.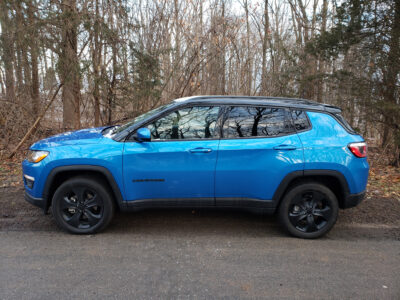 With that as the backdrop, the 2020 Jeep Compass offers you the rugged side of Jeep with its go-anywhere capability and offroad prowess. But, surprise-surprise, it does so in a package that is equally comfortable never going offroad, but rather spending all of its time chauffeuring your minions to the mall, dropping them off at school and practice, or even driving with your significant other to the big city for a night out. Combine that with our test vehicle's Laser Blue Pearl paint scheme and it's easy-around-town size and this 2020 Compass Altitude 4X4 has a lot of positive things going for it.
Power comes in the form of a 2.4L 4-cylinder gasoline-powered engine that produces 180 horsepower and 175 lb-ft of torque. Matched to a 9-speed automatic transmission, the combination is both competent and engaging most of the time, producing enough power to complete whatever task you need, albeit you won't set any new land speed records.
The "not always" part of this power combination typically happens when shifting from reverse gear to drive and sometimes between gear changes under light load. It's as if the transmission is weighing its options and then suddenly decides to engage and move ahead. The switch from "hold" to "go" can be quite dramatic, with a significant "clunk" sound before things quiet down and get back to normal. I understand the upside of having more gears when it comes to fuel economy and performance, but it feels as though 9-speeds matched to a 4-cylinder engine might be, in this case, be over-thinking things a little.
A host of road-holding capabilities, both paved and offroad, make this a worthy Jeep even though it doesn't offer true four-wheel drive with low-range gear found in its Wrangler siblings. What it does offer, however, is the Selec-Terrain traction management system allowing the driver to switch between Auto, Snow, Sand and Mud. It's the next best thing and allows the Compass to go where other crossovers can't or probably won't.
Additional traction and assist features include electronic stability control, rain brake support, all-speed traction control, electronic roll mitigation, hill start assist and trailer sway control for pulling a small trailer or fishing boat perhaps. Four-wheel ABS brakes and a full battery of interior airbags make this a very user-friendly road trip companion, even in the worst case scenario.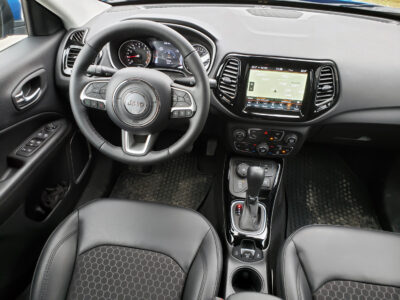 As previously stated, one of the best features of the 2020 Jeep Compass is in the looks department, both inside and out.
Exterior design elements specific to our test vehicle include black side roof rails that blend seamlessly with the two-tone paint scheme, gloss black roof, front grille, lower rear fascia, badging, 16X7-inch gloss black alloy wheels and bright exhaust tips. It looks somewhat sinister and classy, a surprising combination in a Jeep.
Inside, the good times keep rolling with the optional Uconnect 4C navi-system with a full-colour 8.4-inch touchscreen display and 8-way power driver's seat, 4-way power passenger front seat. A thick, leather-wrapped steering wheel houses the obligatory up-down-left-right toggles and cruise control functions, as well as intelligent cruise control and phone switches for easy access.
White on black round gauges are easy to read and this Jeep utilizes round knobs to adjust the HVAC system. Power window controls and power mirror fine-tuning is logically located on the door armrest.
Front seat room and support is excellent. Over the course of a week, I had nothing to complain about. Back seat room is equally accommodating and you will be hard pressed to find a better rear storage compartment in an SUV of this size. Even the door pockets, center cupholders and center armrest storage are bigger than expected.
The 2020 Jeep Compass is a good choice in a crowded field of good choice options for what is typically the casual offroad excursion. What sets it apart is the ability to truly go off the grid and not worry too much about ground clearance, traction and damaging the undercarriage of its lesser, go anywhere in theory, competitors.
2020 Jeep Compass Altitude 4X4
Price: $40,530.00
Freight: $1,895.00
Configuration: front engine, four-wheel drive
Engine: 2.4L I4 gasoline
Transmission: 9-speed automatic
Power/torque: 180 hp/175 lb-ft
Fuel economy ratings: 9.5 L/100 km combined
Warranties: 5 years/100,000 km (comprehensive)
Competitors: Chevrolet Equinox, Ford Escape, Honda CR-V, Mazda CX-5, Subaru Forster, Toyota RAV4
Links:
Jeep Canada