The world as we knew it has clearly changed. The ongoing pandemic has created levels of uncertainty and apprehension around even the most menial of tasks. Whether it's walking my dog or parking up the bike for an obligatory ice cream break, wide berths need to be given, masks donned and Purell squirted. It all feels a bit nefarious but ultimately necessary. And it's the sort of thing that makes arranging for a test ride or buying a new motorcycle feel like the last thing I'd want to attempt.
If we've learned anything from our weeks of quarantine and lock down, it's that online shopping and delivery of goods are absolutely essential services. And, in some cases, a favourable way to shop.
So how is the industry responding?
Necessity, of course, is the mother of invention and Ducati was one of the quickest out there to develop and implement a strategy around an updated style of "business as usual". Ducati Cares is the manufacturer's initiated 10-step "contactless" delivery program that its dealers are following to make sure that those of us so inclined, can socially distance ourselves aboard one of Bologna's finest. Sanitation, condition monitoring, physical barriers and at-home delivery are just a few of those new norms that dealerships must work around to keep customers and employees safe.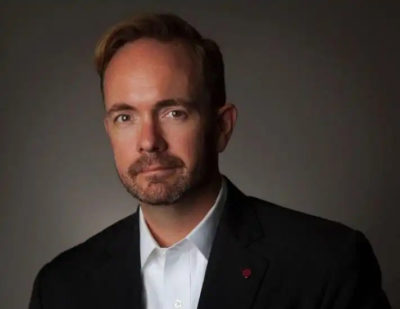 To find out a little more about this program, and whether it may become a permanent practice, I recently spoke with Jason Chinnock, Chief Executive Officer of Ducati North America.
What are the main challenges of instituting and maintaining a contactless delivery program?
Ducati Dealers have always delivered a premium level of service to the Ducatisti, it's not new for us, it's what we do. The safety of our dealer staff and customers is our number one priority. We are lucky in that we have amazing partners in our dealer network who immediately embraced the challenges of adopting these new protocols. It's new for everyone to put in place social distancing and contactless delivery, but our dealerships understand that for many their motorcycle is a critical part of their daily life so giving customers the ability to access servicing and sales, albeit in a restricted way, was important.
What lessons have been learned in establishing this program?
Ducati North America acted quickly when stay-at-home recommendations and social-distancing became a clear initiative across many states. We've learned that our dealerships are entrepreneurial and quick to act. We've also learned that our dealership network can come together as one in spirit, to be fully supportive of the brand's decision to put the safety of their team and customers first. Technology has been adopted as well to compensate for the 'in-person' experiences like providing a walk-around of the bike via video chat tools.
Are they transferable to a "business as usual scenario"? — How? Which ones?
Many of the protocols were already in place, such as keeping a clean and welcoming environment within our dealerships, and we plan to keep many of the new protocols in place. That said, we hope the protocols in themselves create a 'business as usual' feeling for our customers – to send the message that our dedication to our customers has never wavered.
The Ducati configurator allows our customers to accessorize their bike online and save this configuration for the dealer to prepare the bike for delivery. We expect this tool to be used in the showrooms once business returns to usual because it's powerful to be able to visualize your 'dream build.'
To prepare for when dealerships are able to re-open the global initiative "Ducati Cares – Safety First" was launched. This identifies ten preventative measures that participating dealerships have put in place to best protect the safety of customers and staff.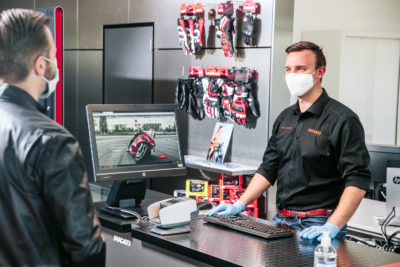 Are there any plans to continue with this process if/when things normalize?
There is certainly the possibility of continuing at-home delivery programs to customers, if it is an agreeable scenario that benefits both our customers and our dealerships within local markets. We're exploring every possibility of how to adapt to the new retail landscape including additional tools to support with more online transactions.
I'm a potential customer wanting to buy a Ducati… Why would I buy now instead of waiting until this (hopefully) boils over?
There has never been a better time to buy a Ducati, particularly with riding season just beginning. We launched "Sign & Ride," which essentially gives buyers of selected new Ducati 90 days free riding before they make their first payment. This will give you a summer of free riding. Most importantly is the joy and pleasure of owning and riding a new Ducati, nothing beats that feeling. Riding a motorcycle is a perfect way to overcome the impacts of isolation. Getting out for a ride has a huge role to play in keeping strong mental health. It's a thoroughly uplifting experience and we should seize the opportunity to embrace these experiences.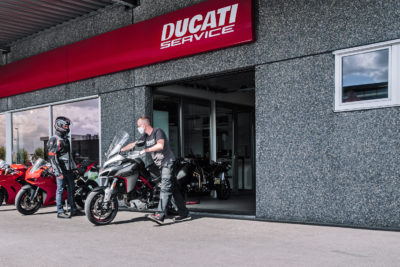 How is paperwork (ownership/insurance/financing) being handled? Has it changed from in-person completion?
We aim to make as much of the process of buying a Ducati accessible online as possible. We're looking into ways to bring the final paperwork online, as well. Also, our Ducati Financial Services support team is available via phone at any time, as are many dealerships available for online questions and appointment scheduling.
Are you finding that this is a preferable method for customers? What have their reactions been?
Customers have reacted extremely positively to the program. Those who had previously ordered bikes have gotten them delivered directly to their house and they say it's been a seamless experience. What better way to get on the road as quickly as possible than to have the bike brought to your driveway?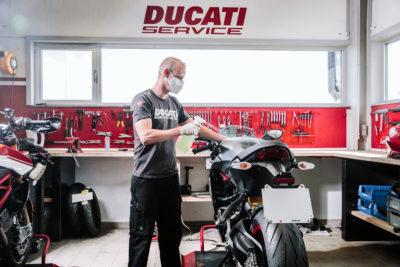 What about new-to-Ducati customers — How can Ducati ensure they are still reached? — Will there still be demo days or will exposure be limited to dealer arranged test rides?
The Ducati lifestyle is a family lifestyle – we will always find ways to connect with our customers, be it virtually or in-person. Every dealership within their market will be adhering to local recommendations, and we definitely aim to get new customers onto bikes as soon as possible, be that demo days or test-rides, so they can join our family as a true Ducatisti.
You've indicated sales growth in some of the hardest hit US areas, do you expect this trend to continue? How do sales currently compare to overall numbers from last year across the board?
In April 2020, many dealers exceeded their retail sales versus 2019. Ducati as a brand grew market share over 30% in the US to a new record. Now that factory production in Italy is ramping back up to meet the high demand for the season, we expect to continue the positive growth – people are hungry for motorcycles and the free-spirited feeling that goes along with riding a motorcycle.