In case you haven't noticed, Indian Motorcycles are on a bit of a tear of late. To recap, they've tweaked the lust worthy FTR 1200 for better performance and sharper handling, dropped a limited edition Chieftain that takes the bagger fight straight to Milwaukee and launched an all-new Chief lineup consisting of six models.
To keep their ball rolling, Indian is now handing over three Chief Dark Horse models to a handful of exceptionally skilled custom bike builders to showcase the versatility of the Chief's platform.  Those builders — Go Takamine, Carey Hart, Paul Cox and Keino Sasaki — all have a signature style and it should be interesting to see what their results will resemble.
"This bike is as much about history and heritage, as it is about modern design sophistication, and that's why we were intentional in choosing builders that represented both old and new styles," said Ola Stenegard, Director of Design for Indian Motorcycle. "With Go, we have a builder who honours and takes inspiration from the post-war bobber scene. On the other hand, Carey will push forward with modern, performance-oriented design elements, while Paul and Keino bridge the gap between past and future."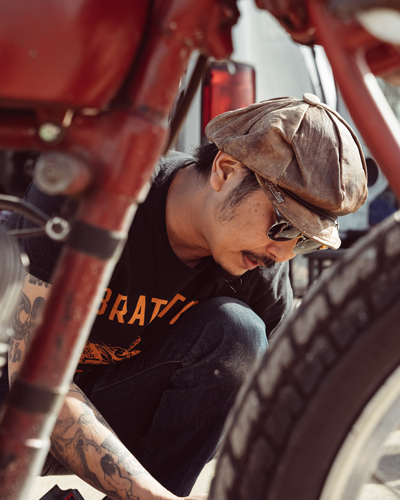 Go Takamine is the driving force behind the Brat Style of motorcycles. Characterized by being a distinctly minimalist, raw and mean aesthetic, I'm looking forward to how that can be achieved with Indian's cruiser as the donor.
"Indian Motorcycle has been at the heart of my work for many years, and I have great admiration for the company. It's an honour to be included in this elite group of builders," said Takamine. "The new Indian Chief is ideal for customization with its classic steel tube frame and air-cooled motor, and I'm excited by the possibilities of what I can do with it."
Carey Hart is a name that should be familiar to motocross fans out there. No stranger to tweaking Indian Motorcycles, Hart will likely aim for a peak performance build, coaxing as much as he can from that 116 cu in V-Twin — he is the first motorcyclist to backflip a bike during competition, afterall.
"With the new Chief, Indian Motorcycle has done an incredible job of capturing the strength and timeless lines of what we all have come to expect from a true American V-twin, and in doing so, they've served up the ultimate platform for customization," said Hart. "I'm proud to be amongst this incredible group of builders, and I couldn't be more excited to see what each of us comes up with."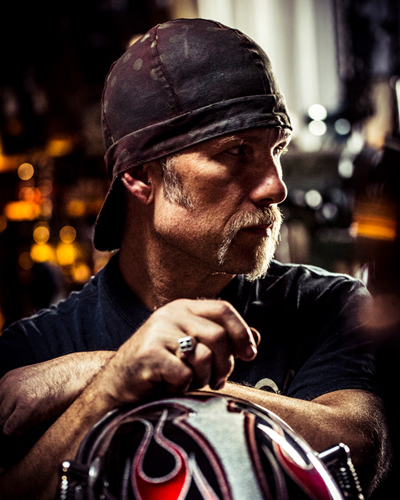 Paul Cox is an artist craftsman that creates everything from knives to leather work. But he's known in the motorcycle industry for his choppers. And the choppers built by Cox are absolute works of art. Cox will be teaming up with Keino Sasaki, a partnership that hasn't worked together in nearly 15 years.
"Keino and I have stayed in touch over the years, continuing to work in our own individual styles, but when Indian Motorcycle approached us about this collaboration, the timing seemed right. We both bring unique skills to this project, and it will be interesting to collaborate again," said Cox. "Initially, I found the new Chief platform to be beautifully designed and thoughtfully engineered in its stock form. It's tough and clean but possesses a modern elegance at the same time. These are all qualities that I try to combine in my own work, for a well-balanced custom."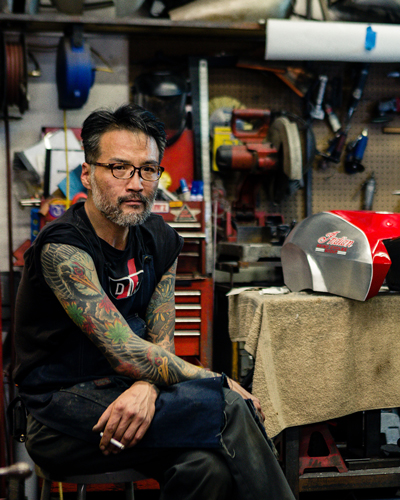 Sasaki's builds range in style from chopper to tracker to café racer and just about everything in between. Attention to detail and focused functionality are Keino's calling cards, and given his breadth of work and Cox's artistry, I honestly don't know which direction they'll go but I'm sure it'll look a stunner.
The three custom projects will be staggered throughout the year, with Hart's build slated for completion in late spring, Cox and Sasaki's in mid-summer and Takamine's in the fall. You can learn more about the program and follow along with updates here.