With crucial revisions to its FTR 1200 lineup and the introduction of their all-new Chief range, Indian Motorcycles is clearly making moves to not only celebrate their 120th anniversary but to ensure continued growth in the motorcycle market.  Adding even more opportunity to that, Indian Motorcycles has just debuted a limited edition variant of their Chieftain bagger.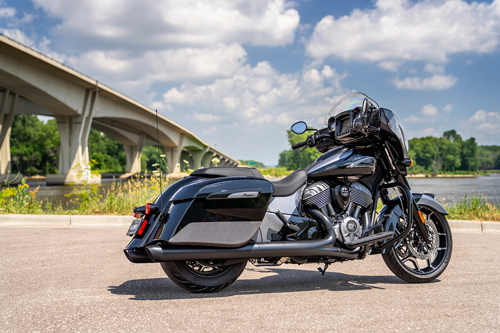 Dubbed the Chieftain Elite, this range-topping touring machine features a bevy of upgrades and features to help set it apart. In the words of Indian's VP, Reid Wilson, we're told Indian "designed the Chieftain Elite for riders who want to turn heads and stand out without sacrificing performance or comfort…The bike's attention to detail and world-class craftsmanship is second-to-none, while its extreme exclusivity makes it something truly special to own and ride." Considering these are traits every rider I know looks for and every manufacturer tries to deliver, what exactly sets the Chieftain Elite apart?
It starts with a hand-plied, two-tone Thunder Black over Carbon Crystal paint job that, from the images, looks as deep as Lake Superior. We're told the process takes twenty-four hours for each bike and the attention to detail certainly shows in the crisp, clean accent lines throughout the tank, fairing and weatherproof hard bags. The engine is also treated to a Slate Smoke finish instead of the typical flat black.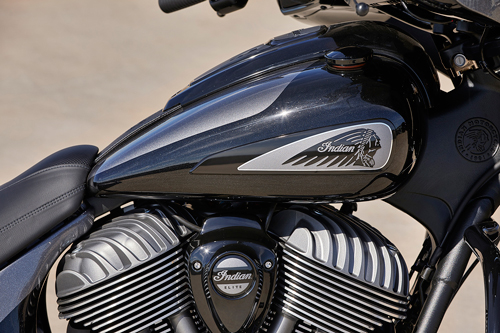 LED Pathfinder lighting is standard on the Chieftain Elite as is keyless push-button ignition, floorboards for your feet and a 400-watt, booming PowerBand audio system complete with Bluetooth connectivity. That system can be accessed via the 7-inch TFT Ride Command system that allows riders to also view navigation overlays, get weather information or toggle between Apple CarPlay apps. Three riding modes can be chosen here with Sport, Tour and Standard being the choices on offer.
Power comes from the 49-degree, Thunderstroke 116 V-Twin engine, which churns out 126 lb-ft of torque as is or can be tweaked via Stage I and Stage II tuning kits, should you desire some extra grunt.
There will only be 120 examples of the Chieftain Elite available, so if this is the bike that speaks to you, I'd reckon acting fast would be a good idea. You'll need to have $42,999 at the ready.